"…scholars generally assume that the campesinos (peasants), as well as the urban poor, either did not know, understand, or care about the pressing political issues of the day. That is incorrect. Urban and rural popular groups not only knew and understood the advantages and disadvantages of what has been called the social compact of the Monarchy but were also keenly aware of the political revolution carried out by the Spanish Cortes. The evidence indicates that the poor people, whether urban or rural, were not only affected by the high politics but also understood their interests and took action to defend them; that is, they engaged in politics. Some participated in autonomist and insurgent movements. Others took advantage of the upheavals to pursue their own concerns. Many others joined members of the urban upper and middle classes who remained loyal to the Crown. Indian communities from the highlands of southern Peru and upper Peru, the region that experienced the great Túpac Amaru Revolt in 1780, for example, remained the Monarchy's most devoted adherents. Their staunch defense of the Spanish Crown continued until independence finally was achieved in 1826, eighteen years after the crisis unleashed by the collapse of the Monarchy in 1808."

– Jaime E. Rodríguez O., The independence of Spanish America
Buenos Aires – Our annual Peruvian Independence celebration at Casa SaltShaker was this last weekend – Henry wasn't overly in to it – with all the political problems going on in Peru, he's declared that Peru is no longer independent, but a puppet of norteamericano and europeo corporate interests. At least that's different than the claims that it's all the fault of the CIA. Either way, he has no objection to Peruvian food being served up, and we've been experimenting with a bit of fusion/nueva andina ideas….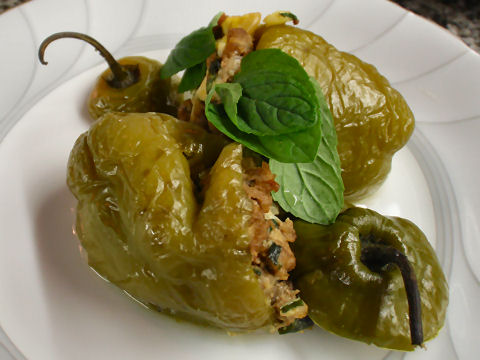 We've made rocotos rellenos before, with the classic beef, olive and raisin filling. This time I decided on something a little different. I still prepped the rocotos by coring them and then blanching and shocking them three times to lighten the picante load. The filling, I coarsely ground lamb loin with red onions and garlic, then sauteed it until lightly browned, added pinenuts, chopped tomatoes and green olives, a little salt, white pepper, cumin, ají rojo powder, sugar and a splash of vinegar. Cooked that until done and then mixed in chopped hard-boiled egg and chopped hierbabuena, a form of mint. Stuffed that in the rocotos, drizzled them with olive oil and baked until hot and bubbling. The plate needed something aromatic and fairly rich to stand up to the spices and I went with the Humberto Canale Extra Brut from Patagonia, a blend of Semillón, Pinot Noir, Sauvignon Blanc and Merlot.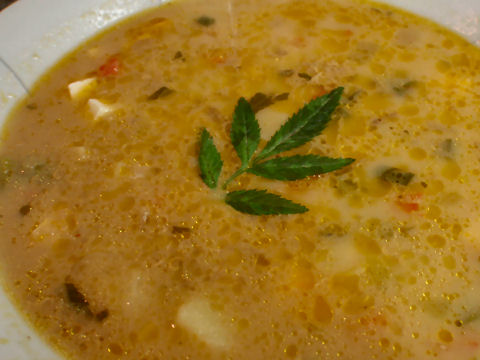 We've played around with sopa incaica before – from trying to do it from memory (which was tasty, but not remotely the same soup) to a copy of what was purportedly the recipe that while good, wasn't remotely like what we'd had. I finally laid my hands on what was touted to be the actual recipe from the chef at Coca Kintu in Puno, Peru. It still doesn't taste, nor look, to either of us, like the original we tried (nor does it contain ingredients that were evident in the original, like chuño, egg and tomato). On the other hand, no question this is both the closest and the tastiest of the three versions we've prepared. To drink, something full-bodied and aromatic – the Chardonnay and Viognier blend from Familia Zuccardi's Serie A line was perfect.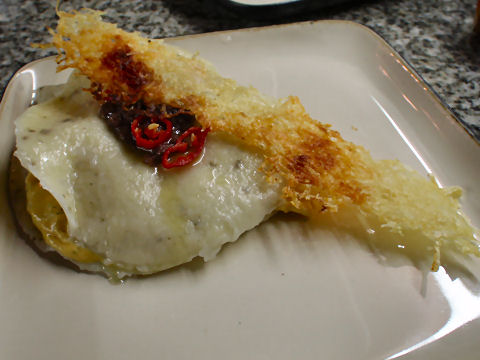 I've been continuing to play around with the idea of ají de gallina lasagna since first having it at PozoSanto and then later experimenting with it in one dinner that was well received and delicious, but in the end not quite what I had in mind. This time, I made the herb ravioli with just basil flakes, and rather than bake this as a lasagne did it more in the style of, say, an open ravioli – boiling up the pasta in rounds and then layering it with a fairly spicy ají de gallina in between. Atop, a simple black olive and garlic tapenade, some thinly sliced red chilies, and, a long thin crisp made from pecorino cheese with a sprinkle of smoked paprika. This is much closer to what I'm envisioning…. the wine, Merlot Rose from Alfredo Roca in San Juan – bright, fresh fruit flavors that stood up to the spice and still with enough body to handle the creaminess of the dish.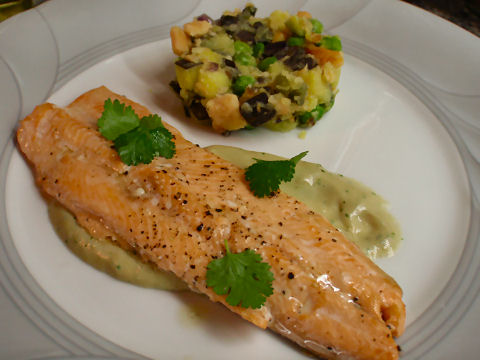 Though tasty, I wasn't thrilled with the presentation of the Trout with salsa nieve andina that we offered up at last year's celebration. So this year, that was the big change – the sauce went under the fish instead of coating it, which allowed the fish to really standout – I also thought it needed a slightly fresh tasting herb to brighten it up – originally I was going to mix huacatay and cilantro, but in the end decided that cilantro was all it needed. On the side, a simple hash of red onions, garlic, fresh peas, violet-skinned potatoes, smoked trout, salt and black pepper. Not only did it work out to be a truly great dish that I think everyone was happy with, but as one guest noted, add an egg on top of the hash (maybe a quail egg) and it'd be a nigh-on perfect brunch dish. We've been thinking about offering brunch once or twice a month… so you may see that coming up. The wine, a soft, lighter red from Saurus in Patagonia, their Select Pinot Noir – the berry fruit matched up great with the trout. [Edit: This dish and photo were picked up to advertise a Peruvian gastronomy festival – not that we knew about it, nor are we in Peru….]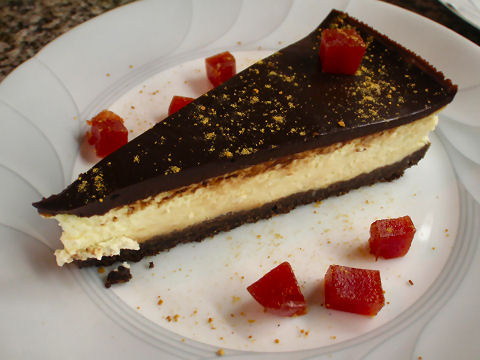 And, finishing up with a passionfruit and chocolate cheesecake – cocoa crust, cheesecake filling flavored with concentrated passionfruit juice, and a chocolate ganache topping. Some dulce of guava scattered about and a dusting of mace to give it a little spice. The wine, Saint Felicien's Semillon Doux, a medium sweet dessert wine with a bit of tropical fruit itself.