"El emigrante, se sabe, no vive en la tierra, la tiene incorporada a su ser." (The emigrant, knows himself that he does not live on the land which is incorporated in his being.)

– Luis Seoane, artist
Buenos Aires – It was the weekend devoted to the Galician fatherland, El Día de la Pátria Galega. We brought back some dishes we've made before, with some few changes and updates.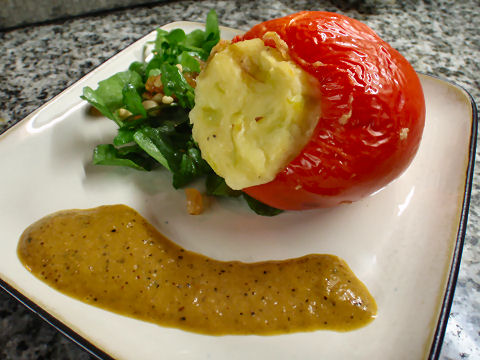 Neither piquillo nor poblano peppers are currently in season, but there are some beautiful colorado peppers around, so I filled these with a mixture of mashed potato, crispy leek, cream, butter, salt and pepper. Broiled them, served them up with a little watercress salad with toasted pinenuts and sultanas, and a sauce of charred yellow pepper puree, smoked Turkish pepper, and thickened with egg yolk. The sparkling wine for the evening, the Cruzat-Larrain Extra Brut from Mendoza – a beautiful champagne style sparkler.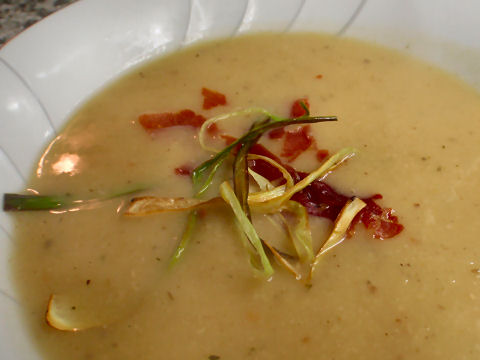 The chestnut soup gets an addition of jamón serrano – some of it diced and cooked into the soup and then becoming part of the puree, and the rest crisped up and served like bacon crumbles would be, and a few frizzled leeks and a drizzle of black truffle oil atop as well. I also based it on brown chicken stock rather than vegetable stock this time. Out of the blue, discovered the wonderful Graffigna Grécanico Dorato, a grape that is pretty much not grown outside of Sicily, and a real treat with a nice richness and vibrant fruit flavors.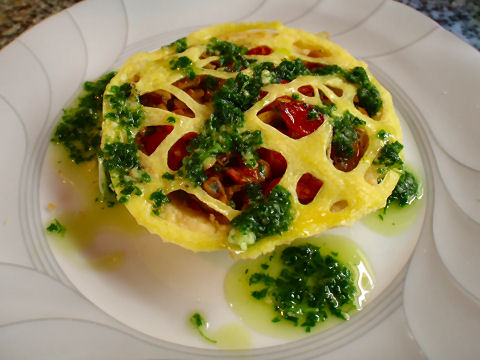 The empanada de berberechos got a makeover with a flaky pastry crust below, par-baked, then filled with a mixture of cockles, roasted red peppers, tomatoes, onions, dill, sweet and hot paprika, salt and pepper. Baked to order and then topped with an egg net and drizzled with parsley and garlic oil. The wine, the Alfredo Roca Merlot Rosé from San Juan, a bright, delicious wine with red fruit flavors and a touch of spice.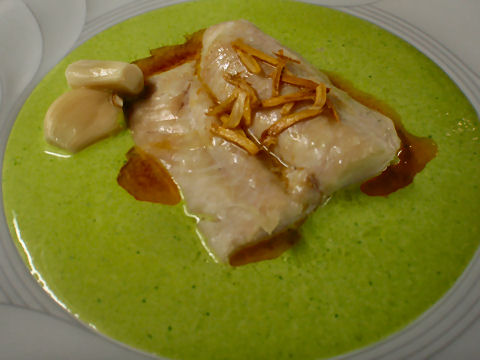 A minor re-working of the fish dish, this time with fresh cod, cooked until just juicy and flaky, and the addition of a couple of cloves of milk-poached garlic to add a different texture and flavor of garlic to the dish in addition to the fried garlic oil. The wine, from Lariviere-Yturbe, their blended "Don Yturbe Vino Tinto", a mix of Merlot, Cabernet Sauvignon, and Malbec that makes for a great "fish red".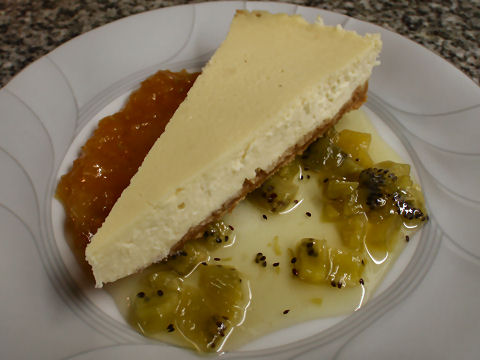 And, a switch to a "regular" cheesecake versus the quesada reina, and served up with kumquat and kiwi marmalades on the side. The wine, from Saint Felicien, their Semillon Doux, not overly sweet, but with a delicious stone fruit and honey aroma.