"Whether barbecued, honey-glazed, or spicy, wings have become the rage of gridiron aficionados at the stadium, in bars or in front of the TV at home, with the demand so strong that it provides a seasonal boost to sales — and an annual boost for poultry farmers."

– Bob Burgdorfer, Reuters, Sports fans kick chicken wings sales to record
Buenos Aires – Sorry I've been a little remiss in posting – I've been indulging in catching up on the entire first season of Masterchef Australia, which goes into its final episode tonight (actually, it's probably already happening given the time difference). It's a fun competition for amateur cooks that's been fascinating to watch – both for the cultural differences in cuisine, and, perhaps, because rather than watching the 71 episodes to this point over the dozen weeks that it's been on in Australia, I immersed myself in the downloaded version and plowed through it in the last 8-9 days, watching as they cut from 7,500 applicants to 50 semi-finalists to 20 finalists to the 2 who are competing head to head today. I have to admit, I'm enjoying this more than the original UK version of the show – the cooking, in general, is perhaps less skillful than that shown in the British show, but the good-natured, American Idol style of competition is far more entertaining to watch than a couple of self-important judges with preconceived notions about food spending more time getting in their soundbytes than working with the contestants to achieve anything (of course, much of that could simply be the editing of the show, but it's about as dull as watching an amateur bowling tournament on tv).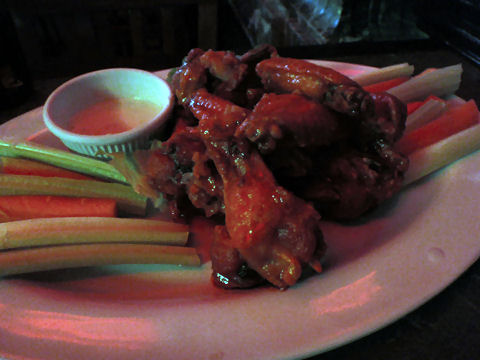 So, one more
hot wings
entry, simply because I didn't find out about it until recently, when a regular reader posted on his blog that I'd missed it (how come you didn't send me the info to check it out when I asked?) – so onto the list it went and the other night I popped in to check it out. The place,
Casa Bar
, Rodriguez Peña 1150 in Recoleta – a sports bar, with the usual assortment of television screens all over the place, music pumping wayyy too loud and lighting too dark (maybe it's just my age showing). The one difference in this spot versus the few other sports bars I've seen in town – the crowd seems to be mostly Argentine rather than all expats. That may have just been the particular evening I was there, hard to say, but the place was 2/3 full at 8:00 at night and besides myself it seemed to be 100% locals. 
[Closed in late 2015]
On to the wings – meaty and juicy, a dozen to an order, seeming a little pricey in comparison to other spots, coming in at 30 pesos, but, turns out to come with a free pint of beer, soda or a bottle of water – at least during "happy hour" – which seems to be pretty much anytime before 11 p.m. or midnight – so it really comes in at the same price. The sauce, which someone had purported to be the famed Frank's Red Hot Sauce, doesn't seem to be that – at least not as I remember it [Edit: Follow the comment thread below for more – about a year after this review Casa Bar started making its own really great hot sauces.]. Plus, while I could have missed it, I haven't seen Frank's here in BA – the usual tabasco style sauces that are available here are Tabasco brand itself and Louisiana Gold. Regardless, it's a good, slightly fruity, medium spicy sauce that certainly puts it on par with those two. And, the wings are well coated with it. You can order them "harina, picante, o harina y picante" – literally "flour, spicy, flour & spicy" – the former, I assume, meaning they've coated them in flour or a batter of some sort. I ordered just plain spicy. They come accompanied by a good quantity of really fresh, crunchy carrot and celery sticks, and a quite good blue cheese dressing – a little skimpy on the quantity of dressing, and they charge extra if you want more dressing or hot sauce – the only negative. They have an excellent selection of beers by the bottle from all over the world (I opted to pay for that and just had a bottled water as my freebie, since the pint of beer choice is Quilmes' basic). Definitely recommended, and while a trifle less spicy than those at El Alamo or Hard Rock Cafe, it's certainly a better place to hang out.