"Graze on my lips, and if those hills are dry, Stray lower where the pleasant fountains lie."

– William Shakespeare, Venus and Adonis
Buenos Aires – While quite likely, pretty positively, Bill S wasn't referring to the stomach, I shall. Just a quick roundup of some recent dishes, both here at home and out.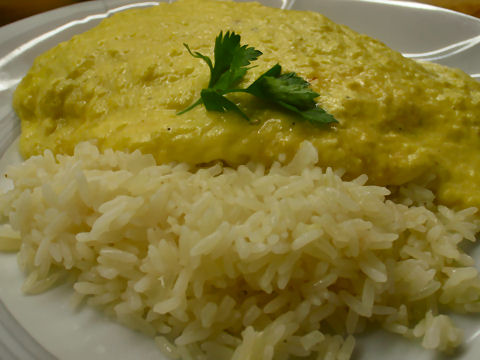 Frango Mineirinho
– This has become one of our favorite easy to make dishes ever since I took that series of classes in Brazilian cooking – chicken breasts, quickly grilled (we do it on the stovetop), a sauce made from fresh corn cooked in salted water, then drained and pureed with some cream. Onions sauteed in butter, add the creamed corn, season to taste with salt and pepper and ladle over the chicken. Serve it up with rice cooked with a little garlic and bay leaf.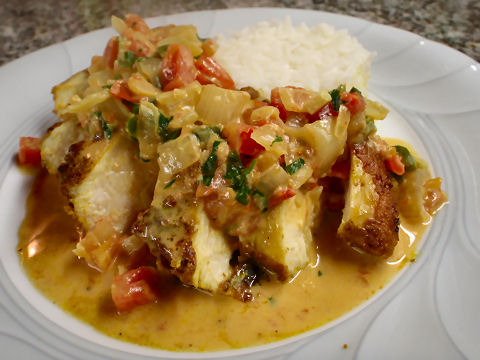 Found this one
on the 'net
, simply titled "Brazilian Chicken With Coconut Milk". Sounded good, if not overly Brazilian when I read through the recipe. Decided to give it a go as written, and it's indeed tasty, though a couple of things just don't fit Brazilian cuisine – I'm betting the large quantity of turmeric in the recipe was someone's idea to try to get that glowing yellow color that so many dishes in the repertoire have – either from lack of
dende
oil, which is what would have given it the right color and flavor, or simply not knowing. The other, the use of jalapeños is likely a substitute for the wonderful and distinctive flavor of
malagueta
peppers. And parsley? Nah, I'll bet cilantro. It was good enough that I'll play around with this and then post my own recipe when I think I've got it.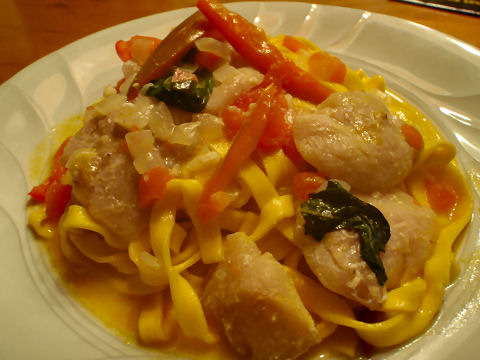 Here's where you get that beautiful glowing yellow color. A simple sauce of garlic and onions cooked in dende and olive oil, then tomatoes, red bell peppers and malaguetas added. A little coconut milk, some fresh basil and cilantro, and simmer the fish – in this case, pollack cheeks – until just cooked through. We weren't in the mood for the traditional rice, so simply tossed the
moqueca do peixe
, as the dish is called, with some fettucini.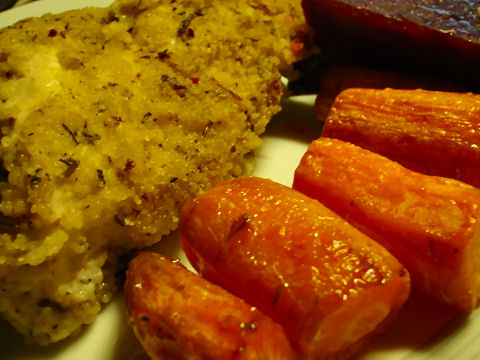 We do eat a lot of chicken, don't we? Roasted beets and carrots tossed with a little hazelnut oil. Chicken breasts soaked in soured milk, then rolled in breadcrumbs with finely chopped tarragon and basil, quickly sauteed in a little olive oil to just lightly brown the crust, then into the oven to finish cooking. Not our typical spicy fare, but even we need a break now and again.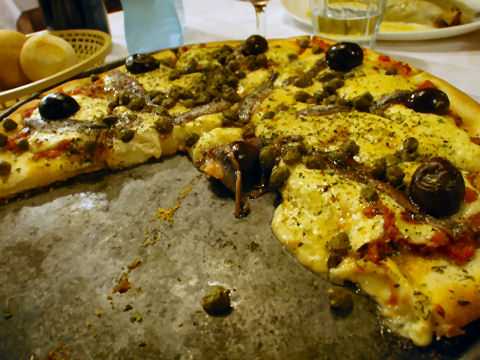 I've said before that if somone puts their name on a dish, it's worth trying just to see what they think of themselves. Out with a couple of friends the other night and, by default rather than design, ended up at the branch of
Campo dei Fiori
, Venezuela 1411 in Monserrat. Split the "house" pizza,
i.e.,
, the "Pizza de Campo dei Fiori" with one of my friends – good crust, nicely browned; way too much cheese, but at least of good quality; anchovies, capers, olives, tomato sauce – not bad, not great.
And, one of the more interesting dishes I've tried recently. Somewhere in my cooking school days, if not elsewhere, I'm sure I must have run across
salsa del principe de napoli
, or Prince of Naples Sauce, though it didn't spring to mind when I saw it on the menu at
Lo de Roldan
, Carlos Calvo 2701 at the corner of Av. Jujuy – out in the restaurant supply district, which is where we were headed the other day. A little place I've noted in passing and thought it looked interesting. Have to admit, quite good food – we tried a couple of pastas, a very nice salad of argula and garlic – and very reasonably priced. This pasta – vegetable filled canneloni topped with the aforementioned sauce – bechamel with diced ham, fresh mushrooms and peas, and then with a quivering, just barely set egg atop. Absolutely delicious – and I think I finished off all the bread in the bread basket just mopping up the remains of the sauce – not something I usually do! 
[Closed, replaced by pizzeria Fratello's]