"The greatness of Sunthorn Phu lies not so much in correct and ornate style, which is the aim of most Thai poets, as in the very simplicity and sincerity of his expression. Unlike so many other poets, he wrote from his heart and not from his head. Not being a learned man, he confined himself to simple forms of verse and simple language. But in his own field he was past master and his works are unsurpassed and probably can never be surpassed although no other Thai poet has had so many imitators. But Sunthorn Phu reigns supreme because in his poetry, in Phra Abhai Mani, in his Narats with their mixture of romance, pathos, and humour, he touched the heartstrings of the common people. That is why he is so deservedly called the People's Poet."

– HM Prince Prem Purachatra
Buenos Aires – How could we not celebrate the annual day dedicated to Thailand's "People's Poet"? There were no ifs, ands, or buts, and so off we went. The unfortunate part of the weekend – we had a lovely, full dinner on Thursday, and hardly any for Friday or Saturday. So, we first decided to cancel Friday's dinner, holding out hope for Saturday – but then, in a coincidence of fate, the power and water went out on our block and was out most of the time from Friday evening until early Monday morning – so no Saturday dinner either. Also no lights, no stove, no showers…. Nah, we wouldn't have been good company. But, back to Thursday, and with nods to the patience of the few of you who've been prodding me about how the egg nets turned out….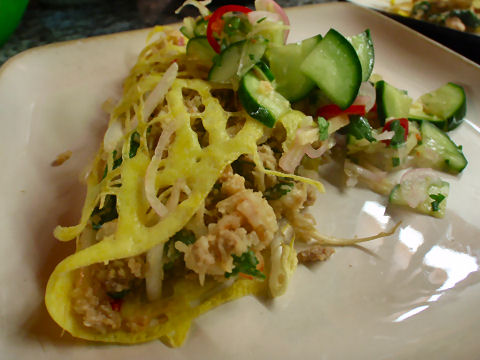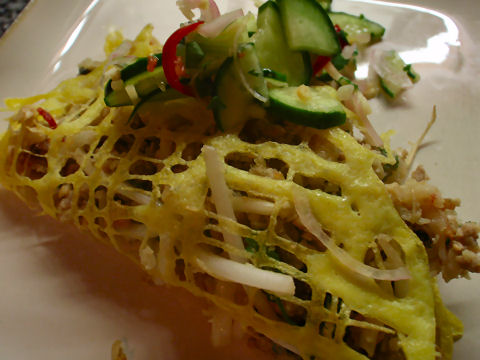 Having zero experience with this dish, latiang, other than seeing it made on Masterchef Australia, I followed the recipe in chef Martin Boetz' book Modern Thai Food pretty much to the letter (if you do an "inside search" on the book for "egg net", you'll find the recipe on page 32 and the picture on page 33). All I can say is, amazing. I could have just sat and eaten a platter of these. The only change was, since the next recipe used peanuts in it, I substituted toasted cashews in the mix in this plate. And while the egg nets still aren't quite to the delicacy of his, they're getting better!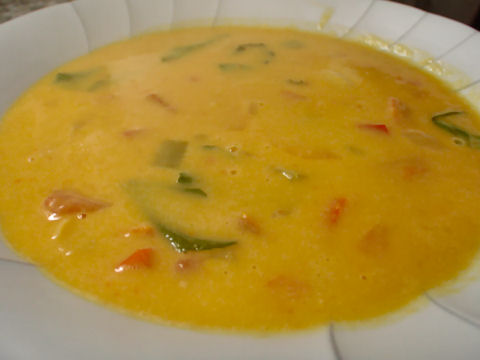 We first starting making this dish as part of our series of spicy vegetarian classes, and it was so popular that I've been including it in classes on working with chilies, and Thai food in general. This dinner was a perfect opportunity to show off this version of the dish – a vegan version of tom kha, which I picked up here – I've changed the recipe in only two things, I add a couple of finely chopped yellow chilies at the same time as the onions, etc. and, because we love chickpeas, I actually add two cans of chickpeas to this quantity of soup. The thai-style vegetable stock I make is a mix of mushroom stalks, Chinese cabbage leaves, green onion, white radish, onion, celery, coriander, ginger, garlic, salt and sugar all simmered together for about half an hour in water.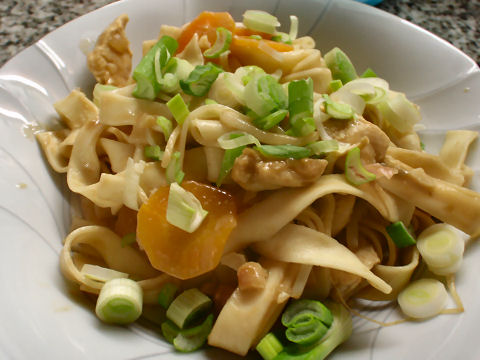 There are probably as many versions of pad thai as there are Thai cooks. This is my version based on several different recipes and a bit of playing around: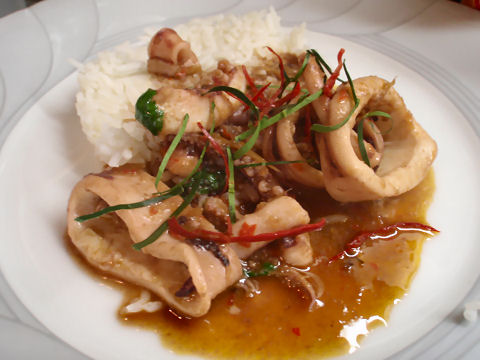 A nice, medium spicy red curry of squid for the main course seemed like a nice way to round out the meal. It's actually a relatively simple curry to make – I pureed a couple of cups of coconut cream with 8 dried red Chinese chilies, a 1″ knob of ginger, 3 stalks of lemongrass, 2 kaffir lime leaves, 4 garlic cloves, 3 shallots, a dozen white peppercorns, 2 teaspoons of shrimp paste, a handful of cilantro leaves and some salt to taste. That went into a deep pan and cooked for about 7-8 minutes. To that I added a 1″ block of sugar (the somewhat dried, Peruvian/Bolivian sugar wrapped in husks), a couple tablespoons of fish sauce and about a cup of coconut milk. Then I cooked that all down until it was a thick, creamy consistency, about an hour over low heat. I turned the heat up to high, added about 3 pounds of squid rings and tentacles, and just sauteed them until just barely cooked. Then onto the plate over jasmine rice and garnished with slivers of kaffir lime leaves and fresh red chilies.
And, the dessert, my favorite banana springrolls with coconut-turmeric sauce….
Thai poetry on a plate.