"Similar to a small mango in appearance, lucuma is green-skinned when young, ripening to a warm red. Round or oval in shape, the fruit has golden flesh and a distinct, fragrant flavour, said to be similar to that of maple syrup."

– from 1001 Foods You Must Try Before You Die
Buenos Aires – The walls were a glowing yellow orange color, and it took us a moment before we both declared, "Hey, it's the color of the inside of a lucuma!" Henry and I had headed off to one of the locales amongst the growing number of moderate to high-end Peruvian and Peruvian fusion restaurants that seem to be springing up in every corner of Buenos Aires. Lucumma (no idea why a double "m"), at Olazábal 1679 in Belgrano (at the far end of Barrio Chino), 4784-9167, bills itself as serving cocina inka, whatever that may have been. Not that we were expecting some sort of 500 year old recipes, and, as it turned out, the menu is very classic, current, Peruvian cooking.
We started off with a couple of pisco sours – the only cocktails offered – we went for the "premium" pisco, coming in at 18 pesos a drink (but then, the "regular", a supermarket brand pisco that we pretty much only use for cooking, comes in at 15, so it was likely worth it). Then, on to a trio of appetizers to share: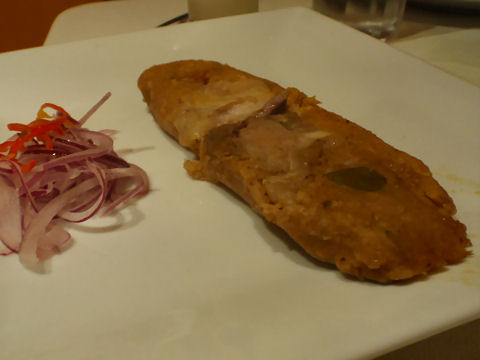 A quite good tamal, really quite good – made with the right kind of corn, steamed properly, and well-flavored. Slightly less picante than we tend to like, but still decently seasoned, and a request for hot sauce garnered us a bowl filled with finely chopped rocoto peppers – perfect!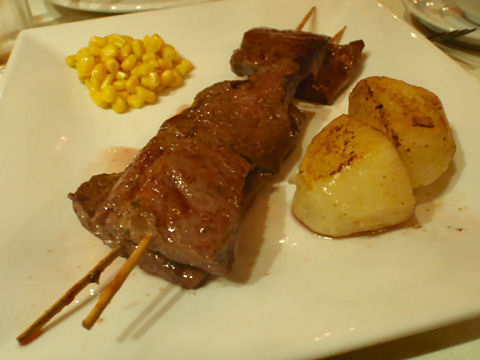 Two nicely skewered anticuchos – grilled beef heart – a bit underseasoned we thought – they clearly hadn't marinated long enough in the pepper sauce – also a little undercooked, as you can see they're leaking blood onto the plate – I don't mind rare meat, but Henry usually screams Tan Crudo! – interesting that he only commented on it but didn't ask for them to be cooked more – either it was because it was a Peruvian restaurant where he didn't want to offend, or he's getting more used to rare meat….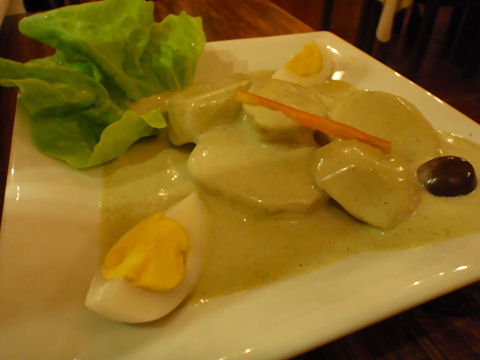 One of our favorite potato dishes, ocopa – not bad, but a little heavy on the walnuts in the sauce and a little light on the huacatay herb – it just wasn't quite balanced right – but, we ate every bit and still mopped up the sauce.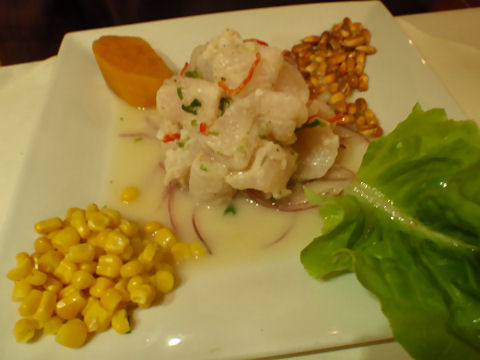 Moving on to the main courses – the menu offers up quite a few varieties of ceviche, from a simple classic of mero, or sea bass, which is Henry's favorite, and pictured here, to some intricate fusion varieties of one sort or another that didn't actually sound that intriguing. This one was pristinely fresh and well prepared – short a little on the peppers again, but easily remedied.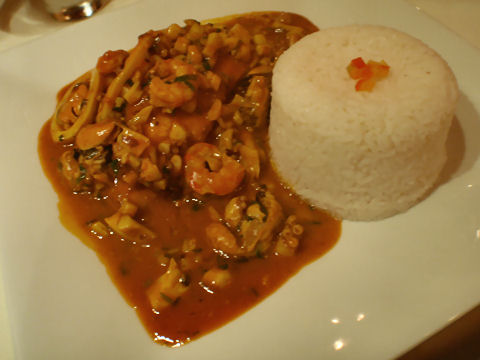 I opted for one of the chef's suggestions, and went with the mero con mariscos – again the sea bass, in lightly floured and pan-fried fillets, topped with a delicious mixed seafood and mild pepper sauce.
Overall, loved the ambiance. Service was friendly and helpful. They could use beefing up their bar and wine programs – the former, as noted, only consisting of two liquors and the same drink made from each, the latter a very short list of very usual suspects – big commercial brands here that give major discounts to show up on list after list. The food – quite good. A bit more picante would be nice, but given the neighborhood, and the clientele who were there, I'd guess that for most of them, it was probably spicy enough. Pricing, not too bad – we spent 156 pesos before tip, including a whopping 36 for the drinks; having ordered an extra appetizer to try (apps in the mid-teens, mains in the high 20s/low 30s), and a cubierto charge (I hate those) of 3 pesos each.