"It isn't what they say about you, it's what they whisper."

– Errol Flynn, actor
Buenos Aires – Joining our various centenarians for their birthday celebrations, this last weekend saw our tribute to Errol Flynn, Hollywood's original sex symbol. Born in Tasmania, and living out a good part of his adult life in Hollywood and Port Antonio, Jamaica, as well as a certain fondness for the Irish, he gave us all sorts of options to work with for a menu….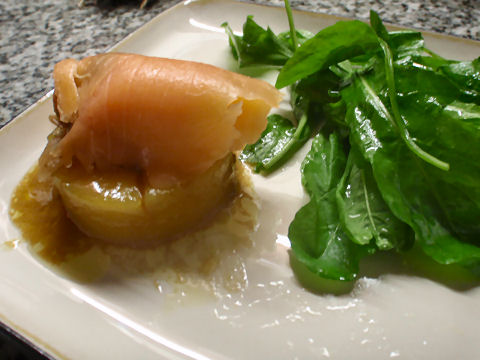 Starting from the Tasmania end of things, a popular starter of smoked salmon and arugular "roll-ups", which I simply re-worked one of my favorite little appetizers to produce, smoked salmon around homemade cream cheese, served over a warm, caramelized sweet potato disk (caramelized in orange juice, dijon mustart, sweet white wine, brown sugar and salt), and added in a simple arugula salad tossed with picual olive oil, salt and pepper.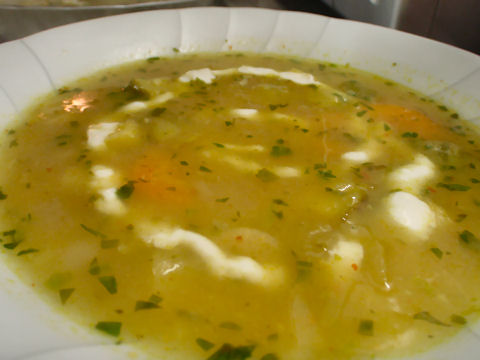 Moving on to our soup, and a touch of a curry spice inspired by Jamaican cuisine – a fairly classic vegetable soup in this case where I cooked onions, garlic, carrots and celery in a little oil until just starting to turn golden, then added some homemade toasted curry powder, cooked that a few minutes to develop the aromas, then a bunch of diced zucchini, one finely diced potato to put some starch in the soup to thicken it, and a couple of diced apples. To finish, I took a few ladlefuls of the soup out, pureed them in the blender and added them back in for a richer texture. A drizzle of unsweetened yogurt and some chopped cilantro and celery leaves finished it off.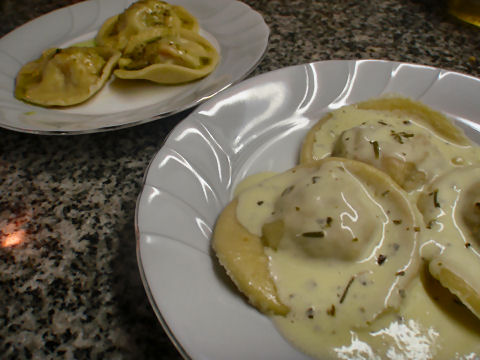 Goat's cheese is a popular ingredient down under, or at least as some purport things to be in Hobart. Initially I was thinking of a goat's cheese filled ravioli with a roasted red pepper sauce, something simple and clean. However, I had a couple of request for "lactose free" (left the cream cheese out of the salmon roll and the yogurt off the soup), and the best way to handle this dish was a simple reversal. I roasted red, yellow and green bell peppers, peeled them, finely diced them and added peeled, seeded and diced tomatoes along with some finely chopped sauteed shallots. I let those drain to get rid of excess liquid for awhile, then made ravioli with that as the filling. The sauce was a mix of fresh chevre, cream, garlic, rosemary, thyme, oregano and basil, salt and white pepper, all simmered together slowly to thicken it slightly and meld the flavors – for the lactose free version, just simply infused some olive oil with the garlic and herbs.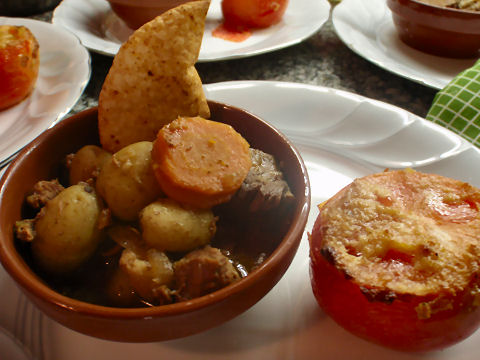 According to one or another source, Errol's favorite dinner was Irish pasties with deviled tomatoes – the former more or less a giant empanada filled with Irish stew. I decided to stick with a stew – browned some yellow onions, garlic and leeks, then added cubes of beef (cuadril, or rump roast) and cooked until those were browned. Added lemon juice, worcestershire sauce, bay leaves, smoked paprika, cloves, sugar, salt and pepper, and cooked a few more minutes, then topped it off with a bottle of stout, covered the pan and let it cook for about two hours over low heat. At that point I added slices of carrots, celery, and a mix of diced regular potatoes and small Andean potatoes, and button mushrooms. Covered it back up and let it go another hour and it was ready to serve. The little pastry is empanada dough cut in triangles, sprinkled with hot paprika and smoked salt and baked. The deviled tomato is a round, vine-ripened tomato with the top cut off, then a paste of olive oil, garlic, dijon mustard and mustard powder, and cayenne flakes, is spread over the top, left to sit a couple of hours, then baked in the oven, finishing it off after they're cooked through by sticking them under the broiler to brown them. We also had a couple of vegetarian requests – so simply substituted "vegetarian oyster sauce", or mushroom sauce, for the worcestershire, and a mix of brown mushrooms and baby portobellos for the meat – less cooking time too – just about 20 minutes where the meat had been let to go two hours.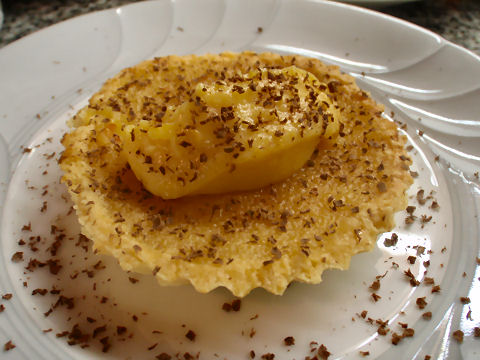 I'd looked at a dish called Port Antonio Orange Trifle as a possibility, but I've been having fun with classic tarts lately – if you look back at the recipe for the Lemon Kiss Tart that I've made before – it was that crust, done in small tartlet shells, and the filling was made with a mix of roughly equal parts of lemon and orange and about half the amount of lime – both zest and juice. Atop, a simple orange curd, which after the first night I decided was overkill in terms of sweetness and dropped it from the dish on the succeeding nights. A little grated bittersweet chocolate, and, voila!