"I believe you eat with your eyes. It's really heavy on presentation."

– Tom Welton, campus dining director
Buenos Aires – As always, I'm constantly reading about food and its presentation, as well as watching shows. Recently I started working my way through downloaded series of Masterchef shows – in particular the Masterchef Professionals and now the first season of the Australian version. One of the things that struck me (beyond that every aspiring chef in the British pros show had bad teeth and skin and everytime they're asked how things are oging says they'll be "absolutely gutted" if they don't win and become a 2 or 3 star Michelin chef by the time they're 25, host Michel Roux's eyes are popping out of his head and he has a voice indistinguishable from Moss on The IT Crowd in which he regularly proclaims that there's no such thing as a professional chef who doesn't understand "the classics", by which "I mean French cooking", and "veg expert" Gregg Wallace, a former greengrocer, keeps parroting everything Roux says, dipping his spoon into dishes and saying something like "kwa" – which I assume is a heavily accented version of the classic "cor") was how much emphasis they were putting on presentation. Sometimes, it seemed, more so than the flavors. I also noted how, in that particular series, so many of the youngsters going for the gold used only one or two particular presentation techniques, over and over – one that was especially notable was the constant use of the… smear… a spoonful of stuff smeared across the plate – what Times UK food writer Giles Coren wrote about as:
I find it hard to look at those and not think of skidded goose poo… you know? I've tried them occasionally, and they do, indeed, look that way.
Anyway, it's got me thinking more about presentation (though please, don't worry, I won't be sacrificing any flavor here, the herbs and spices will march on). And, here and there, I think I'm popping up with a dish or two that look prettier than my usual. Last weekend was a combination of a Brazilian inspired theme on Friday and Saturday and a Southeast Asian one on Sunday for a private party. Most of the dishes were ones I've prepared before, just tuning up some of the spicing and, hopefully, the presentation. The two that for me, anyway, stood out in looking completely like I wanted to eat them, and right now (with links back to the first time I presented them and recipes), were: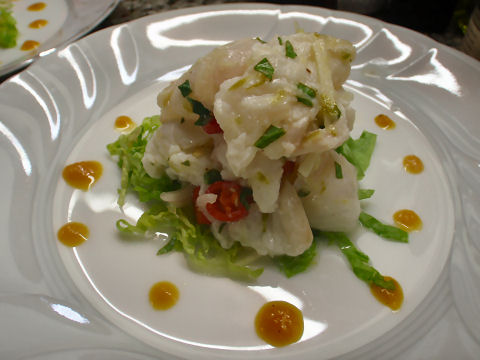 Umai, a Malaysian dish similar to ceviche, and…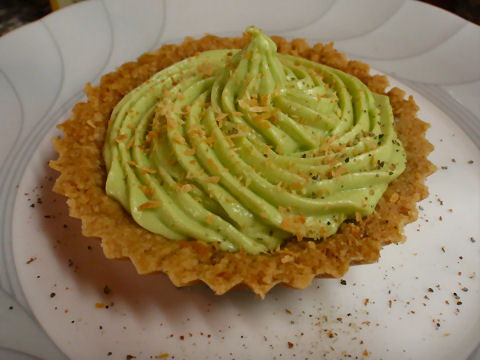 An avocado cream tartlet in a coconut butter cookie crust
And on the Australian version of the show, they had a visit from cute as a button chef Martin Boetz of Longrain in Sydney, who taught them how to make "egg nets". I've started practicing them for an upcoming Thai inspired dinner. My first attempts are not quite the delicate things he was showing them, but hopefully I'll get there before the dinner…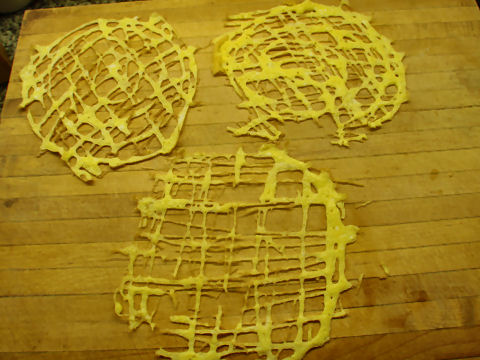 Contrasted with Martin's version… I need to get the strands a little more delicate, and more of them in all directions, I think.