"Chinese people say Marco Polo brought noodles from China back to Italy and Italians say they had noodles before that. All this has been based on documentary material, on personal accounts and menus. But we've been unable to find any actual material until now."

– Lu Houyuan, geologist/geophysicist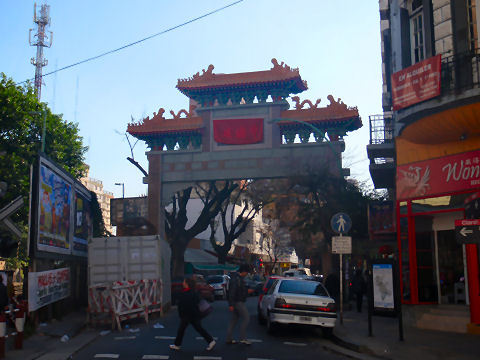 Buenos Aires –
The new? Barrio Chino, having gone from being a place that when I moved here four years ago was frequented by the local Chinese community and a few random chefs who were experimenting with ingredients, to a still small enclave – a mere two blocks of commercial spots – that attracts both local residents from across the city and visitors to the country. If you're looking for ingredients or good Chinese food, that's a good move. As a tourist attraction, it had, until very recently, really nothing to offer other than a couple of tacky souvenir shops. But now, well, hey, it has an archway at one end of the street, with cute little dragons and everything. And there you go. Instant tourist attraction.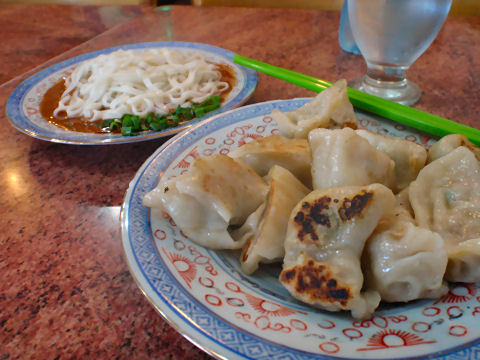 Of more interest, a little hole in the wall that I've not paid any attention to until the other day, when I stopped to glance at the menu and realized that it's a noodle house, simply called
Comida China
, Arribeños 2152. Boiled noodles, fried noodles, sauced noodles, soup noodles. Noodles everywhere. And, down at the bottom of the menu what caught my eye was
fideos con salsa de maní
– noodles in peanut sauce – on a hunch, I poked in and asked if this was "cold noodles with sesame sauce" – which is generally made with a mix of sesame and peanut, and, indeed, it was, though not cold, served hot. So, I grabbed a table, the only non-Chinese person in the place filled with 20-somethings slurping bowls of noodles and soup and families sharing big plates of steaming noodles. I ordered my favorite little potstickers – these packed with ground pork and diced vegetables, really quite good – no dipping sauce, but a bottle of soy and a jar of hot chili paste being passed around from table to table so I could make my own. I think my use of the big dollop of chili paste caught everyone's attention as did my insistence on chopsticks rather than silverware. It was unusual enough, apparently, that I became the focus of attention as people made little hand gestures imitating the use of them – and then were surprised that I already knew how (I grew up with the things). 
[This place has closed.]
The sesame/peanut noodles? Not the best I've ever had, but quite good. Soft, slurpable noodles piled in a sauce of sesame and peanut with just a touch of soy and green onion – could have used a touch of chilies, which, another dab out of the jar when it came back around, handled. Oh, and respectively, the two plates? 10 and 5 pesos, or US$4 and change. That's my kind of lunch.