"The devil has put a penalty on all things we enjoy in life. Either we suffer in health or we suffer in soul or we get fat."

– Albert Einstein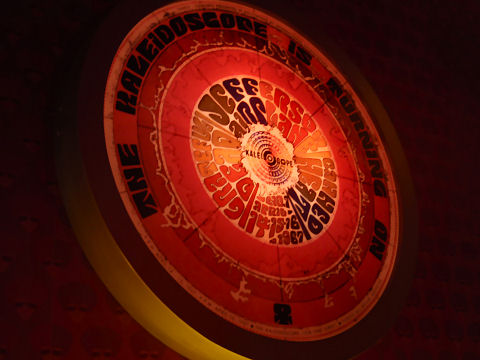 Buenos Aires – Feelin' groovy… che…. This place is so mellow… It's got soul… No, wait, it is soul… Soul Cafe, Báez 246, in Las Cañitas, 4778-3115, to be exact, not that, wow, che, we need to be exact. We're just kickin' down the cobblestones….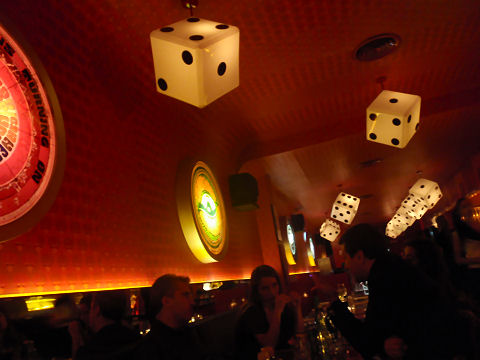 Actually, I sort of feel like I'm inside an oversized pimp-mobile, right out of downtown mo-town, and having grown up in the area, in the 60s, I remember what they look like. Not ever having had an acid flashback, I have the feeling this is what it would look like. At least the dice lamps aren't fuzzy….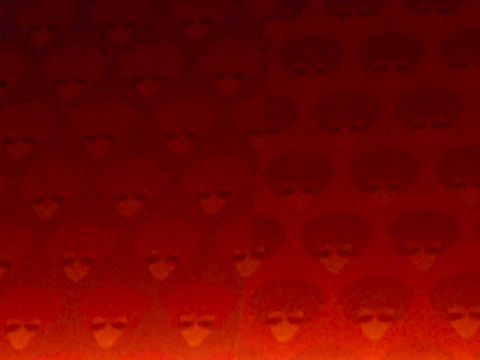 Wait, is that Link from the Mod Squad covering every square inch of the wall and ceiling? Nah, his 'fro wasn't that big. Oh, I do hope the food is better than the decor. Hmm, at least the music is good, I remember these songs. Someone told me the burgers are good here….
Service more or less sucks, we're one of two tables in the place, there are two waitresses and a bartender. The bartender is smoking, and I don't think that's tobacco. One waitress is standing in the middle of the bar, swaying to the music, eyes closed, hands held up towards heaven. The other one is drinking a coffee, sitting down. Neither seems interested in either party of customers, which includes us. Perhaps a little too laid back 60s feel, you know? Ok, it really does suck, not just more or less.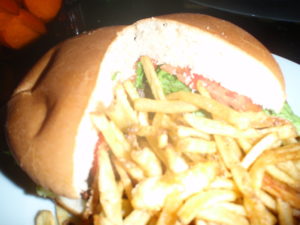 Eventually, we manage to get menus, place an order, and even receive our food – roughly 45 minutes after sitting down – and we ordered a burger (photos didn't turn out well in the dim red light) and a plate of fried calamari rings, a beer and a water. And, while the burger does indeed turn out to be pretty darned good – freshly ground beef, fresh tomatoes, lettuce and onion, on a proper, soft hamburger bun, and even pretty decent fries on the side – it isn't really worth the wait. And the calamari rings are wispy thin little rings and really salty. The condiments on the table – the usual mustard, ketchup, mayo – are in little packets, mixed brands, probably whatever they could pick up cheaply one week or the next.
So, the upshot, it really is a decent burger, but the service is so slow and uncaring that it isn't worth it, unless you have nowhere else to go. The music is good, if you like 60s stuff. The decor is… hideous. You make the choice – then again, just a few steps away is their new spot, SuperSoul. It looks like every surface in the place is mirrored…. wasn't that the 70s and the disco era?