"Since the S. S. Savannah first ploughed her way across the North Atlantic in 26 days in 1819, leading maritime nations have fought steadily for the speed honors of the Western Ocean."

– Time, Il Duce's Ships, May 19, 1932
Buenos Aires – On May 22, 1819, 190 years ago, this last weekend, the SS Savannah did indeed set out as the first steam powered ship to make the trans-Atlantic voyage. It departed from the port of Savannah, Georgia, which made a bit of southern cuisine in order for Casa S's menu. Besides, I've been getting all these notes and seeing posts on local fora from local expats complaining about not being able to get good ole home cooking. Did any of them come? Of course not, then they couldn't complain anymore – but at least the opportunity was there. This also gave me a chance to play around with some of the recipes in the book Savannah Seasons, by Elizabeth Terry, that someone brought me a few months back.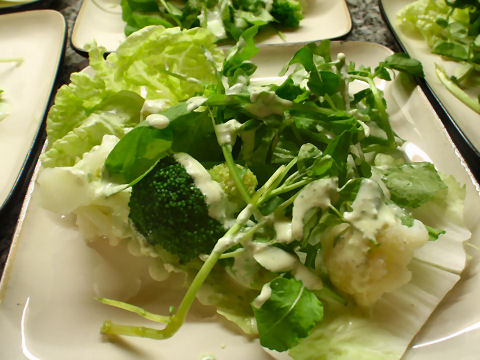 I happen to love cruciferous vegetables, and after all, they're really good for you, right? It's not something I normally associate with Georgian cooking as an identifying dish, but they do eat vegetables there and not just stewed tomatoes, peppers, celery and onion. I blanched and shocked some cauliflower, broccoli, and brussels sprouts, and then arrayed them on a leaf of napa cabbage and arched some watercress and arugula over them. The dressing, a simple goat cheese one of cider vinegar, olive oil, goat cheese, mayo, cream, green onion, chives, mint, salt and pepper. Really great combination!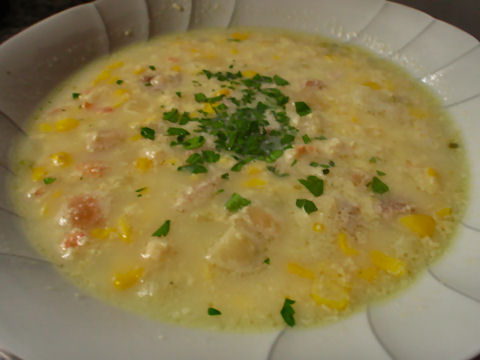 Chowders are among my favorite types of soup and although I usually associate them with New England, they're actually quite popular in the south. This one, a crab and corn chowder, is relatively simple to make – Finely diced bacon cooked over low heat until it renders its fat, then diced celery and onion, minced garlic, and fresh corn off the cob into the pot and cooked over low heat, covered, stirring occasionally, for about an hour. Then I added some fresh chicken stock and diced potatoes and cooked until the potatoes were done, added chopped king crab meat, parsley, and topped it up with milk (roughly half the amount of the stock that I'd added), heated it up to serving temperature and voila.
While empanadas aren't traditional Georgian fare, the filling is based on a classic dish – red snapper with sweet potato and mushroom hash. I parboiled diced sweet potato. Sauteed a mix of oyster and porcini mushrooms with some garlic, shallots, chilies and lemon zest. Added the sweet potato and cooked to lightly brown them, deglazed with sherry, added chopped red snapper and took it off the heat, letting the fish just lightly cook from the heat of the hash. Let it cool, filled empanada dough rounds, and then baked them off until nice and golden brown.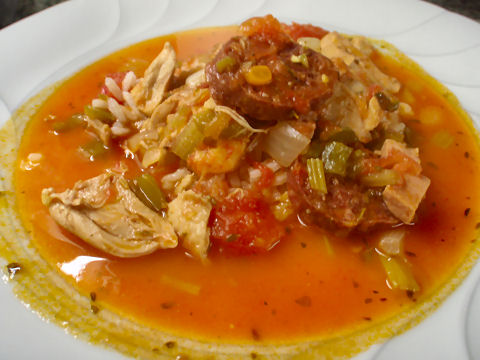 The star of the evening, both my opinion and that of those I've heard from so far, jambalaya. As close to the way I learned to make it back in my days at the Sazerac House – in a deep pot I put a lot of chopped celery, green pepper and onion, and minced garlic, along with sliced spicy longaniza sausage (no andouille here) and diced ham (no tasso), and cooked until the vegetables were starting to soften. To make up for the lack of spicing and smoke on the two meats I added a little splash of good quality smoke flavoring (not the usual supermarket bottled stuff, this is actual "smoked water" rather than chemically flavored, not easy to find here) and several finely chopped hot peppers. Then added a lot of chopped up plum tomatoes, a good amount of oregano and thyme leaves, and a couple of bay leaves. I'd also, meanwhile, put a dozen chicken thighs into the oven and roasted them until cooked through, then skinned them and shredded the meat – into the pot it went, topped it up with chicken stock, and put it over low heat to bubble away for about four hours. About half an hour before serving I tossed in a good amount of small shrimp. Served it over garlic rice.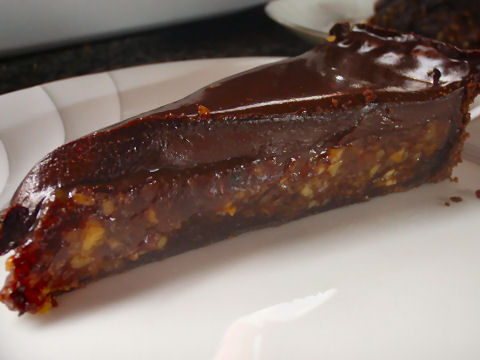 I'd wanted to make a fairly classic pecan pie, but couldn't find any pecans this last week – there aren't a lot of them here and I'm guessing they may just be out of season. Instead I decided on a mixed chocolate and nut pie – a basic cocoa crust, a filling of walnuts, almonds and hazelnuts mixed with caramel, honey and cream, all baked until done, then when cooled, topped with bittersweet chocolate ganache. What's not to like?