"And we may come to the feast tomorrow night, mayn't we? We're so longing for tomorrow night! And we do love being here. And while you're out, we may run over the whole castle and see everything, mayn't we? Do say yes."

– Jill, from The Silver Chair (fourth volume of The Chronicles of Narnia)
Buenos Aires – Continuing on with the search for the ultimate shawarma in town, though it's going to be awfully hard to top the one from Medio Oriente.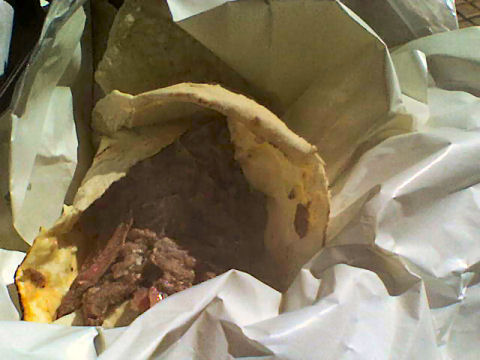 Do not, repeat, do not run off to San Telmo just to have the
shawarma
at the relatively new
Habibi
, Humberto Primo 527. No, really. Don't. I'm trying to spare you. Beyond being the priciest entry for a takeout/casual spot so far, coming in at 15 pesos (though there is a lunch special with a bottle of water for only 18 pesos), it is also the smallest, skimpiest, most meagre excuse for this wrapped sandwich that I've encountered. It is well salted. Really well salted. There might have actually have been more salt than meat. Certainly more than the two mini-cubes of tomato and few shreds of lettuce. It does have a sesame dressing – not so much your typical smooth paste-like tahini sauce as much as like a few desultory sesame seeds that have been pureed in water – and then the sandwich is drenched in it, leaving the bread to turn to the texture of wet tissue paper within a minute or so after service. Inedible would be a kind assessment. San Telmo friends tell me that they love the place, but all admitted they'd not tried the shawarma.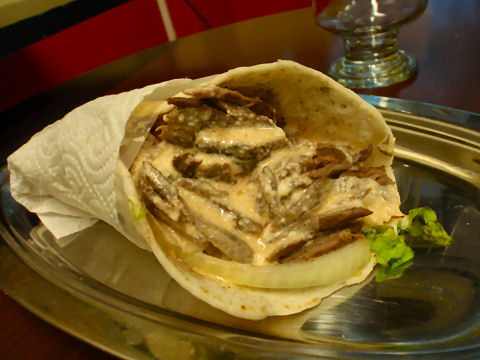 On the other hand, you can safely and happily head to Las Cañitas and put in a stop at
Maktub
, San Benito de Palermo 1683, 4771-3785. Pretty much just a take-out counter, though a couple of bar stools are against a small counter on each side of the waiting area, this spot definitely hits into the top ones for shawarma that I've found. While
Medio Oriente
maintains the lead, it's only open on Friday and Saturday. And though
La Puerta de Damasco
comes in second, it requires getting to and paying the entrance fee to
Tierra Santa
. I think this space just edges out
Demashk
, if for no other reason than its spectacular sauce. The meat is juicy and well seasoned, a good amount of it on quite good pita bread that the shawarma guy dips in meat drippings and grills up against the flame, and the well spiced tahini sauce is just amazing – plus, they'll add fiery hot chili powder to it – and they don't make you request it, they ask if you want it!
Now, I'm sure there are more places in town somewhere, and, I haven't approached the various sit-down, nicer restaurants to see what they offer, other than the one I hit by chance. So, I'll close off "book iv" of the Chronicles with just these two spots.
[This is an update, because we encoutnered one more place that serves shawarma to go – there may be more, but for the moment, I decided it wasn't worth a separate post for just one quick notation.]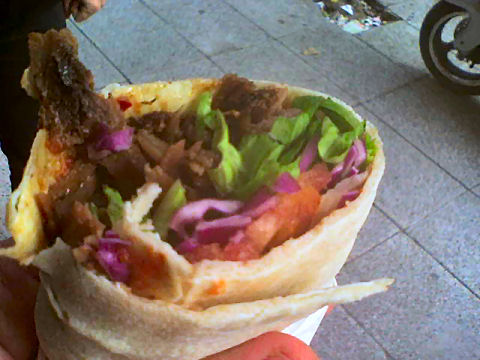 I came across this spot when I exited the 92 bus enroute to our recent Vietnamese cooking class. They appear to pretty much serve two items – shawarma and doner kebabs. The place,
Turquesa
, Estado de Israel 4714, in Villa Crespo. Really nice couple of guys running the place, and they clearly put a lot of care into the preparation – they had lined up rows of perfectly thin, evenly sliced tomatoes, onions, and lettuce. They offered an option for tahini, hot sauce, or both. They did the right thing with the pita bread, rubbing it on the meat juices and grilling it quickly against the flames. And, it just didn't work. The meat itself, nice and juicy, but completely unseasoned. And even though we opted for both tahini and hot sauce, they sort of lightly brushed the pita with each, it may as well have been spritzed on lightly with a spray bottle – didn't add anything. The veggies were nice, and they put plenty of them in the sandwich, but it just didn't make up for the rest. A shame, it's the only spot we've encountered out Villa Crespo-way…. 
[Closed]