"Did you ever see the customers in health-food stores? They are pale, skinny people who look half dead. In a steak house, you see robust, ruddy people. They're dying, of course, but they look terrific."

– Bill Cosby
Buenos Aires – A couple of weeks ago, Dereck Foster of The Buenos Aires Herald published a list of his seven favorite steakhouses in Buenos Aires. Not necessarily the places for the best steaks in the city, but favorites for a variety of reasons, be it ambiance, service, certain dishes, or whatever quality it was that struck him as making each spot one of his favorites. My impulse is to rush out, try them all, and get a handle on what the paper's longtime restaurant critic finds admirable about these spots in particular. On the other hand, I'm not sure that I'm up for plowing my way through seven steakhouses in short order.
But, a friend and I started out on the list, and perhaps, over time, we'll complete it. Let's start with one of them, which I'm simply not going back to – as I've said to many, it's not that the steaks and service aren't good once you're there, it's the general atmosphere of the place, particularly their door policies – the place, La Brigada, and you can read what I thought about the place on the link.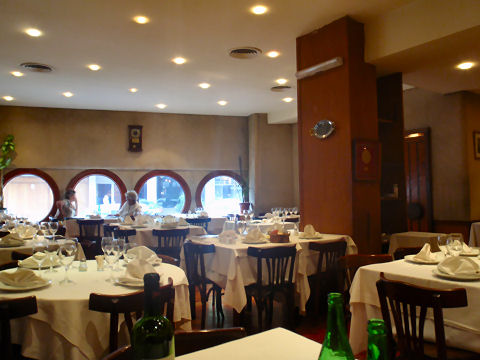 We started off at La Raya, Ortiz de Campo 2566 in Palermo Chico, 4802-5763. The place has a weird feel to it for me. First off, a bit stuffy. Literally as opposed to figuratively. There's little natural light, just high intensity bulbs above, and a bit of light from four very thick glass porthole style windows along the front. There's a mustiness to the place, much like an old used bookstore might have – as if it just needs a good airing out and freshening. That shows in the care of the space, the walls are dingy and waterstained, the floorboards scuffed from many years of use, the tablecloths and napkins a trifle tattered, plate and glassware replete with chips, scratches and cracks. The waiters have the world weary air of having been there for too many years and having seen it all – on the other hand, they're completely professional, know the food, are happy to make suggestions, and provide efficient service. Lunchtime, one businessman sitting by himself, a pair of elderly women sitting at a window table, and about the time we finished, a family of four tourists came in, the three adults seating themselves, the young girl being left to treat the rest of the restaurant as a playground, running about.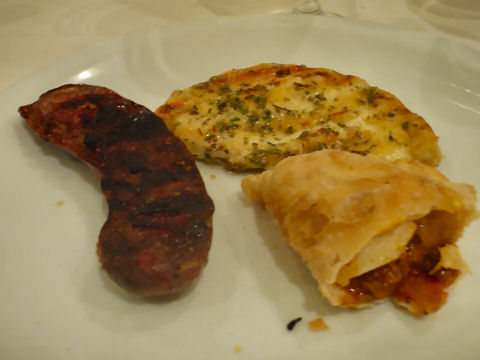 We decided to start with a sampling of appetizers, and our waiter took the idea to heart, bringing us a trio of chorizo, provoleta, and a beef empanada, and neatly divided them on two plates to serve. The provoleta, quite good, among the better ones I've had. The chorizo, tasty if a bit too fatty, even with having cooked it "mariposa", or butterfly style which usually lets out a good amount of the fat – had it not been cooked that way, it might have burst with melted lard. The empanada, fried, bland, not particularly interesting.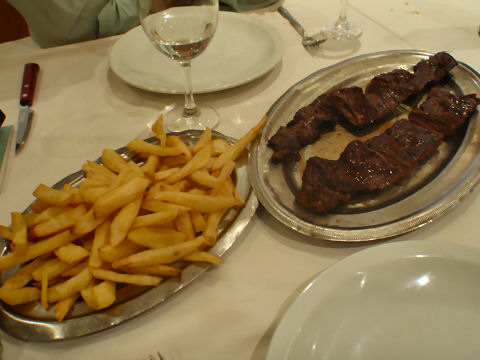 The entraña, or skirt steak, more than enough for two to split, was cooked to a nice medium rare, just as requested, and, not unusually, was pretty much unseasoned. Chimichurri sauce was provided on request and was actually pretty good – slightly more vinegary than I like, but clearly homemade and nicely done. The fries, cooked right and good flavor. We finished off with a coffee that was just plain undrinkable, and we didn't – an oddity that the waiter didn't notice that we left them virtually untouched, he'd been very aware of anything else that was going on. Overall, I wouldn't rush back, but it was good.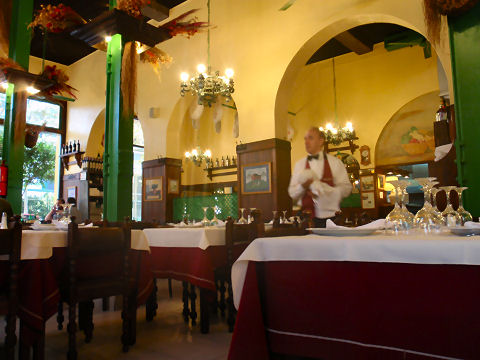 Although a completely different decor, there was a certain air of similarity to La Raya at Río Alba, Cerviño 4499, also in Palermo Chico, 4773-5748. The style, kitschy farmhouse Americana – old time kitchen style paintings of herbs and vegetables, a few farmhouse scenes, bays of hale and sheafs of wheat and corn scattered about. Dark shades of red, green and yellow. Lots of natural light, with windows on two sides. And, once again, waiters who have been there for just a little too long, though still friendly and more so after determining that we weren't going to be difficult touristy types. Lunchtime once again, while not packed, there were a good number of people present, ranging from locals to tourists, and in age from 20-something to well into the retirement zone.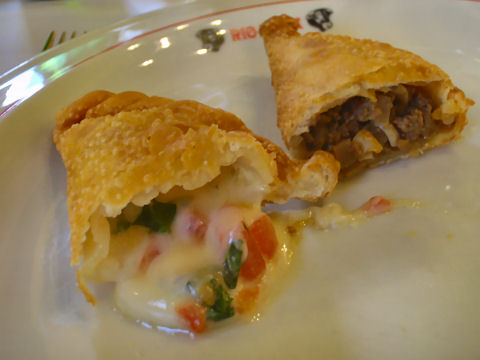 We started off with a couple of empanadas – one chicken and one beef. Both surprisingly well seasoned, even a trifle spicy. The chicken one was the better of the two, filled not only with chicken and vegetables but a creamy and well made bechamel sauce – almost like a really good pot-pie, just done in empanada form. The beef was less interesting – though the spicing was good, the beef was ground and had clearly been cooked a bit too long before being stuffed in the turnover.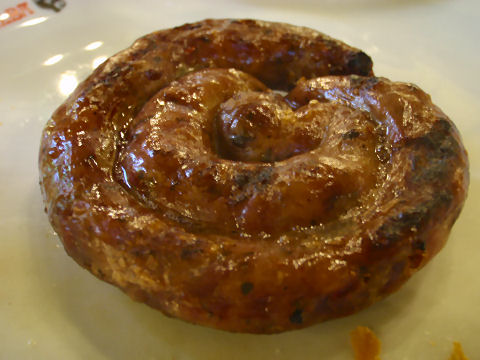 We decided to try the salchicha criolla instead of a chorizo. These are coiled, smoked sausages, that I much prefer to the usual chorizos if they're well made and cooked, though that seems to be a rarity in many steakhouses. This one was good. Really nicely seasoned and cooked so that the skin was just barely crispy and the inside cooked through properly.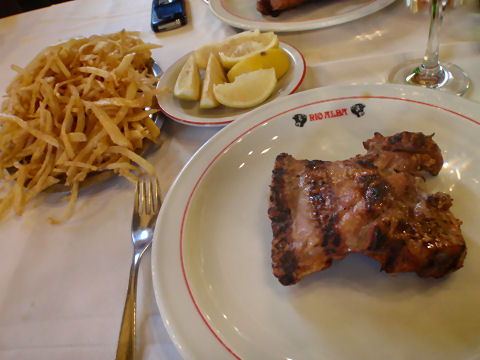 We went a different route with the meat here, I had a vague remembrance that Mr. Foster had recommended trying the chivito, or goat, though that could have been in regard to a different spot. Either way, both of us like goat, and this was excellent. Grilled to perfection, well-seasoned, and without needing to be asked, the waiter brought a side of lemon slices and chimichurri to accompany it. I'd asked when ordering the papas pailles, or thin french fries, if they were cooked really crispy like shoestring potatoes, as many places here do, and he said yes, and recommended that we go for "less cooked". These were, perhaps a little too less cooked – not raw, but a bit soggy. They could have used another minute in the fryer, and they weren't so thin that they were likely to turn out like shoestring potatoes, I think on a future visit I'd order them cooked "as is". And, I would go back, I liked the place and definitely liked the food. The coffee, not bad, not great, but perfectly acceptable.
More to come, eventually….