"I love your jellyroll. It do's me good deep down in my soul."

– Lonnie Johnson, from the lyrics to He's a Jelly Roll Baker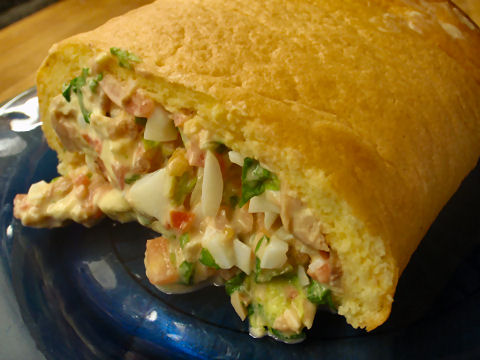 Buenos Aires – This odd looking thing is a pionono de pollo or arrollado de pollo. The pionono itself is the cake that's wrapped around the outside, and, make no mistake, it's cake – it's the cake one uses for a jellyroll – equal parts flour and sugar with a little baking powder and some eggs to hold it together. The difference from the classic norteamericano or european jellyroll is that here in Argentina, it's not filled with jelly or whipped cream or that sort of thing, but this sweet sheet of cake is rolled around chicken or tuna salad. Never let it be said that Argentines don't have a sweet-tooth.
This particular version comes from the little casa de comida a block from us, they don't have it often, but I had to sample it when I saw it. The first time I tried it, I'd say it was just sort of palate shocking, but ya know, it kinda grows on you…. I may actually have to play around with this in the kitchen.
Now, I wonder if anyone's topped one with dulce de leche….