"Energy is that amazing feeling that comes to life inside of you when you're happy and believe in yourself."

– Richard Simmons, fitness guru
Buenos Aires – It's been quite some time since I did a photo-illustrated step-by-step recipe for y'all. The other night I sent Henry a text while he was in class asking what he wanted for dinner. Usually, the response is to the effect of "something good" or "I dont know" or "anything with fish [chicken, beef…]". Wednesday night it was "sudado de pescado con papas y arroz estilo peruano" – a Huanchaco style dish of poached fish with potatos and rice the way his family makes it. Lucky for me, I paid attention to his sister Violeta making it when we were in Peru and have made it a couple of times since. I'm not sure why we don't make it more often, it's delicious, healthy, and easy to make!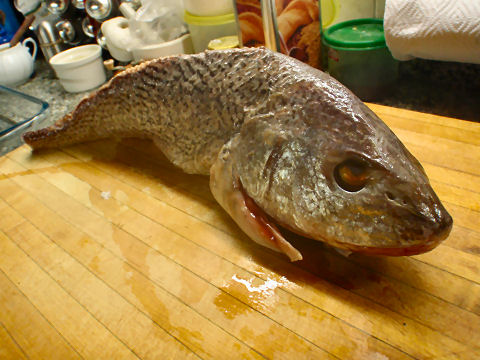 First, the fish. This is a corvina, a local type of sea bass. You don't have to start with a whole one as I did, in fact, I hadn't planned to, but the guy at the fish market was being such a pain in the ass about cleaning the fish, let alone selling them, that I nearly walked away, but finally just said, stick that one in a bag and give it to me. Some nice sea bass fillets will do you just fine (and any other nice meaty fish will work – plus sometimes some shellfish is added to the dish, though that's less traditional – or maybe it's just that Henry's family can't really afford shellfish).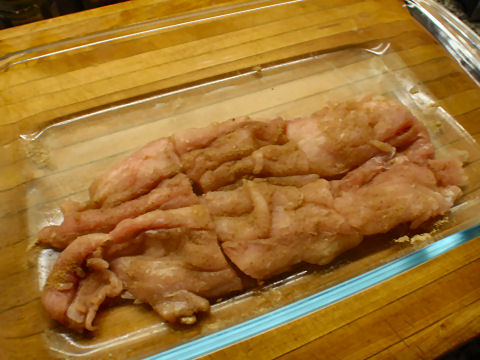 After cleaning, filleting, and skinning, dry rub the fillets in a mixture of equal parts black pepper, cumin and salt. Let them sit in the refrigerator for about an hour – gives you time to prepare everything else, like putting the potatoes on to boil, cooking the rice (with onions and garlic sauteed in olive oil first and then the rice added, lightly toasted, then the water, and left to simmer on low heat until done).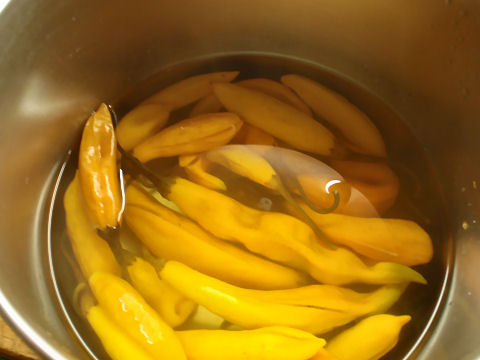 And, preparing the peppers. The best for this dish are the Peruvian ají amarillos, or yellow peppers, but any medium hot yellow pepper like an escabeche will work fine. Also, reconstituting the dried ají mirasol or panca will work. We like the dish spicy, so all I do to the peppers is slit them open to allow the water to get inside, put them in enough water to cover, and simmer them until soft. If you want the dish less spicy, split them open and take out the seeds and veins. When soft, I take the stems off and puree the peppers with just enough of the cooking liquid to make a smooth paste. Then I strain that through a coarse strainer to take out the bits of skin and seeds.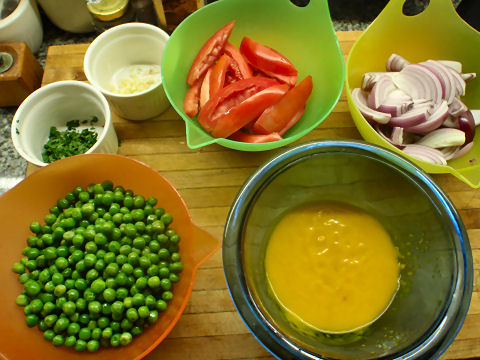 The other things to get ready… cut tomatoes and red onions lengthwise into wedges. Chop garlic and cilantro. Peas – if you're using fresh, blanch and shock them. If you're using frozen, as we often do, especially when they're not in season, thaw them under a little cold water. And, a splash of white wine ready.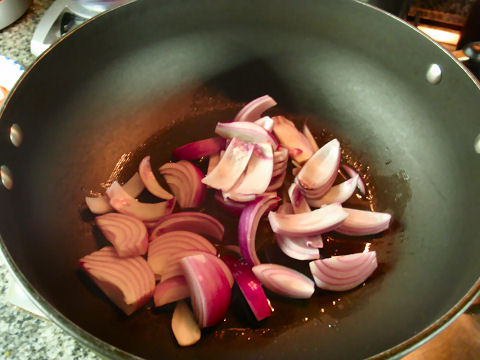 Saute the onions in a little olive oil until they start to soften.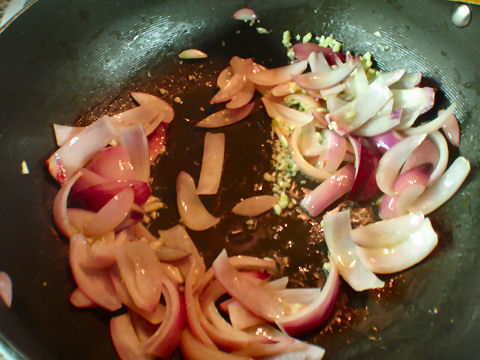 Add the garlic and continue to saute about a minute.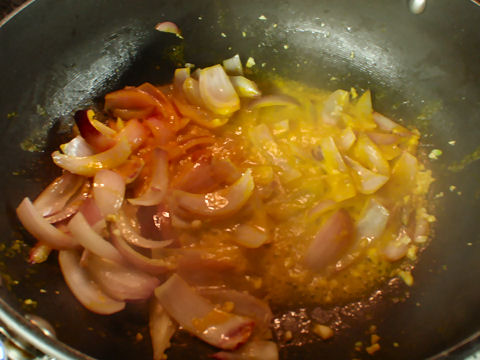 Add the yellow pepper puree and saute another minute.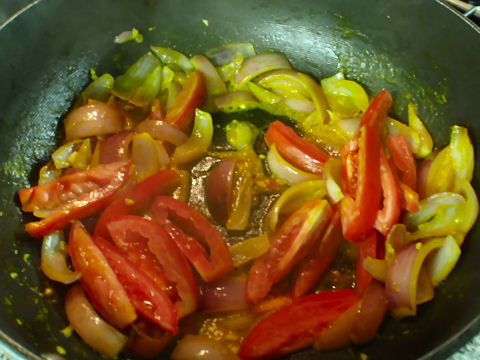 Add the tomatoes and wine and cook, 2-3 minutes, until the tomatoes start to soften.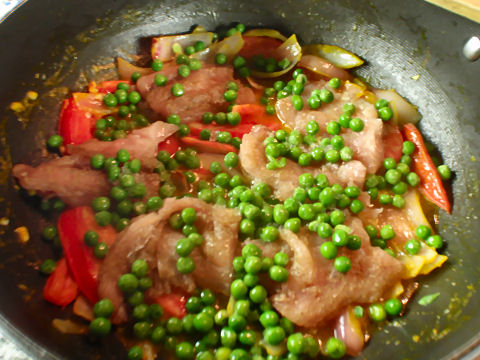 Nestle the fish fillets into the sudado and layer the peas over the top. Cover the pan, turn the heat down low, and let it go for about 10 minutes.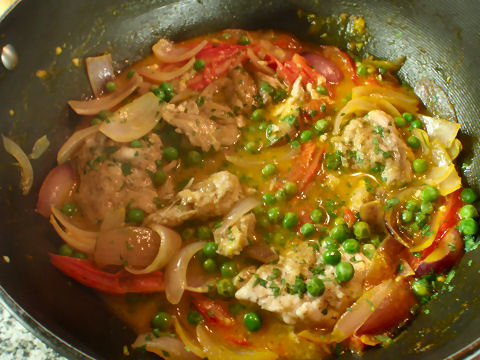 Sprinkle the cilantro over the top, and, there it is, the finished sudado de corvina.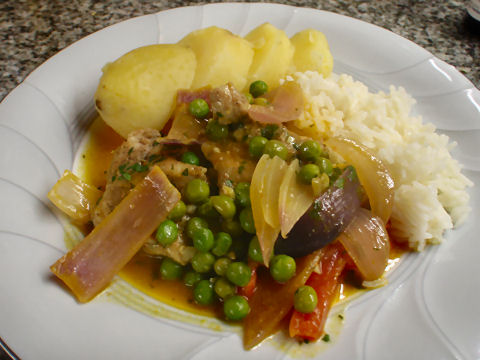 Peel the potatoes, slice them, lay them out on the plate, add a nice scoop or two of the finished rice, a fillet or two of the fish and ladle the sauce over it. Eat and enjoy!