"One of the happiest days of my life is when I made five or six hundred pesos from a crop of watermelons I raise all on my own."

– Emiliano Zapato, Mexican Independence Fighter/Leader
Buenos Aires – Last weekend marked the 90th anniversary of Emiliano Zapato's last stand, in his hometown of Morelos, Mexico. It launched a Mexican themed week of sorts, a private dinner that I'll get to soon that featured Mexican food as well as the now much commented upon Taco Crawl. But let's go back there to the beginning of the week and the food we offered up, inspired by the flavors of Morelos.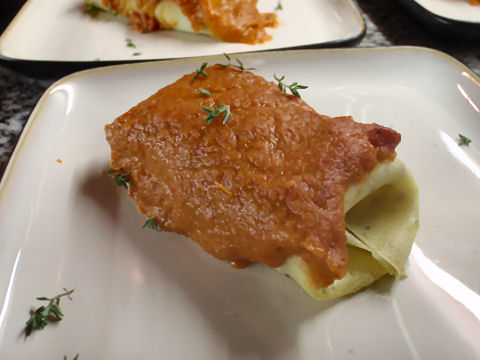 The evening opened up with a crepe wrapped mushroom saute. The popular girgolas, or oyster mushrooms, of Morelos weren't available (strangely) in the markets last weekend, normally they're pretty easy to find. But fresh pine mushrooms had just come in, and I love those… so, a saute of chopped pine mushrooms with onions, garlic, and finished off with a bit of nutritional yeast for a bit of oomph on the "umami". The crepes, a simple batter of 2 cups of 0000 flour, 1½ cup milk, 6 eggs, ½ teaspoon each of salt, dried basil, oregano, thyme and parsley. The sauce, oven-roasted tomatoes, red bell pepper, red onion, red chillies, and reconstituted dried peaches, blended with a bit of reduced red wine, salt to taste.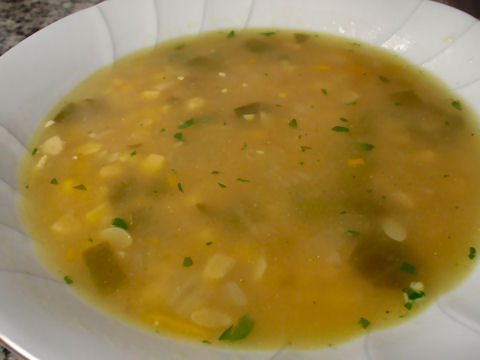 Next up, a simple soup – night one with a chicken stock, night two with a corn stock – tough call, I liked them both (night two had four pescetarian folk, so I made a couple of minor changes). In the stock a simmered blend of yellow summer squash and zucchini, plenty of fresh corn kernels right off the cob, and a handful of sliced ají amarillo for kick. Just before serving I added grated reggianito cheese, nutmeg and parsley.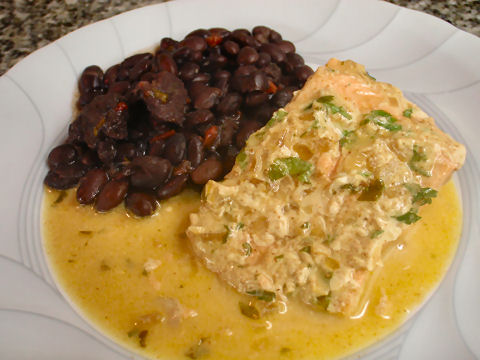 A simple dish – fresh fillets of rainbow trout that were dusted with a mix of salt and dried chipotle pepper powder, then wrapped in foil and baked in their own juices. The sauce, a blend of sour cream, shallots, cilantro, and more chipotle. The black beans I've made before, on night two I left out the chorizo but added all the spices that I would have put into making chorizo.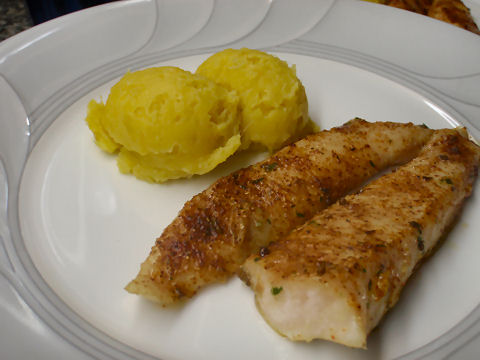 White salmon, or Brazilian Sand Perch, in a delicious way I hadn't tried before. I marinated the salmon bastones in a mix of corn oil, brown sugar, thyme, ginger, and fresh lime leaves, for about four hours. Then I coated them with a ground mixture of mustard, cumin, and fennel seeds, plus ancho and guajillo chillies and salt – then, drizzled with a little olive oil, into the oven to bake – served with mashed sweet potatoes flavored with butter, cream, and lemon zest.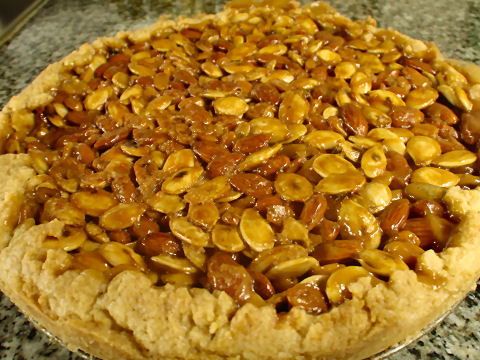 Isn't that pretty? A mixed nut tart – almonds, peanuts, and pumpkin seeds – done pretty much in the style of the Engandiner Nusstorte that I've made in various guises, just without the top crust. Only problem, pretty as it was on night one, it was impossible to cut and leave the slices looking pretty – would work well for little individual tarts.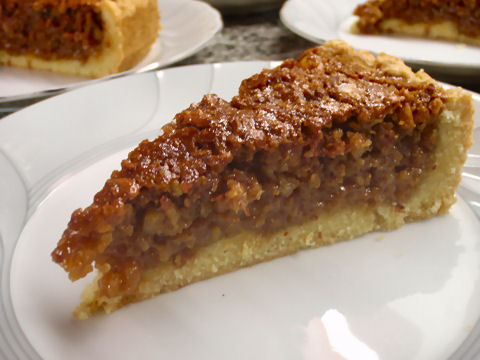 So, night two, I chopped all the nuts and did the same – not quite as pretty when whole, but much nicer when cut…. And, on to the next Mexican dinner.