"Learn to pause … or nothing worthwhile will catch up to you."

– Doug King, author
Buenos Aires – With private parties and multiple menus, it seems like I'm falling further and further behind in keeping up with posts about our dinners. Plus, I'm not sure that I really need to writeup every single recipe here on the blog. So, here's a bit of a whirlwind round-up of the last week or so….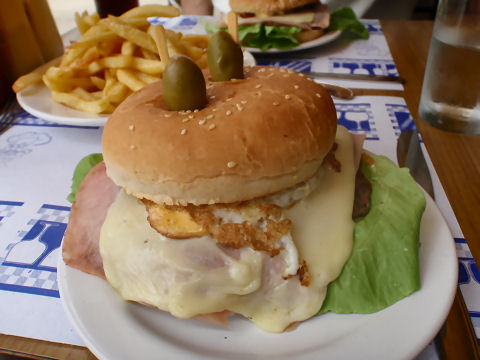 Let's start with something I had no part in cooking – but a chivito uruguayo, the dagwood sandwich of Uruguay. Not a bad version from Dunbar in Colonia – not the "stuff this sandwich with whatever you want" version you'd find at somewhere like Chivitos Marcos in Montevideo, but it did just fine – steak, ham, smoked cured bacon, cheese, fried egg, pickle, lettuce, tomato, mayo….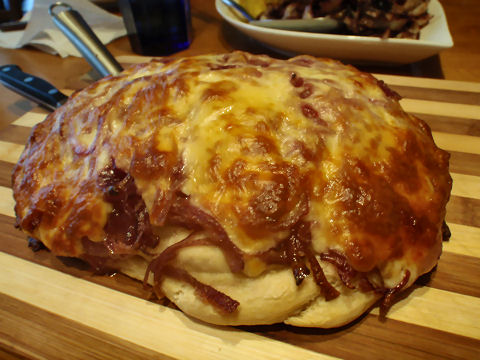 A fitascetta, or a reasonable attempt at one, from our Lombardian cuisine class – a coiled bread dough topped with caramelized red onions and mozzarella, and the whole thing baked and browned in the oven. Though it puffed up too much in the middle, it was just plain delicious.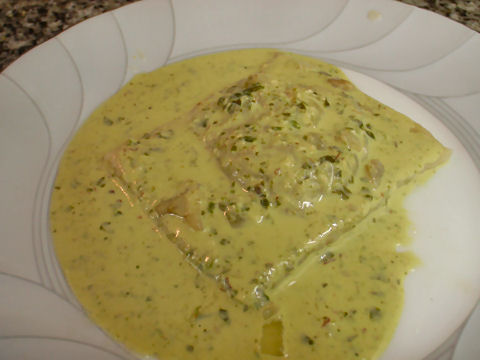 I recently was reminded about fish noodles over lunch at Lai-Lai in Chinatown, with a bowl of them in broth. The noodles themselves are made of a fish paste mixed with flour. It took a little digging to find a recipe that worked to make these – in the end, the simplest was the best – 1/3 cup of finely ground fish (I used perch), 3 cups of flour, 3 teaspoons of salt, and roughly ¼ cup of water all kneaded together to form a smooth dough, then refrigerated to firm up for a bit. We had three dinners using this – the photo above is night one – simple square ravioli, filled with a duxelles made from white button mushrooms and shallots, then topped with a pesto cream sauce spiked with a touch of brandy. The ravioli, for the most part, came out okay, but the undersides got really soggy from sitting with the duxelles in it, and several of them popped open.
Night two, potential disaster – the ravioli all stuck to each other. I didn't do anything different in prepping and laying them out as best I could tell, other than making them round instead of square, but most of them just sort of melded into each other and it was a mess. As carefully as I could, I moved the ones that weren't complete messes onto a couple of cookie sheets with silpats and baked them. Sauce, the same. The texture, fine – a little bit crispier than baked pasta usually comes out – the fish flavor more or less disappeared, at least into a very background note.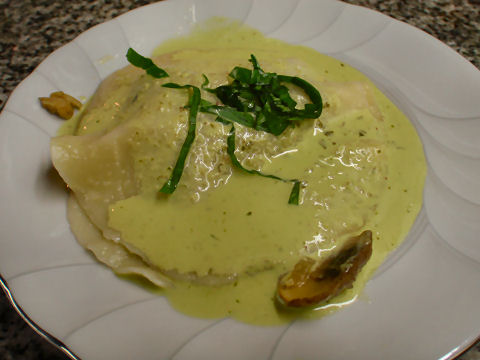 Night three, I think I got it right – I kept the rounds separate rather than making ravioli, and simple boiled them up. Then I laid one on a plate, topped with a saute of sliced button and oyster mushrooms with shallots, topped with another round of pasta, ladled the sauce over the top and decorated with a bit of slivered basil. Much nicer presentation and the filling doesn't soak through the pasta the way it did the first two nights.
The rest of the dinner was less frustrating – beggar's purses filled with a fresh pea puree flavored with ginger, honey, chilies and mint and served with an egg yolk and miso sauce, a cold cucumber soup with tomato and zucchini granité, seared duck breast with green olive chutney (shallots, olives, tomato, parsley and orange juice simmered together) all served over rice mixed with ratatouille vegetables, and a walnut and yogurt tart.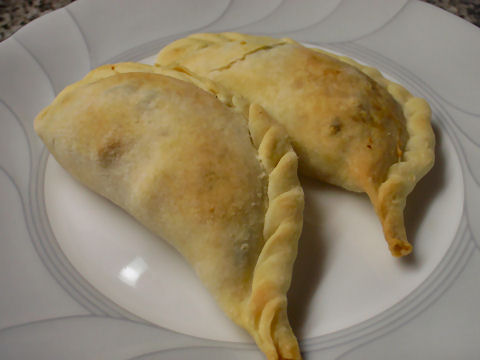 While I've said there's little reason to keep showing photos of empanadas, I'd just like to point out that my pleating technique has steadily improved and my empanadas are much prettier than they used to be. These were filled with homemade ricotta, longaniza sausage, dried plums and a touch of chilies. The rest of the dinner, a traditional style ensalada rusa, sans shrimp to avoid a problem with a shellfish allergy, my trout carbonada based soup, a main course of fricasseed chicken with a spicy green olive sauce (crushed tomatoes, green olives, garlic slices, chilies, balsamic vinegar), and a dulce de leche cheesecake complete with birthday wishes and candles.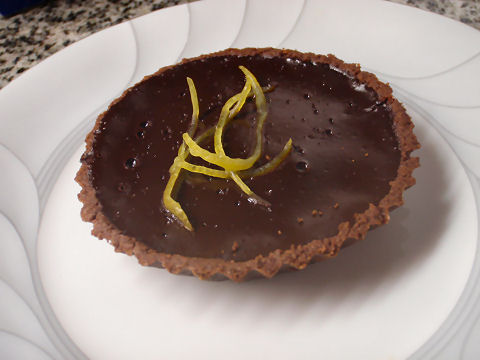 Some of you will remember my oath to not plan any more vegetarian dinners. However, I was teaching a class on vegetarian cooking, and a young couple asked if I might consider offering one. I told them my rambling story of why I no longer do so, and they asserted that if I ever did plan one, they'd show up. I got to thinking – I don't want to commit a weekend, Friday and Saturday, to it, because it's never worked out – however, why not add an extra night, a Thursday, and see if it filled – if it didn't, we'd simply cancel it, or go through with it, depending on how many people, and it wouldn't leave us with an empty weekend. So, I contacted them, we picked a date… and it promptly filled up, though we had two last minute cancellations again. Not everyone who came was vegetarian, but several were, including the couple who asked me to plan it (though, once again, not one of the other people who regularly asks about these and/or swears that they will come if we offer one), and I think folks were happy. We offered up braised leeks with mustard and romesco sauces, an eggplant soup with pickled fennel, a cheese filled polenta grassa with slow cooked chicory and mushrooms, a chickpea and tomato stew, and these lovely little chocolate and lemon tarts made with a cocoa crust.