"The true portrait of a man is a fusion of what he thinks he is, what others think he is, what he really is and what he tries to be."

– Dore Schary, producer
Buenos Aires – I was originally going to do a compare and contrast between my last spot reviewed, PozoSanto, and the one I'm covering today, the also newly opened Buenos Aires branch of a Lima restaurant, Astrid & Gastón, Lafinur 3222, Palermo chico, 4802-2991. But after trying both, it seemed unfair for a couple of reasons. First, I think both deserve an indepth review. Second, I hadn't realized that PozoSanto was a fusion with Mediterranean cuisine, whereas A&G is a fusion with more Asian elements. However, visiting both restaurants did give me an insight into this new wave of Peruvian fusion restaurants opening up in BA (there are more to be covered…) – and one point in particular, which I'll get to shortly, that highlights why I was, as someone e-mailed, "awfully lenient" with my criticisms of PozoSanto's food when I clearly thought it was underspiced and not true to the flavors of Peru. [Newer review, April 2013] [Closed at beginning of July 2013]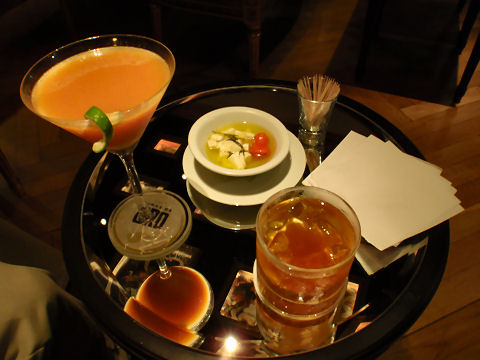 But we'll get to that…. Henry and I were invited to attend one of the opening couple of week dinners, partially for press connections and partially as restaurateurs. So, know upfront that this meal was on the house – still, I think I can be pretty objective about it – it helps that we enjoyed the evening immensely. We started off in the bar area just to the left as you enter – quite pretty, if perhaps a little over the top in decoration – and a strange, though intriguing ceiling with various religious and Incan paintings and drawings inset. The cocktails all have names that are takeoffs on classic cocktails of Europe and the U.S. for the most part – but using pisco as the base and working either the word pisco or the name of one of the piscos into the name of the drink – it gets a little convoluted, but the descriptions are there and the cocktails are served quickly, with flair, and are really quite good.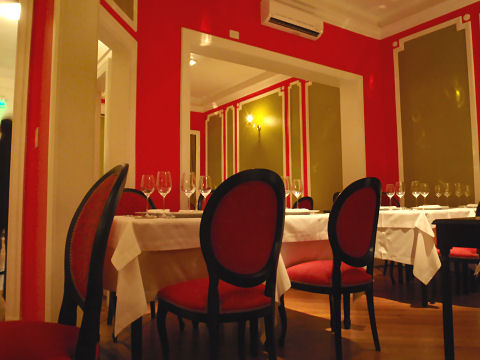 Okay, after seeing the beautiful, if ornate, bar and entrance area, we were expecting something similar in the rest of the restaurant – a natural assumption, we thought. The restaurant is laid out on two floors, it's an old house, and rather than tear down all the walls, they've simply opened archways between the old rooms and set each room up as a small dining area with about 4 tables. I'm given to understand that the owners back in Lima gave the local management free rein in the world of interior design. This, was the one negative of the whole experience – the rooms, as you can see, are done up in olive green and some sort of vermillion pink-red – Let's just say I prefer nibbling on my cocktail olives to sitting inside them. Hideous doesn't begin to describe it – it's near headache producing by the time you've sat there for any length of time. Even the staff were making fun of it when we asked…. Beyond that, service was impeccable.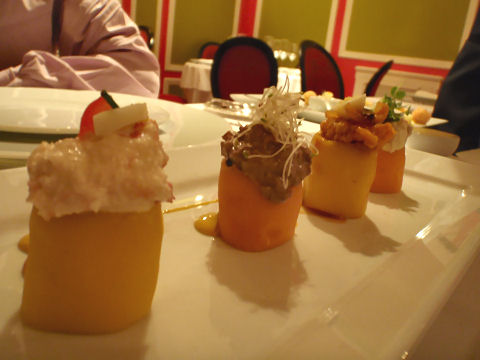 Right off the bat we get into the matter I said I wanted to touch on. Lack of spice. Truly and completely. And skipping to the end of the meal, the chef, who came down from Lima to work here after many years working for the restaurant group, admitted that he'd been given instructions by local management to eliminate the spiciness from all the dishes and simply offer hot sauce on the side in order to cater to the Argentine palate. He offered that he's hoping to gradually up the level of spice to one where it won't be too much for locals but won't be too bland for others. I'm sorry, but this whole "Argentines won't eat spices" stuff has gotten out of hand – it is true that many, even perhaps most porteños are not accustomed to spicy food – but it's rare that I find someone who truly doesn't like it unless you go overboard. And most diners coming to a place like this are probably more sophisticated eaters. This, by the way, is the reason I gave PozoSantos some slack – I'm betting that some sort of the same conversation is going on there, though I didn't have the benefit of getting to talk to the chef.
So, here is a tasting of four mini-causas, my favorite appetizer of lemon and chili spiked mashed potatoes with various seafood toppings – and completely devoid of the chili part of the spiking – even the trio of sauces brought on the side as "hot sauces" were simply chopped peppers of different sorts that had been carefully seeded and stripped of all the interior veining, leaving the least spicy part of the peppers as all that was served. Beyond that, the causas were full of herbs, nicely seasoned with salt, and clearly fresh – just no zip.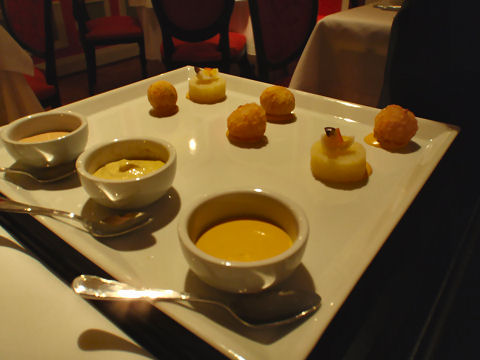 Likewise the dipping sauces that came with the trio of fritas – two each of potato, yuca, and corn – the sauces meant to be huancaina, ocopa, and rocoto – all of which are chili based and all of which had virtually none, leaving them as not much more than cheese and cream based sauces – the ocopa didn't even have huacatay, the Amazon Black Mint in it, which is an integral part of the sauce. Hand's down the most disappointing plate of the evening.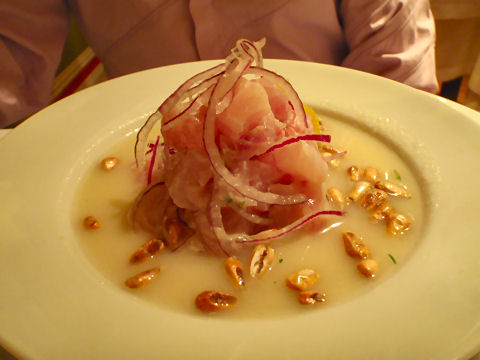 The ceviche clasico was served sashimi style – not Henry's favorite, though I tend to like that. The fish is basically heaped with the onions and (normally) the peppers, atop the lemon and salt broth, and it's left to the diner to dip, or mix, or soak the fish to cure it in the citrus juice. Since Henry likes his fish well-cured, which means at least 10-15 minutes submerged in the juice, he basically sat and stared at it while the citric acid did its work. Still, can't really fault them, they are trying for a Japanese fusion element – it's just not to his tastes. Once cured, the fish was great, though again, devoid of the traditional rocoto peppers.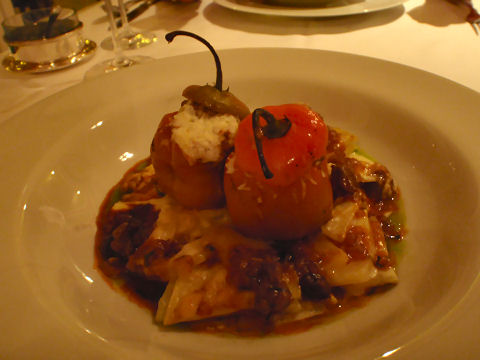 Luckily, we had some rocotos rellenos to munch on while we waited. Here, at least, the promise of spice, after all, the rocotos are right there in front of you. Of course, if you've trimmed out every speck of vein and blanched them repeatedly until they're barely holding together… you also remove all the heat. The meat mixture inside was quite sweet, lacking anything to balance it.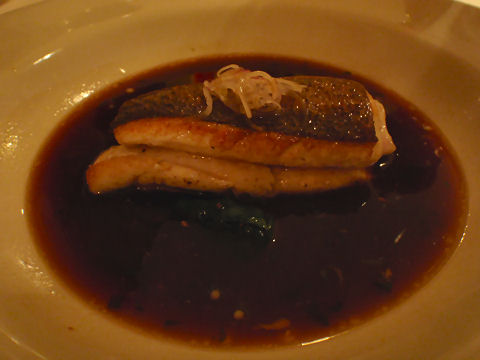 I didn't mention our waiter, other than that service was basically impeccable. He's a local to here, and not overly familiar with Peruvian food, nor, given that this was the first few days of being open, the food of A&G as it is offered up in other locations. However, the group very smartly sent down a half-dozen staff members from the Lima main restaurant, one of who was assisting him – and she knew the food inside and out and was able to make some recommendations. She did recommend that we try, for our main courses, one traditional dish and one "Gaston" style dish to see some of his creativity. This is the latter, lenguadito – two simple broiled fillets of lenguado in a soy, mirin, and green onion broth. Not, actually, all that uncommon in modern Japanese and/or fusion cooking, but, well made.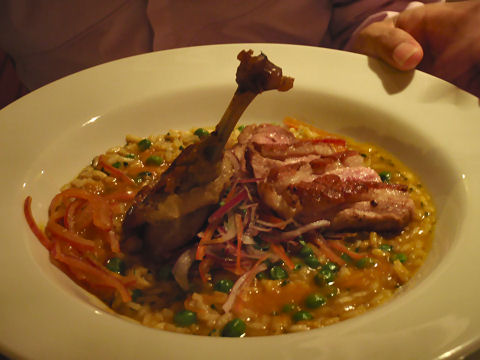 Arroz con Pato, duck with rice, flavored with herbs, is one of Henry's favorites. He loved the rice in the dish, it was well flavored as it should be. He wasn't as thrilled with the duck, which was more or less a confit – not the traditional Peruvian roast duck. I, however, am a big confit fan, so traditional or not, I was happy with it.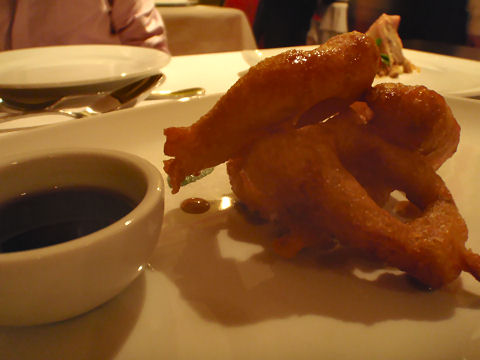 Picarones, sweet potato doughnuts, or really more like a beignet, are a favorite, and these didn't disappoint. They were crunch on the outside, sweet and soft on the inside, and served up with a simple flavored syrup. Really pretty much perfect.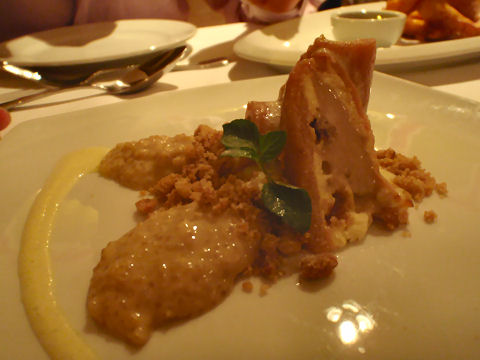 We also decided to try one of Astrid's famed modern creations, and unquestionably the winning dish of the evening. A fake sushi roll with the wrapping being very thinly sliced and poached quince, around a filling of passionfruit mousse, and served with an almond cream. Beautiful presentation and amazing flavor.
So, in summation – here's the thing – if the chef gets his way, even partially, and/or A or G themselves step in from Lima and overrule local management, this place could easily be the stellar modern Peruvian experience that they offer up back home. It's pricey as hell – appetizers on the menu were around 30-40 pesos apiece, main courses anywhere from high 60s to the 90s. Wine list, well selected, with a focus on organic, biodynamic wines from around the world, and I don't think there was anything on the list less than 90 pesos. If, however, local management sticks to this "no spice" rule, this place will likely not make it, as it would be hard to offer it up as a real alternative to quite a few other spots that while not as elegant and chic, have better food at more reasonable prices.
And hey, if you haven't settled on your approach to how the dishes are going to be presented, it might not have been the best time to invite all the press in town….