"Few Americans have heard of these tiny villages, set like jewels into the Ligurian Coast and known as the Cinque Terre. The Cinque Terre is one of those places people tend to read about once and then dream about forever."

– Hidden Gems on the Italian Riviera, Los Angeles Times
Buenos Aires – As usual, it was about the soup. But then there was the sausage. And the braised pork. But I'm getting ahead of myself, despite the fact that I'm behind in writing up our various Casa SaltShaker dinners. Last weekend, Liguria, the northwest coast of Italy – and a few ideas based on some of the traditional flavors of the area that I've been playing around with.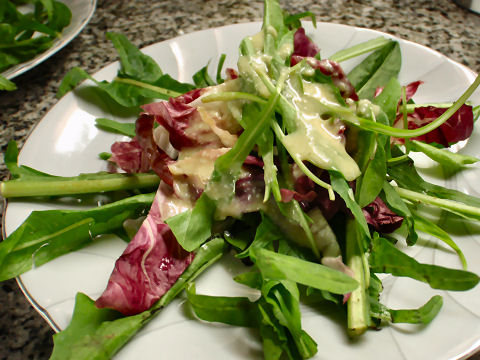 Wild greens are all the rage. Or so I'm told. And, it happens, that dandelion greens are in season. Now, I grew up in the midwest of the U.S. where dandelions were the bane of any homeowner's lawn care. We did vaguely learn about the edibility of these plants when I was in the Boy Sprouts, but I don't recall that we ever availed ourselves of their nutritional value. Since that time, I've come to know them and love them – both raw on a salad and cooked with pastas and other various fun dishes. Our dinner began with a salad of dandelion greens, red radicchio, and a little of the local green, radichetta – simply dressed with a garlic and anchovy based dressing finished with lemon and chopped hard boiled egg.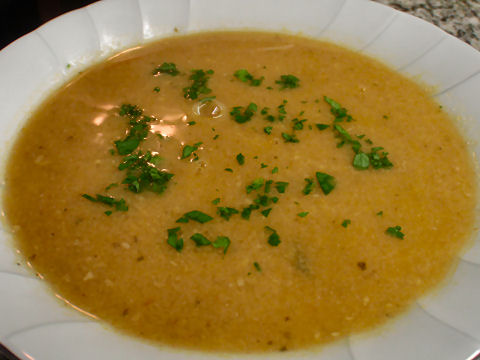 On to the soup, a Ciuppin, the Ligurian precursor to San Francisco's famous cioppino. It's simple to make, and wonderfully delicious. In a large pot I sauteed together onion, celery, garlic, parsley and oregano until soft. Then added some white wines and cooked to absorb and evaporate it. Then tomatoes, cooked until soft, and then added coarsely chopped squid, and a variety of white fish plus eel (when available) – whatever the fishmonger has that looks good. Topped it off with freshly made chicken stock. Cooked until the fish was falling apart, used the handblender on it to coarsely puree it, let it simmer for about an hour, and then seasoned it and served it – if it was a main course soup I'd ladle it over thick slabs of toasted country bread….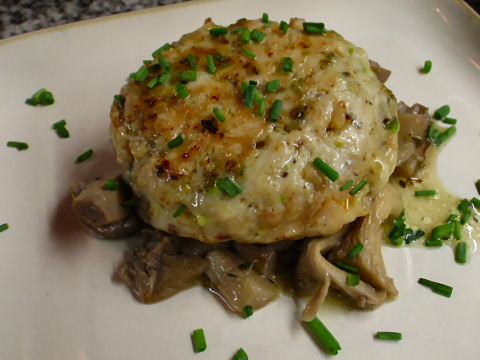 Simple chicken sausages – grind chicken breasts, skin and fat included, about 2 pounds of it, then mix with ¼ cup white wine, a couple of cloves of minced garlic, 1 teaspoon black pepper, 1 tablespoon of sea salt ground together with a handful of dried shiitakes to a powder, and 1/3 cup of chopped pistachios. Cooked those patty style and served them over those wonderful sherry glazed mushrooms I mentioned a few weeks back, though this time with a mix of white button, porcini, and oyster mushrooms.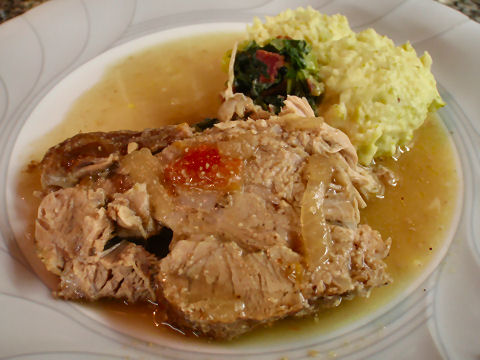 The main course, a take-off on Spezzatino di Maiale, a slow braised pork shoulder – I browned a couple of bondiola pieces, each about 1.5 kilos, in olive oil, removed them and set them aside, then in the same oil added chopped onion, cinnamon, cumin, coriander, cloves and finely ground almonds and cooked them until aromatic and soft, added red wine and cooked to absorb, added a couple of chopped tomatoes, the pieces of bondiola and some beef stock just to barely cover the meat. Cooked for about four hours until falling apart, then removed the meat, reduced the liquid to about half. Served with broccoli-potato mash and some sauteed spinach.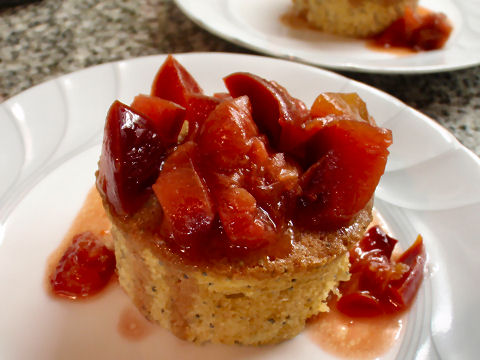 And, we finished up with little poppyseed tortes, recipe here, which I've made before, though without the glaze, instead topping them with diced plums cooked in butter, brown sugar and kirschwasser.