"The Caribbean writer today is a creature balanced between limbo and nothingness, exile abroad and homelessness at home.

– Jan Carew, novelist
Buenos Aires – With Ushuaia now left in the distance, though I will be back at some time to check out all the stuff I didn't get to, and perhaps continue on to El Calafate as well, it's time to get back to our local food scene. I hadn't gotten around to writing up last weekend's dinner before leaving, so let's start there. Though we're no longer having "official" themes for the evenings, I still plan to have a sort of core focus, and last weekend was the Dominican Republic, having been Independence Day there.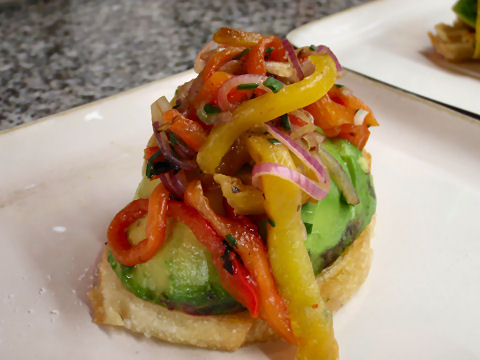 Starting from the traditional pan con aguacate, a small baguette hollowed out and filled with a mix of avocado, diced red bell pepper and onion, and a squirt of lime juice, I decided to gussie it up a bit and make it more like a bruschetta. Thick slices of Tuscan style bread, pan-fried in seasoned duck fat (garlic, salt, pepper) and then topped with a sliced half of an avocado, dusted with salt and squirted with lime juice, and then topped with a little salad of roasted red and yellow bell peppers, red onion and chives all tossed in a vinaigrette made from a fruit vinegar ("frutos del bosque", or forest berries), olive oil, salt and pepper.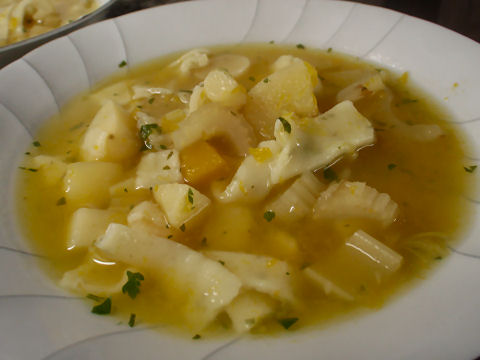 Dominicans are committed carnivores, be it red meat, chicken, or fish, and so while there are vegetable dishes as part of the cuisine, they are often viewed as lesser dishes – including the traditional vegetable soup known as sopa boba or fool's soup. My version, a quick vegetable broth made with celery, onion, carrot, garlic, black pepper and allspice simmered together for half an hour, pureed and then strained, and then I added diced potato, squash, yuca root and celery. Towards the end of the cooking I added in homemade egg noodles (2 cups flour, 1 egg, pinch of salt, water to come together), cooked those, and then to serve a large amount of finely chopped parsley.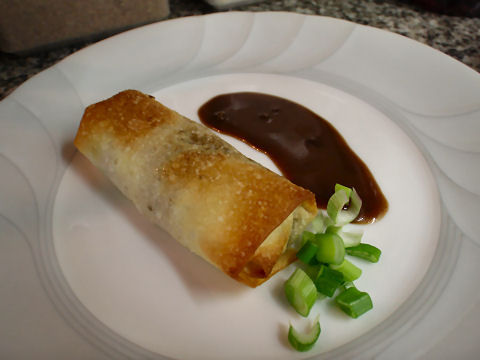 Not based on any particular dish, but more on flavors that I wanted to play around with, I started with the idea of a ravioli filled with king crab and then drizzled with a tamarind sauce. Realizing that I'd decided on a soup with pasta, I decided against the ravioli approach, and instead went with crispy baked phyllo rolls. For the filling, I used my own take on the recipe from my days at the Sazerac House for crabcakes, just skipping the extra breadcrumbs, and filled the phyllo packets with that mixture. The sauce, a mix of tamarind pulp, soy sauce, ginger, sugar, fresh chilies, and wine vinegar. Green onions to garnish.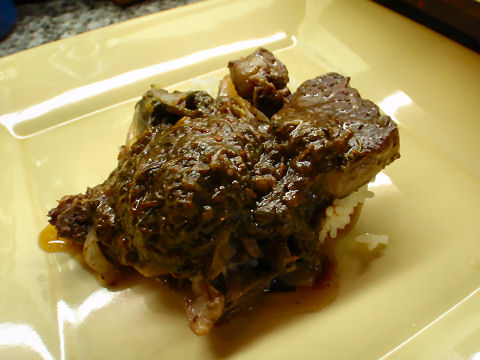 Going totally away from the Dominican Republic, I'd been promising Henry to make the Huátia Sulcana from Peru, and it seemed to fit the general flavors of the dinner as a nice progression. The recipe I've presented before from experimenting with it. I used rib-eye steaks and for the herbs, a large quantity of mint, basil, cilantro, oregano, thyme and rosemary. And I do mean a large quantity – I filled an entire colander with the herbs, in volume, probably the same amount as the meat. It gave a really delightful, intense flavor to the sauce. Served over jasmine rice.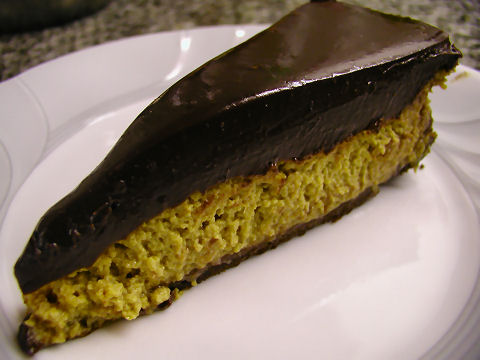 A mango and chocolate tart – just because – and mango fits the theme, right? The crust, the simple cocoa based one that I've used many times before, likewise the ganache topping. The mango custard – brought ¾ cup of milk and ¾ cup of cream along with 1½ cups of sugar and a pinch of salt to the near boiling point. In a blender I pureed the flesh of two very ripe mangoes, roughly 2 cups or a little less of puree, added the milk mixture, and then folded in four whole eggs that I'd beaten until stiff. Baked in the oven for about an hour at 375°F, cooled, topped with the ganache mixture and chilled.
Now, back into the kitchen to see what kind of trouble I can get into this weekend with Ligurian inspired dishes….