"The mate was a mighty sailing man,
The skipper brave and sure.
Five passengers set sail that day
For a three hour tour, a three hour tour."

– from the lyrics to Gilligan's Island (as if you didn't recognize it)
Ushuaia, Tierra del Fuego – Okay, we were eight passengers and it was a four hour tour, but other than that… well, let's start at the beginning. Despite weather forecasts of rain and cold, only the latter came true – the day dawned bright and shiny, with only a few clouds over the city at the end of the world (there are small towns further south, like Port Williams in Chile, but with less than 2,000 inhabitants, it's not claimed as a city).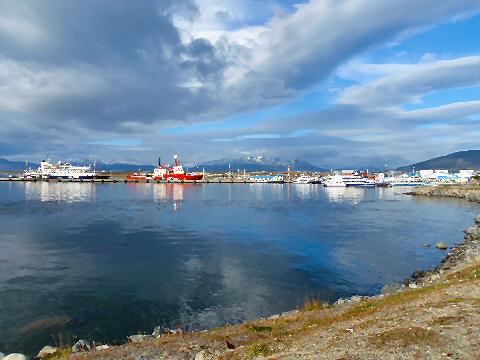 Our little group met up in the morning and headed out the dock to our sailboat, the Tré María, where we met our captain and guide, and took seats along the top deck for the trip out into the Beagle Channel. No shelter here…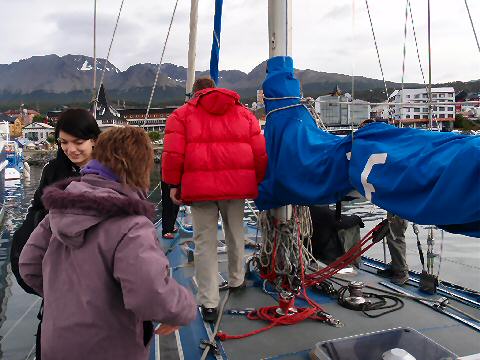 I'm going to be selective about the pix here, and once I'm back in BA I'll post
a flickr group with a whole lot more
– so let's just jump ahead – about a 40 minute trip using the motor, as the wind at that point was too calm to sail – to our first stop, the
Isla de los Lobos y Pájaros
– the Island of Sea Lions and Birds – the latter primarily being cormorants, with a few scattered others. This isn't a place where we disembarked – it's not safe – but we were fairly close in – certainly close enough to be hit with a strong dose of the downwind stench of eons worth of cormorant guano – eye watering one might say.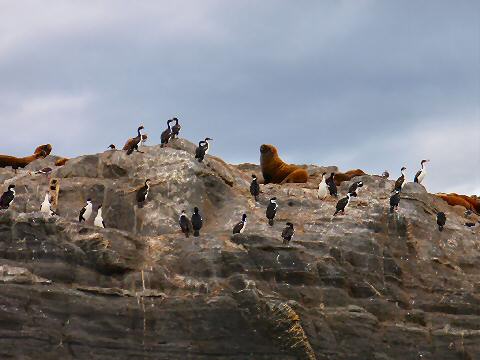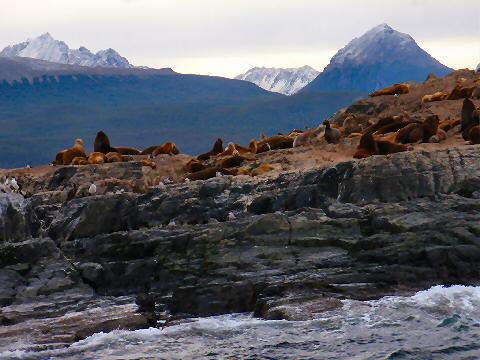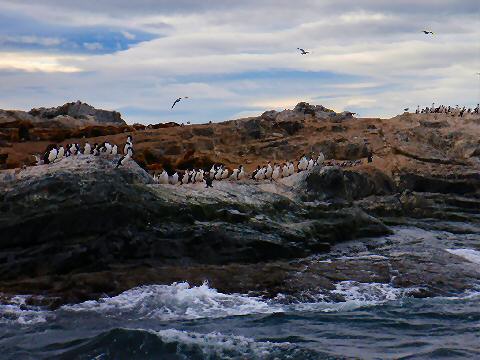 From there, with the wind picking up in mid-channel to a steady force, we set sail for Isla H, or H Island, so named because of a vague resemblance to the letter when viewed from above – it was named prior to aviation, and I guess that from the ground it might have seemed closer in form. This island is the southernmost point in the channel, and was one of the last outposts of the Yámana, the southernmost indigenous tribe in the world – who, amazingly, unlike other tribes in other parts of Tierra del Fuego and other cold areas, who wrapped themselves in furs, spent their lives naked. They did coat themselves with sea lion fat to help keep their skin "impermeable", lived as nomads via canoe, moving from island to island and spot to spot, always carrying a fire with them, and always keeping them burning in their temporary shelters (which is how the island territory came to be named Tierra del Fuego, Land of Fire, by Magellan). With a very different metabolism, that involved both a body temperature that was consistently 2-3 degrees higher than what we think of as normal, and a daily consumption of 6-7,000 calories minimum, they subsisted in this part of the world for nearly 7,000 years. The last pure Yámana died only a few decades back. On Isla H, we saw remains of their campsites – often meters deep in ashes from the constant fires – littered with bones of birds and sea lions and mollusc shells, their primary diet. The island was covered with fascinating flora, not so much fauna – in fact, the only animals we saw were when we visited the far side's sheltered black cormorant rookery, which included the "luxury apartment" as the guides have come to call it, high up on the mountain and two meters thick in guano – having an estimated age of over 1,000 years of continuous use.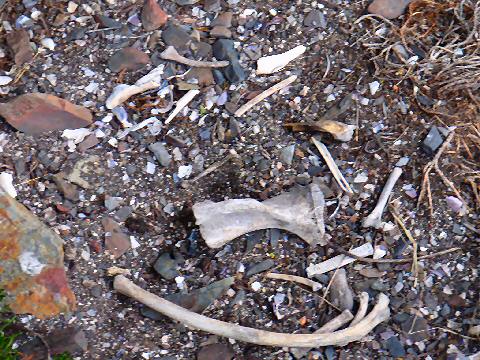 Yámana campsite remains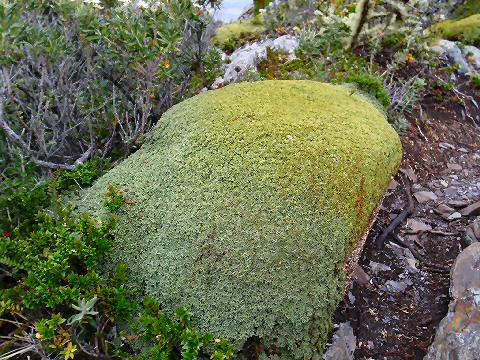 Bolax plant – a very slow growing (1 millimeter per year) aromatic plant in the same family as carrots, celery, parsley, and other herbs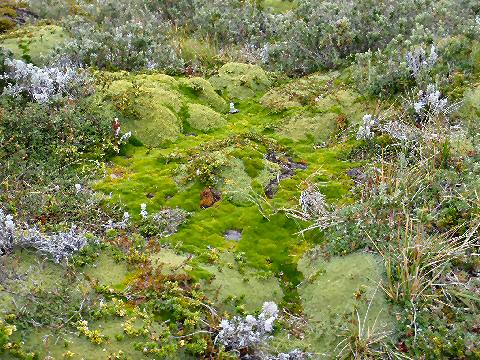 A little fairyland carpet of variouis indigenous plants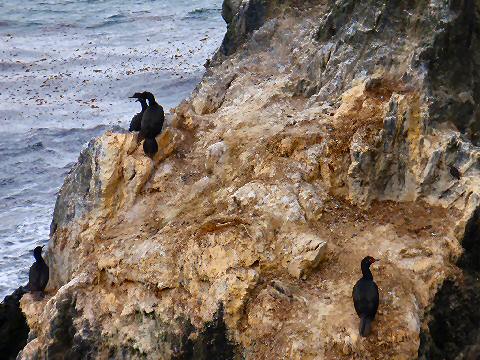 Black cormorant rookery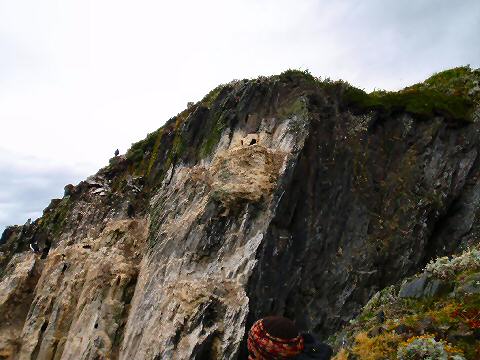 The high end nest at the top of the rookery
The wind had picked up to a howl, we were freezing our little fannies off. We took a break below deck, crowded together for a quick cup of instant coffee (everyone in Ushuaia seems to serve instant coffee – I assume it's an availability thing rather than a preference) – before donning an extra layer of wet weather gear and returning to the deck for the sail back to Ushuaia.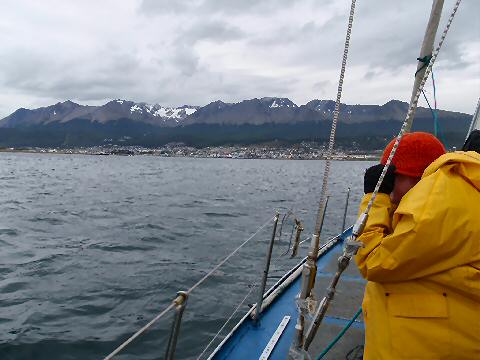 On to the food of the day…
Lunch, at Volver, Maipú 37, a kitschy sort of spot decorated with old sailing memorabilia, a collection of pots and pans, and anything else that fits into the space. It was here I saw the phrase Beber y Comer en el Culo del Mundo – which is printed on their aprons – (for those not sure – Eat and Drink at the Ass-End of the World – would be the best translation). Having toured the Yámana Museum the day before, I'd noted that one of the displays mentioned a list of the various local molluscs they lived on, including sea urchin. Now, I've not heard of sea urchin from Patagonia, so I figured, well, over time, the population must have died out. However, no… Volver offers up this lovely bowl of them (40 pesos), fresh out of the channel, and simply flavored with chopped onion and lemon. They also offer up beaver carpaccio… when it's in season, which it isn't at the moment… or you'd have had to hear about it… more in the next post on beavers in Tierra del Fuego.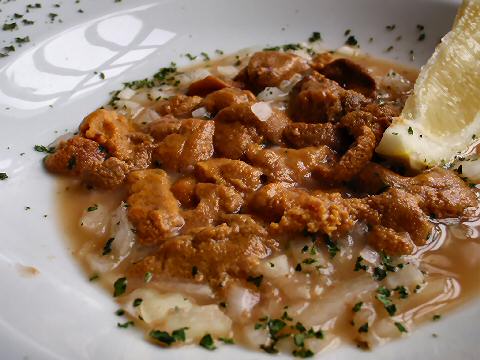 I've resigned myself, to some extent, to paying way too much for food here, so I decided to treat myself to what turned out to be pretty much the height of decadence – a generous 2″ thick slab of
merluza negra
(Chilean sea bass again – one note, most of the time I wouldn't eat this fish, as its availability in most of the world is only due to rampant over-fishing of its territory, to the point of near extinction – however, here in Ushuaia, they're fished direct from the Beagle Channel, individually, and from sustainable stock). This time, rather than the simple grilling of the previous day, this thick steak was poached slowly immersed in butter, until it was the texture of custard – amazing – and then topped with an overkill of fresh king crab cream sauce – and, wonder of wonders in Argentina, with a side of mixed vegetables! (100 pesos)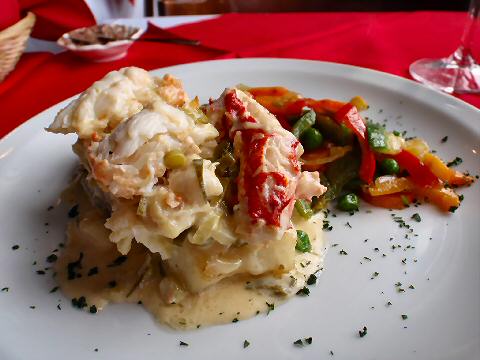 The only disappointment, the winelist – totally Mendoza wines with the exception of one white and one red – and the woman serving me's response when I asked was "that's where all the good wine comes from" – perhaps there's more of it there, but there are certainly good Patagonian wines out there, and the selection of Mendozan that they had were all major commercial house stuff – nothing special.
On to dinner, and a bit of a disappointment – Maria Lola, Gobernador Deloqui 1048. First, the spot – it's a beautiful, simple wood dining room with a glass wall looking out over the bay. At lunchtime, I have no doubt the view is spectacular. At a later dinnertime, you can't see anything, so it's sort of a waste. The food… odd. I started with the house special ceviche del mar – a ceviche of baby octopus and scallops (mistranslated on the menu as clams). The problem, it wasn't a ceviche, not in any sense of the term. The octopuses and scallops were cooked, then chilled, and then served sitting atop a dice of green, red, and yellow bell peppers that had been cooked until soft. There was no spice, no seasoning (none, not even salt), and no citrus – though two lemon wedges were served alongside on the plate. I added the juice from those lemons and a bit of salt and pepper – and it was an acceptable cold seafood salad, but just not ceviche. (48 pesos)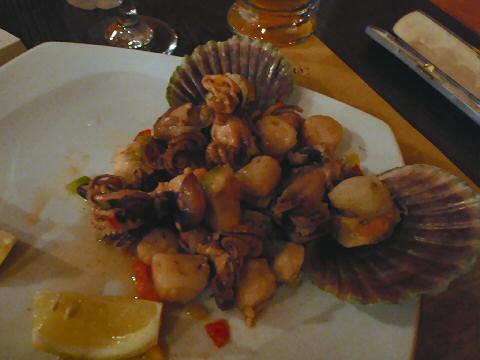 Next up a very ordinary plate of what didn't sound ordinary – a mix of homemade black and white fettucine tossed with a leek cream sauce (near everything has cream and butter here – I suppose it helps add calories and fat to aid in dealing with the cold weather) and bits of salmon and shrimp. The pasta, overcooked. The sauce, unseasoned again. The salmon, overcooked. The shrimp, the same, plus they were the teeniest little shrimp I think I've seen in years – not much bigger than brine shrimp, or sea monkeys. (45 pesos)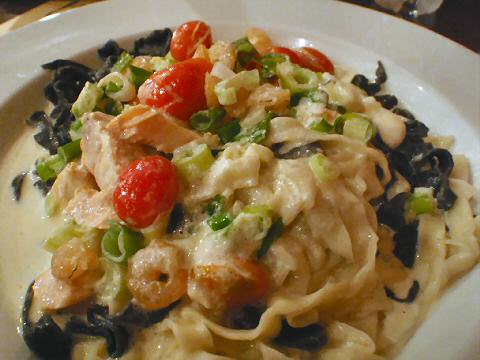 They did have a nice selection of both wine and beer, including a couple of versions of the local artesanal brew, Beagle, the rubia was delicious. (15 pesos)