"It is a curious thing… that every creed promises a paradise which will be absolutely uninhabitable for anyone of civilized taste."

– Evelyn Waugh, author
Buenos Aires – While it's still fresh in my mind I wanted to post this review from last eve – I'm now in the deep south of Tierra del Fuego, and the rest of this week's posts will likely be about the fun and frolic there – and then when I get back I'll get around to this last weekend's dinner and recipes. So, yet another spot that I've been hearing about for eons now, and for one reason or another never ate at – either they had no space or I simply didn't think of them – but I'm happy to report that, for the most part, the "social paradise", or Social Paraíso, Honduras 5182, Palermo, 4831-4556, is, while not a paradise of any sort, certainly a delightful place to eat. I have to admit, given as good as it was – simple and rustic, yet deliciously prepared food – that to be able to walk in on a Saturday evening and get a table for four was suprising – and, they never did fill up, while meanwhile, numerous other spots in the 'hood, none of which are as good, had lines of folk waiting for tables. Location, location, location – Social Paraíso is in mid-block, and the places with lines were all corner spots – which, psychologically, for whatever bizarre reason (someone could do a study), carries more weight than the quality of the offerings.
Service was friendly, adept, and helpful – only one quibble, which I'll get to shortly. The place is clean and brightly lit, the staff seem much the same. One off-note, a puddle of water on the floor in front of the bar which none of them seemed to notice the entire evening – or perhaps it's a permanent puddle and they've given up on ineffectual mopping. They've spared every expense on decor… that is to say, there isn't any – blank white walls on all four sides, simple block tables and chairs – all very serviceable and functional though not overly warm and welcoming, though, as I said, the staff certainly were.
On to the food…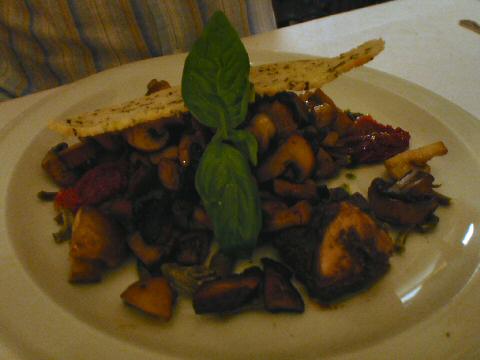 With four of us, we set out to try a good range of dishes – on the appetizer side three in particular caught our eyes – the remaining two seemed uninteresting, two different versions of simple salads. This mushroom dish was certainly one of the best things we ate, and that's with some pretty stiff competition from the rest of the plates. A mix of roasted mushrooms, with delicious smoky flavors, a bit of fresh herbs, olive puree and sun-dried tomatoes… how good does that sound?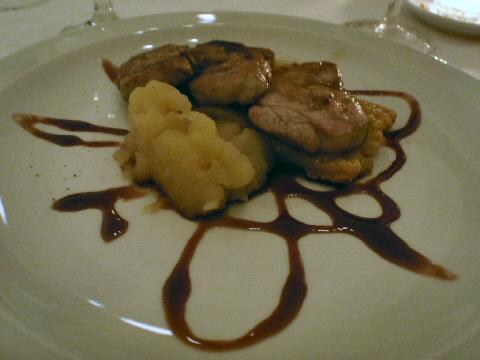 I think the hit of the evening was probably the grilled sweetbreads with crushed, baked apples – absolutely stunning – two of us ordered that one. The last plate, a simple country style lamb paté was delicious as well. Three for three!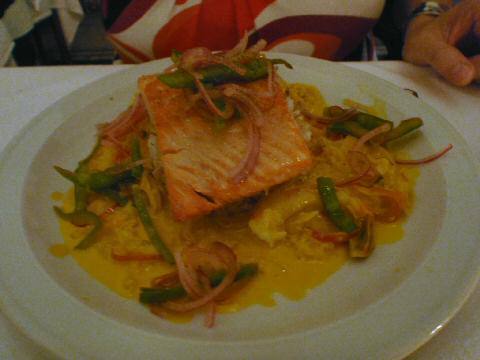 I'm not going to show all the main courses – plating was simple – we had three red meat dishes – a sirloin steak topped with crushed garlic and accompanied by roasted potatoes and a tomato-onion salad; double cut lamb chops served with tabouleh and dates; and roast pork with mashed potato croquettes and baked apples – all delicious, and we couldn't decide which one we liked the most. And then this, the one mistake of the evening – and none of us mind mistakes, as long as there's a correction available – and here's where service fell down. The menu offered both a salmon dish and a "fish of the day", which our waitress told us was lenguado, or sole. One of my dining companions ordered the latter – and received this – not the salmon dish, but the fish of the day preparation topped with an obvious fillet of salmon. We flagged down the waitress who assured us that what we were looking at was lenguado (sole) and not salmon. When we tried to insist that it was salmon, she simply asked if we wanted a different dish, since that was clearly not salmon (really? just look at it), and any requests to the kitchen for something that we thought was lenguado would result in the same plate. She wasn't exactly rude, but all the helpfulness and friendliness just evaporated in that moment. Our companion decided not to press the issue, even though the rest of us were all for it. A shame, because this wasn't what she wanted, and the waitress's snippiness not only put a minor damper on an otherwise delightful meal, but cost her a hefty portion of her tip.
Being stuffed, we decided against desserts and headed out. So, the tally – food, excellent. Service, warm, welcoming, quite good, with slip-ups. Ambiance, meh. I like the place, I'll be back, but despite the good food it doesn't zoom up into my highly recommended category.