"Fight one more round. When your arms are so tired that you can hardly lift your hands to come on guard, fight one more round. When your nose is bleeding and your eyes are black and you are so tired that you wish your opponent would crack you one on the jaw and put you to sleep, fight one more round-remembering that the man who fights one more round is never whipped."

– James Corbett, author, journalist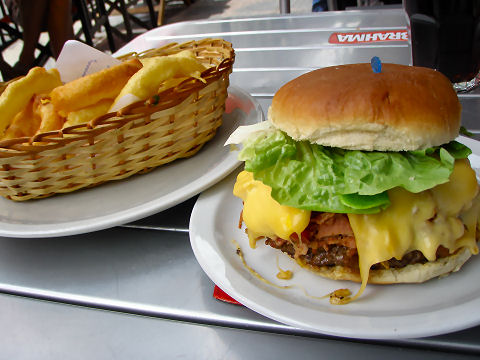 Buenos Aires –
Very casually, in the background of things,
the burger battle
continues. We resample burgers at various places, though not too often – I'm trying to keep myself on a better diet than burgers tend to allow for. Still, now and again, you know? A local chef friend recommended his favorite late night spot to grab a burger, and assured me it was not the usual Argentine DVD-thick excuse for a
paty
, as they call them. So one lunch it was off to
Carlitos LNG
, Guido 1962 in Recoleta, and a stab at the
Hamburgesa Completa de la Casa
– basically a bacon, egg, and cheeseburger with the works. Not bad, though I thought we'd gotten past that whole "everything cooked until it's well done" period here in BsAs. Still, despite not coming out the medium rare that I ordered it, it was juicy and tasty, finger-lickin' good. The onion rings could use some work, they were a bit on the doughy side – more onion, less dough, crispier, okay? Still, the mere fact that they have them was a plus, though my waiter, who turned out to be new, had no idea what they were and had to copy the name,
aros de cebolla fritos
down word for word – and when they arrived and I showed him what they were, he seemed appalled – I'm not sure if it was at the idea of fried onion rings, or that I wasn't eating fries with a burger. He'll get the hang of it. Maybe. 
[Closed]
Oh, the "LNG" in the restaurant name? He didn't know, but a quick look at the website revealed "La Nueva Generación" – must have inherited the place from dad. They have two other locations, supposedly with the same menu, one in Olivos to the north, and one in San Bernardino to the west.