"Everyone loves this recipe, which they know from Chinese restaurants as ma po tofu. It's a versatile dish, which here is served over crispy rice. You could also serve it over noodles. For a change, I sometimes like to fry cooked rice until it's crispy and sprinkle it on top instead."

– Masaharu Morimoto in "Morimoto: The New Art of Japanese Cooking.
Buenos Aires – I remember back in cooking school, "they" told us that there were a few simple basics that were "the test" of a good chef. Of course, this came from the French classic technique background of training – if memory serves me right, it was a vinaigrette, and omelette, and a roast chicken. I'm sure that when you step outside of classic French technique, other strong culinary traditions have their own tests. And, I think, we all have our own personal litmus tests when we go into a restaurant of a particular ethnic background. For me, in Chinese restaurants, while of course dependent on what part of China the cooking represents, as there are major variations, it usually comes down to something spicy – kung pao chicken, ma po tofu, orange beef – all being among my favorites, plus dumplings. Gotta have the dumplings.
So, we'd stumbled upon a sleek, gleaming new Chinese restaurant up the block from my eye doctor, where I'd just had the earpieces replaced on my glasses, and decided to give it a whirl – 862 Restaurante, at Uruguay 862 in Centro. Whereas most Chinese restaurants here seem to be overrun with kitsch and posters and such adorning the walls and every nook and cranny, this one is simply decorated in soft pastel peach and off-white, with minimal other decor. There were no customers, despite being the height of lunch hour, in a busy business district, which could be a bad or good sign – either the food is simply not good, or, it's not to local tastes, which might imply the possibility of being more authentic. As it turned out, we were simply a little earlier than the neighborhood supports, at least in the middle of summer, and the place got busier over the next hour. [This place has closed]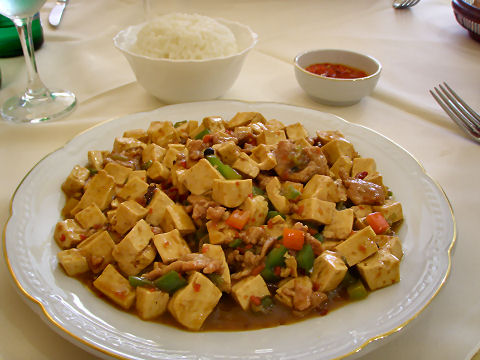 Henry loves his wonton soup, or sweet and sour soup, they had the former, and he was soon happily slurping away at it. I plumped for the
empanaditas chinas a la plancha
, the potstickers, which, while tasty, weren't so pot-stickery, but more like steamed dumplings that they'd just given a very light toasting to the bottom to. Still, quite good, and the hot sauce we'd asked for on the side was a fresh, vibrant, and nicely spicy bowl of minced fresh chilies, oil and vinegar. Since we tend to agree on
kung pao
as a favorite, Henry ordered that, though he likes his
sans
the peanuts, so when it's his turn to order it we get it that way. I ordered the
ma po tofu
, and we ordered both dishes
muy picante
. The
kung pao
was moderately spicy, not as hot as we usually like it, but really well balanced and flavorful; the
ma po
on the other hand was blazingly hot and I was soon sweating from every pore – in a good way, you know? Maybe the
kung pao
just wasn't spicy in contrast – Henry didn't leave a morsel on the plate! Overall, pretty authentic, and, at least on request, not toned down.
Service was a bit scattered, our waitress, not Chinese, had no clue what any of the dishes were, and we had to not only say them, but point to them on the menu, at which point she painstakingly copied down the words on her little pad, excrutiatingly slow letter by letter. Probably new, but still, left to flounder about on her own by the Chinese woman sitting at the back staring into a computer screen (what is it with the staring into the computer screen thing here – you can count on in almost any restaurant that that's what the manager or owner will spend your entire meal doing – occasionally tapping at a key or two or moving the mouse?). How hard is it to bring one bottle of water with gas and one without, and remember that much? Our waitress couldn't. Or to bring our food to our table instead of someone else's and vice versa. At some point a young Chinese woman came out of the kitchen and started helping keep things organized, and service got immediately better, something that screen-staring woman should have been doing from the start. Still, assuming that our waitress sticks with it and learns the menu, she was pleasant, and things may improve all around. Sink or swim….
Recommended, definitely.