"I never planned in my imagination, a situation so heavenly
A fairy land that no one else could enter

– from Stars Fell On Alabama
Buenos Aires – Thirty years ago this past weekend, the Shah of Iran's reign over the country once known as Persia ended, and he and his family fled to Egypt. There was dancing in the streets and celebrating. Hindsight may leave us wondering if, in the end, this all turned out well for Iran and/or the rest of the world, but in commemoration, celebration, or commiseration, it seemed a good inspiration for a dinner based on Persian flavors – and after the intro for the evening, the Shah didn't come up in conversation. One of the fun things this weekend was the variety of opinion over the different dishes – usually, there's one, or perhaps two, clear favorites of pretty much everyone, including us. This weekend, it's a tossup – I've heard from various guests that each dish was at least someone's favorite.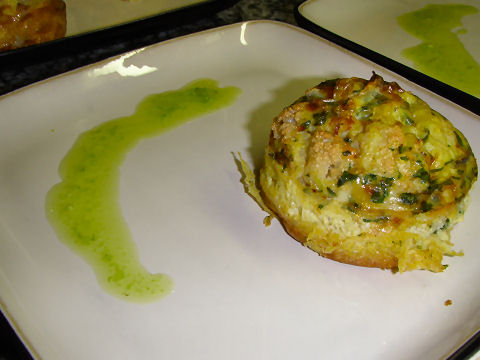 Unlikely you'll remember the fun with a cauliflower kuku a couple of years ago. I followed pretty much the recipe that I gave there, with the exception that I didn't cook anything bit by bit, but put the whole mixture into buttered ramekins and then baked them like little muffins or souffles. To give it a little kick, I made a jalapeño oil (peppers, olive oil, salt pureed together) on the side for those who wanted…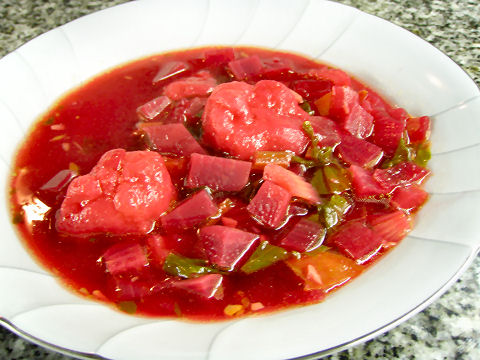 An article in the New York Times gave me this recipe, which I followed fairly closely, using apricots rather than plums (an option offered up in the text). Most of the adjustments came simply from "seasoning to taste" as I went along. The one major(?) difference after the first night, I felt the dumplings soaked up too much of the liquid in their initial cooking, so I cooked them first in simmering beef stock, and then added them to the soup only a few minutes before serving so they could pick up a little pink tinge from the beets, and leave the soup… soupy.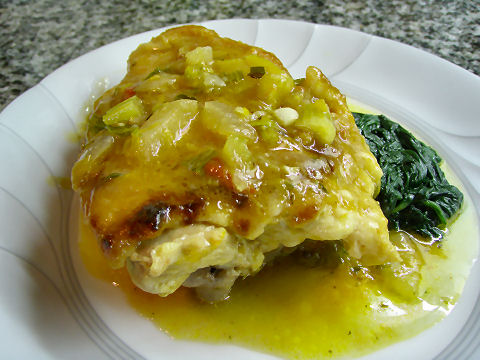 I started off from this Persian Chicken and Peaches recipe with the only real differences being that I used all chicken thighs, marjoram instead of oregano, crushed plum tomatoes instead of tomato sauce, and fresh sliced peaches instead of canned – which also cut back on the sweetness, something I found to intense in the original recipe. For the chili powder, I used ground chipotles.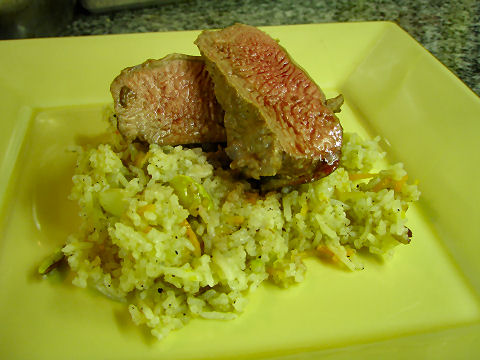 I wanted to feature a rice pilaf, or polow as it's called in Iranian cooking. I found a wonderful recipe for a "wedding polow" which I played around with a bit. First off, I sauteed some cardamom and cinnamon in butter to flavor it, then added thinly sliced onions, julienned carrots, and fine slivers of orange peel, cooking those until soft. Then I added equal parts of sugar and water, just enough to cover the mixture, a pinch of saffron threads, and some salt, and cooked it for about ten minutes together. Meanwhile, I toasted some slivered almonds and whole pistachios. When the mix was done cooking, I added in the nuts and a splash of orange blossom water. I set that all aside. I rinsed basmati rice really well until the water ran clear, then toasted it lightly in some neutral oil, added an equal volume of water to the rice and cooked it over medium heat, covered, until all the liquid was absorbed. Then, I poured the earlier mixture into the pot, mixed it up, turned the heat down low, and left it to cook, covered, for about 20-25 minutes, stirring it up once every 5 minutes or so. It absorbed all the liquid, and toasted a little on the bottom, which is the idea as I understood it, finally seasoning it with salt and pepper to taste. Atop the pilaf (and a mere accoutrement, because the rice was so good on its own), I put triangles of pan-roasted lamb loin simply seasoned with salt and pepper. This was, unquestionably, my favorite dish.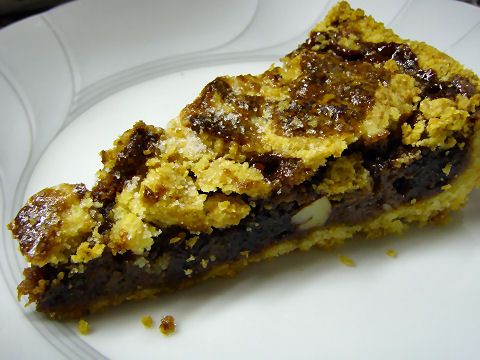 Date and walnut or date and pinenut desserts are popular in Persian cuisine, though rather than do something traditional styled, I went with something I'm more comfortable with, a tart. I basically used the recipe for the Engandiner Nusstorte that I've made a couple of times before, but substituted half and half chopped dates and pecans (just because they were available and so rarely are here) for the walnuts, and also added a tablespoonful of orange blossom water to the mixture. For cooking it, in addition to brushing the top with egg yolk, I sprinkled it liberally with sugar that caramelized on top as it cooked. This one drew the most rave compliments.