"OPA'LIA, a Roman festival in honour of Opis,a which was celebrated on the 14th day before the Calends of January (Dec. 19th), being the third day of the Saturnalia, which was also originally celebrated on the same day, when only one day was devoted to the latter festival. It was believed that Opis was the wife of Saturnus, and for this reason the festivals were celebrated at the same time. The worshippers of Opis paid their vows sitting, and touched the earth on purpose, of which she was the goddess."

– William Smith, D.C.L., LL.D., A Dictionary of Greek and Roman Antiquities, 1875
Buenos Aires – With the success of our series of Italian cooking classes, the cuisine has been on my mind much more lately, so it won't come as any surprise that I'm trying out recipes here and there during our Casa S dinners. On to the food….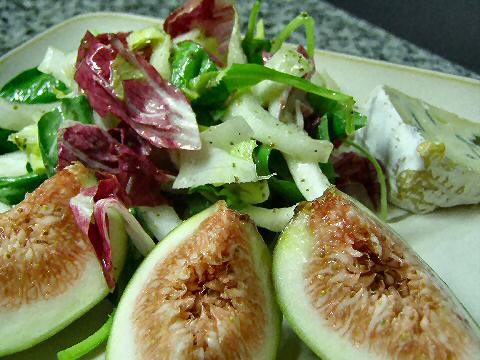 This is a minor change to past versions of an insalata romana, one of my favorite salads – with the tri-color (Italian flag) leaves of arugula, endive and radicchio, accompanied by fresh figs and blue cheese. The only change – I guess it's the holiday season and a certain amount of missing "roots" – I've been experimenting with recipes for salad dressings – I grew up in a household where we always had salad with dinner, and usually an array of dressings (Kraft and Wishbone, of course) to choose from – one of my favorites was always Italian – this version a blend of cider vinegar, olive oil, water, garlic, onion, sugar, oregano, thyme, basil, parsley, celery seed, salt and black pepper.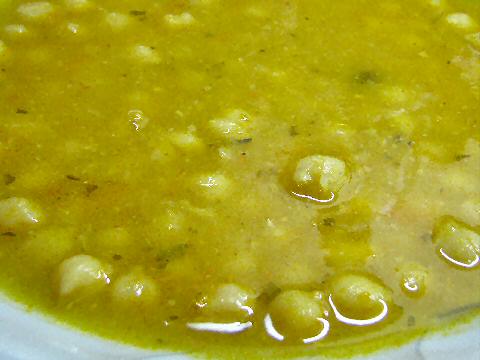 A simple soup in which I sauteed minced garlic, rosemary and oregano with crushed anchovies, then deglazed the pan with white wine and reduced it a bit, added tomatoes and water and let it simmer away. Meanwhile I had soaked chickpeas overnight and then cooked them separately until soft – adding them to the soup. The first night I pureed the whole soup, the second night I pureed it prior to adding the chickpeas and left them whole – I liked that better….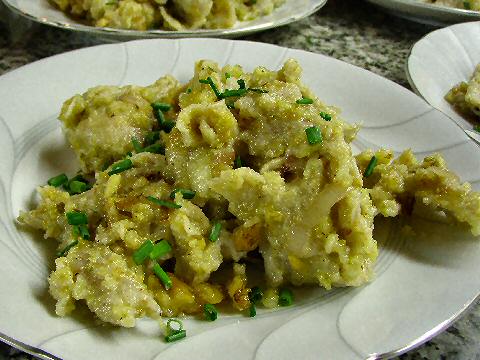 Again two versions – homemade whole wheat pasta both nights, something we've been playing with in the classes – the first night tagliatelli – thin ribbons, I thought they seemed a little too delicate for the sauce, which was sweetbreads coated in cornstarch and cornmeal and fried in olive oil along with lots of chopped shallots and walnuts. The second night I tried maltagliati – just random forms – it seemed too much the other direction, almost overshadowing the sweetbreads – something in between the next time….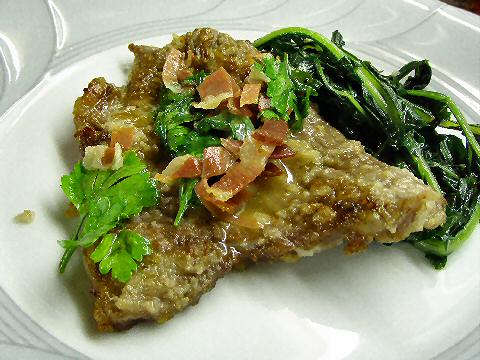 A simple veal piccatta – traditional style topped with lemon juice, parsley and prosciutto. Served up with garlic sauteed chicory – some people liked the chicory and ate it all, others just pushed it around the plate. Oh, and on night two, two folk showed up who'd made their reservation the day before and assured me that they "ate everything, no restrictions" – apparently, mentioning that he was a vegetarian didn't seem worth mentioning – hmmm… didn't mention the anchovies in the soup – nothing I could do about it anyway, pasta without the sweetbreads, just the walnuts and shallots, he seemed to like that, the veal, not much I could do at that point, a little extra chicory – which he turned out not to like, and I had a few loose vegetables around – carrots, onions, peppers, which I sauteed up quickly and tossed atop the chicory. I don't get it – if someone has a dietary restriction that's that… restrictive, why not mention it? Sure, I might have said no, but, probably not, I usually try to accommodate requests like that when I can – and he would have had a far better meal.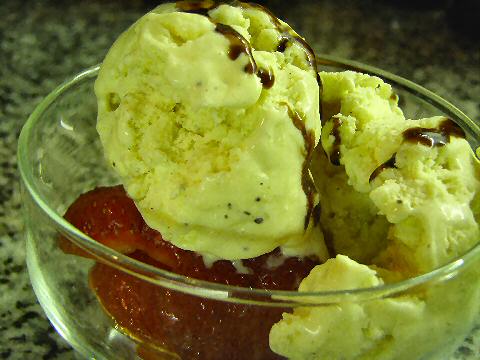 This was a hit – a traditional Roman dessert of gelato made from risotto rice – the rice is cooked in cream, cinnamon and sugar until al dente, then mixed with creme anglais, chilled, and then churned in an ice cream maker – it's kind of like a frozen rice pudding, only richer. I scooped it over strawberries that had been macerating in berry liqueur and then drizzled a little balsamic caramel over the top.