"We shall reign with righteousness, for the benefits and happiness of the Siamese people."

– Oath of Accession for the Thai king
Buenos Aires – Look, he wasn't feeling well, wasn't even able to deliver his annual birthday address to the nation the night before his birthday festivities, so we didn't count on him to show up for dinner. He would have been welcome. Bhumibol Adulyadej, better known as King Rama IX of Thailand, turned 81 this weekend. When it comes down to it, he's more or less the guy who is the sequel to the well known "The King and I" – taking over when Yul Brunner's real-life counterpart departed this globe. I decided on a seafood and vegetable dish dinner – I'd had several requests from visiting pescetarians and hey, I like seafood and vegetables too.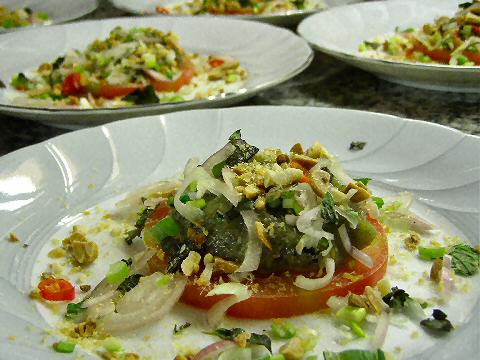 I'll tell you right up front, the salad we started with was my favorite part of the entire meal. I could just sit around and eat plates of a salad like this. And, ain't it purty? I charred those long asian eggplants over an open flame until they were cooked through, let them cool inside a paper bag to continue steaming a bit, then scraped off most of the charring and pureed the eggplant flesh with lime juice, fish sauce, and a pinch of salt. I left that to chill in the refrigerator. Slices of tomato to go underneath, then sprinkled with a salad of mixed shredded mint leaves, chopped green onions, thinly sliced shallots and chilies, then further sprinkled with chopped roasted peanuts and finely ground dried shrimp.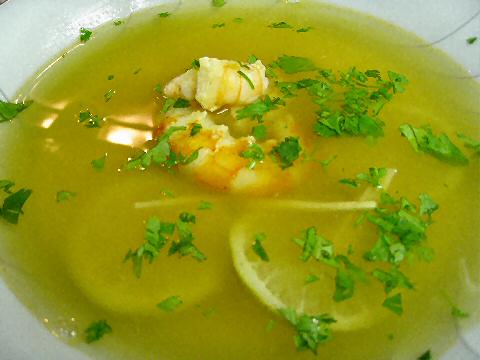 The soup gave me some problems. I wanted to try out a traditional, simple, prawn and lime soup. Following the traditional recipe, as I did the first night, resulted in a fairly bitter (not very slightly bitter as the recipe promised) broth of shimp stock (freshly made) with thin slices of lime and a julienne of ginger floating about. Even adjusting it with salt and sugar as suggested left it more bitter than I liked – though, everyone who attended on night one lapped it right up. The prawns, sauteed in salt and white pepper, added a nice note, as did the chopped cilantro. Night two, I added the lime slices only a couple of minutes before serving, so they just simmered for a very short time in the broth – still, I found it more bitter than I liked. I also added some finely chopped whole watercress to the mix to give the soup a little more texture – I liked the flavor addition, but not the texture. So, night three, it finally turned out the way I wanted – instead of adding the slices of lime to the soup in advance, I simply placed them in the bowls along with the sauteed shrimp (Henry's suggestion) and the watercress (leaves only), then ladled the broth with its shreds of ginger over it. The lime flavor came through aromatically fresh, the whole dish came together – sometimes you just have to keep trying.
The next course, I played around with two dishes I'd done before for a previous Thai dinner – just two of the three middle dishes – the fried tofu sauteed up in oyster sauce and chili oil atop grilled pineapple – I stacked five squares of the tofu in a cute little tower, and then drizzled the tower with a reduced balsamic caramel. The squid dish I made with squid rings rather than tentacles, which was much better received – I also beefed up the spice a little with a mix of ground black and red peppers.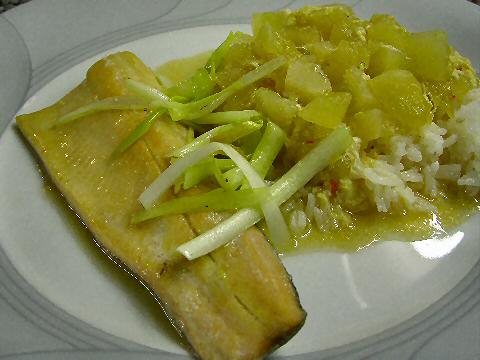 A sour orange curry is a tradition in much of Thailand – there are no sour oranges in it – the sour comes from tamarind, the orange comes from the curry paste in color rather than flavor. The classic fish version of this uses the rind of a thai melon, chopped and then used much like a vegetable, and then salt-cured and sun-dried river fish that is shredded into the curry more for flavor. I wanted the fish to stand a bit on its own – which meant a short-term salt cure – simply coating trout fillets in medium coarse salt and letting it sit for 4-5 hours, then rinsing it, and finally baking it in the oven drizzled with a little olive oil. The curry is a fairly simple one as curries go. I used the rind of honeydew melons, which I peeled, then scooped the flesh out, leaving about a 1/3″ thick rind that I diced, and then simmered in fish stock that I'd first flavored with tamarind pulp, palm sugar, and fish sauce and then strained. Meanwhile, the curry paste a blend of chilies (jalapeños), red onion, salt, garlic, and shrimp paste, got tossed in a pan and cooked slowly until it darkened. I added a few spoonfuls to the simmering melon rind and then served the rest on the side for people to adjust the spiciness to their own liking. A little jasmine rice completed the dish.
The dessert, from the same dinner as linked above, a butternut squash tart with a cashew caramel that worked out beautifully.
I have no idea what our distant friend Bhumibol was dining on, or if he was even up for a good dinner given his illness, but hopefully he would have appreciated ours had he joined us.