"The potato takes little care of lung and heart. It reaches the head, but only, as I said, the lower head, not the upper head. It does go into the lower head, where one thinks and exercises critical faculties. Therefore, you can see, in earlier times there were fewer journalists. There was no printing industry yet. Think of the amount of thought expended daily in this world in our time, just to bring the newspapers out! All that thinking, it is much too much, it is not at all necessary — and we have to thank the potato diet for that! Because a person who eats potatoes is constantly stimulated to think. He can't do anything but think. That's why his lungs and his heart become weak. Tuberculosis, lung tuberculosis, did not become widespread until the potato diet was introduced. And the weakest human beings are those living in regions where almost nothing else is grown but potatoes, where the people live on potatoes."

– Rudolf Steiner, philosopher
Buenos Aires – There are those restaurants that everyone knows about, recommends, and no one writes anything new about. These are the sorts of places that show up in every guidebook, piece of hyperinflated promotional fluff, or casual mention – just because… everyone knows about them. Several in town come to mind – and perhaps I'll eventually get to them all, but I may as well start with La Cabrera Norte, Cabrera 5127 in Palermo, 4832-5754, which is ever so slightly north, though perhaps more west, of La Cabrera sans more than that. And what does everyone talk about when it comes to La Cabrera? The side dishes. Oh, the steaks too, which, in a beef-centric culture like this are quite good as well. In fact, they're better than quite good – I'd put the steaks at La Cabrera up there among the better ones in the city, and as you can see in the photo below, there was no wanting of forks to dig into them.
I was out last Sunday with a group of master sommeliers who'd flown in for a tour and series of seminars out in the vineyards of Mendoza, but they were spending a couple of days seeing Buenos Aires, dining out, and generally having a good time. Knowing a couple of them, and the person who organized the tour, I got myself attached to the group for the day, which is not only great fun when the people are (and anyone who knows sommeliers that have been around for awhile knows they know how to have a good time), but gets me a chance to pop in on places that I don't frequent all that often. So here we were, eight MS's, myself, and the PR person who'd put it altogether, and they shove the menus in my hands and say, "Choose stuff we'll like." No pressure, you know?
We had to give them a bit of the usual suspects and a bit of the off the wall stuff – so a round of chorizos, morcillas, chinchulines (the latter two – blood sausage and grilled intestines), and the weirdest looking provoletas I think I've ever seen – no, that's not a sea monster crawling out of the ooze….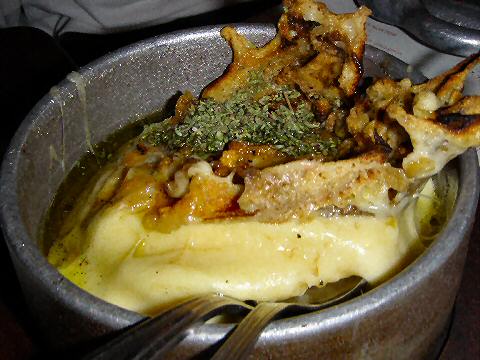 Then on to a couple of mounded salads, followed by a trio of steaks – entraña, bife de chorizo, ojo de bife (respectively, skirt steak, loin steak, rib-eye) – which, at La Cabrera Norte (and the non-norte spot as well), are simply huge – ten of us couldn't finish the three steaks. So, while the menu can look pricey at first glance, given than each steak can easily feed 2-4 people, depending, you know?, it's not really.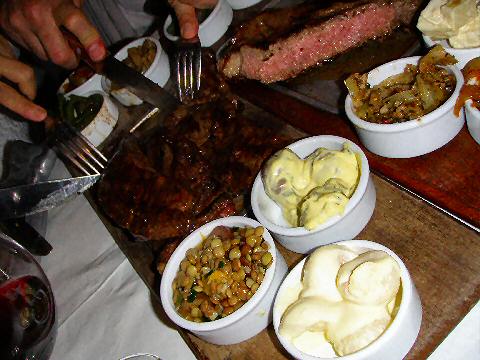 Now, the side dishes are not so much side dishes as little ramekins of stuff – starchy stuff. Each steak comes with a half dozen (not the dozens and dozens that most folk seem to hype) little ramekins – potatoes in mayonnaise, roasted potatoes, potatoes in some sort of eggy dressing, hearts of palm in mayonnaise, chambota (onions and peppers in oil), and lentils, all served room temp – each of which is a few forkfuls – which is not to disparage them, it's plenty of food – but we're not exactly talking about some sort of amazing accompaniments to the steaks. They're good, but that's about as far as I'd go. There's also the ubiquitous chimichurri and salsa criolla, though the latter is served pureed, which is flavorful, but not my style. Personally, I'm more for just going for the steaks – the entraña is really excellent – and ordering another provoleta, and cholesterol be damned for one day every now and again. The french fries, which of course we needed to order, are simply okay – nothing special, and perhaps a little overdone and greasy. Plus they have this very strange dish called papas fritas criollas, which are basically french fries topped with a mess of soft scrambled eggs (which, no, don't come with side dishes, we just set the bowl on the empty platter from one of the steaks). Odd, just odd, but the group wanted to try them – personally I like the provencal, with garlic and parsley, but hey, this was something different….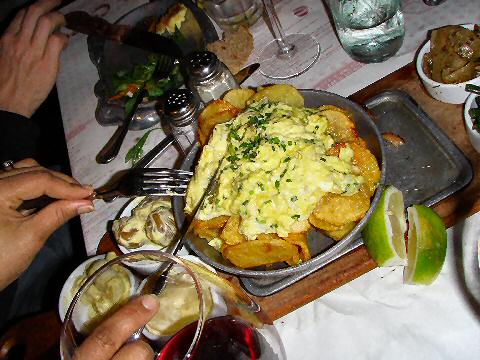 Overall, La Cabrera Norte gets high marks for food. The ambiance is a bit boisterous, and the place tends to be packed, at a lot of times, with tourists (Sunday afternoon I could hear enough English being spoken around the place to think I was back in Manhattan) – and the waiters all cater to that crowd. It's not that you won't find locals there, but more likely early on in the week in the late evenings….