"Most turkeys taste better the day after, my mother's tasted better the day before."

– Rita Rudner, comedienne
Buenos Aires – Just to set your minds at ease, we did indeed celebrate Thanksgiving here. Not in Casa S, but we headed over to friends' in San Telmo for a turkey dinner with the fixin's. While there's no domestic turkey raising going on here in Argentina, or at least not at a commercial level, there is in Brazil, and frozen turkeys are brought in by the truckload around this time of year for Thanksgiving, Christmas, and New Year's holidays.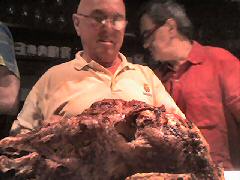 Our master carver, and host, contemplates the 8 kilo (nearly 18 pound) turkey….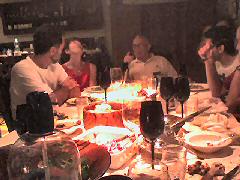 A table full of good friends….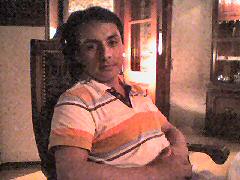 And Henry, stuffed fuller than the turkey, after his first Thanksgiving feast.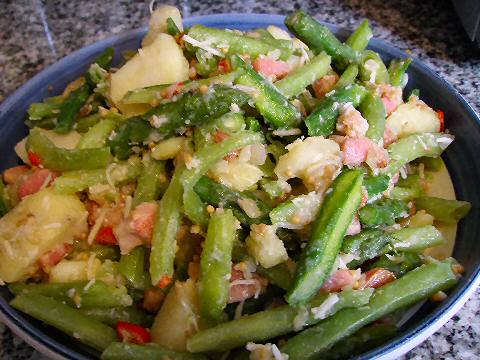 My part was a spicy green bean-ish salad that I based on the wonderful Gujurati green bean dish I made at our
recent western Indian dinner
. It was too hot out to start thinking seriously about some sort of green bean casserole, and thank goodness there's no Campbell's Cream of Mushroom soup around anyway – though a can of those little fried onion rings wouldn't be half bad….
1 kilo green beans, topped and cut into segments
1 kilo asparagus, peeled and cut into segments
1 kilo potatoes, boiled, peeled, and cut in bite size pieces
Blanch the beans and asparagus until just softening, then drain and shock under cold water.
2 packets of peanut drink powder (this is the tough one, it's a Thai drink mix that comes in a bag of little packets, it's a mix of ground roasted peanuts and sugar – I find it in Chinatown – not that hard, you just have to make the trip…)
½ cup of shredded coconut
½ kilo smoked bacon, diced
4-5 shallots, sliced thin
¼ cup of yellow mustard seeds (black are fine too with this recipe)
4-5 jalapeños or other medium hot peppers, sliced thinly
½ cup neutral oil
salt
In a saute pan, start cooking the diced bacon over medium heat until it starts to brown. Add the oil and the mustard seeds and cook until they are popping away. Add the shallots and cook until limp. Add the rest of the ingredients and cook, stirring fairly steadily, until the coconut just starts to turn golden. Pour over the mixed vegetables, toss, let cool. Season with salt to taste.
Obviously, that makes a whole lot – you can cut the ingredient quantities down as need be. Bacon optional for those who want a vegetarian version, and adjust away on the hot peppers to make it either less or more spicy.