"When helicopters were snatching people from the grounds of the American embassy compound during the panic of the final Vietcong push into Saigon, I was sitting in front of the television set shouting, 'Get the chefs! Get the chefs!"

– Calvin Trillin, writer
Buenos Aires – I don't know if it's the economy, or just some sort of culinary shake-out as this city moves forward in its gastronomic surge, but it seems like every time I look away for a few days, the restaurant scene has noticeably changed by the time I look back. The most recent thing to come to my notice was the opening of two Vietnamese restaurants, which triples the number that we had here until now. My first thought was to do a compare and contrast sort of writeup, but it's not a fair approach in this case, as you'll quickly see….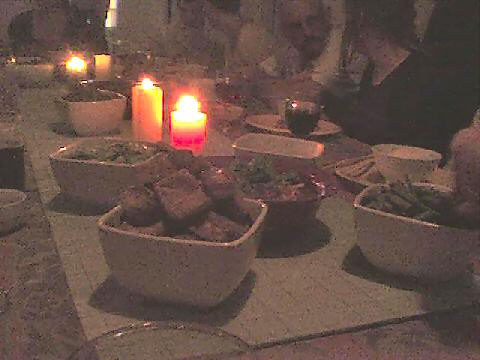 Two weekends ago I had the fun of squeezing in with a friend to a couple of the last seats at
A Little Saigon
, in Palermo, the first that I'd heard about. This is a
restaurant a puertas cerradas
– a closed door restaurant, as is our own Casa SaltShaker. It's currently open one weekend a month, on Saturday and Sunday, and is focused on "family-style rural Vietnamese cuisine". It's run by a charming young woman (she'll probably object to the charming part, but so be it), who was born in Vietnam, left when she was quite young and grew up on the east coast of the U.S. I missed what brought her to Buenos Aires, but she's here, and her primary work is teaching private yoga classes, though I gather she missed the cooking of her family home and decided to give it a go in the kitchen, sharing her food memories with new friends.
[Unfortunately, Thuy and Ben decided to close the place as of March 2010.]
The atmosphere, like many closed door spots, is very casual – a long table, low to the floor, and small round cushions to sit upon. If you're not used to dining at that physical level it's a little straining on the back – or maybe it's just my age showing, and indeed, other than my guest, the next closest person in age to me in the room was about 15 years younger, and probably the next after that, another 5-10…. Many of them seemed to already know each other, either from the yoga classes or one of the past meals (this was month three of dinner offerings). I didn't bring the regular camera, so you just have the phone shot of the main course above.
The particular evening we were there, the cooking was focused on vegetarian dishes, though that's not the case each month – December's menu features pork, and January's menu is a seafood one. I'd add one thing to the "family-style", which is the way things are served – big bowls and plates in the middle of the table and everyone reaching with chopsticks for whatever suits their fancy, and "rural" – which is "home-cooking". That's not a bad thing, believe me, I love home-cooking – I consider most of what I do at Casa SaltShaker to be simply fancied-up home cooking. We started off with Bánh xèo, plates of Vietnamese scallion crepes, sans the usual pork or shrimp filling – the usual approach being to cook them on one side, then fold them over the ingredients – here, left open and soft and bubbly on top; and a bap cai of one or another sorts – I think the term basically means salad, and is usually prefaced by another word that specifies its key ingredient – perhaps in this case a nom bap cai, which I think refers to cabbage salad – hey, step in here and help me out…. Both quite good, and we gobbled them up quickly.
The main course was served with a bowl of rice placed at each person's plate, and then a quintet of bowls in the center – a tomato based broth with vegetables to "wet the rice", some fried tofu in caramel sauce, mildly spicy green beans, sauteed broccoli, and sauteed bok choy. I loved the broth, I thought it had a nice balance to it, the green beans were quite good, though I think the spice level could have been upped, given that out of fourteen guests only one was Argentine, and he was into spicy food, the tofu, a bit sweet for my tastes, though I've had the dish before and it usually is too sweet for me. The bok choy and the broccoli, a little plain – I think they could have used both some spicing, but also some differentiation – they seemed to be the same dish, with just different vegetable in the center – still, as noted, we're talking home cooking – and I doubt my mom would have differentiated them any more than that. One nice touch, the owner/cook, Thuy, sat down with us for the main course – her work done in the kitchen (and she has an assistant in there) – something I wish we could do here at Casa S – hmmm… maybe the main course idea is a good one, we could join for that – though, we still have desserts to prepare, whereas at A Little Saigon, dessert, and I'll be upfront, disappointingly, was filled cookies from Chinatown, not even Vietnamese.
Overall, a fun and enjoyable experience, and I look forward to more dinners there – it reminded me of dinner parties we had in college, with better food. The cost, 85 pesos, or discounted to 70 if you bring a bottle of wine to share with the group – that's kind of hit and miss – most of what people brought was bottom end cheap, a way of saving money on the overall evening – and, no attempt made on anyone's part to match it to the food being served.
———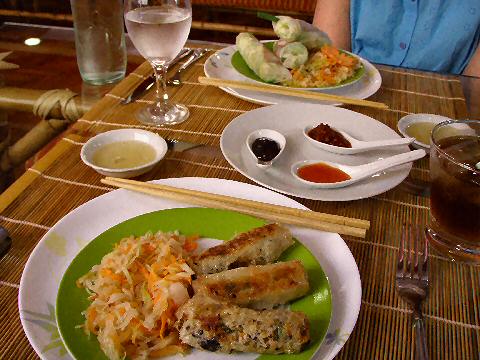 In a completely different style and vein, the also new Bistro Vietnam, also in Palermo, at Gurruchaga 1776, 4833-2311, immediately got put on my radar. The place is owned by a very nice man, whom we met over lunch last week. We unfortunately picked a bad day, last Monday, to go – the two chefs, who are also co-owners with him, are the wives of two diplomats at the Vietnamese embassy, and the weekend apparently had been filled with some sort of major shindig that they were hosting over there – so no one had been in the restaurant preparing things – Monday's lunch menu was limited as to what was available, plus it was clear that some of the things had been sitting around a couple of days. He assured us that it was a highly unusual circumstance and hoped we'd come back and give the place another shot. [This place has also closed as of early 2010.]
The place is a long, pretty back room behind a Vietnamese-style clothing store, plus a small garden area with tables. The tables are bit low, with benches alongside, kind of like sitting at a kid's picnic table. To the owners of both places – hey, I appreciate the authenticity of experience, but at the same time, I think there's a need to cater to your audience a bit…. The waitresses were relatively attentive, and, it turned out, they were the ones preparing the lunch meal with the chefs not there (due in at 3 p.m. we were informed). The cooking, oddly, is not really done in a kitchen – at the end of the room there's an enclosed bar, with refrigerators where all the ingredients are stored – the "kitchen", is a small passageway between the bar and the garden, lined with a couple of butane burners, a microwave, and a rice cooker – and it's all kind of done there in the hallway. On the other hand, most of the dishes being served are of a type where the preparation work is almost more important than the final cooking (which might be why the menu was limited with only the waitresses there to "cook" – it was whatever they could handle).
Off the bat, a disappointment, no ph? – that wonderful broth with noodles, meat and vegetables that's pretty much the test of a Vietnamese cook's mettle – not that it's not on the menu, it just wasn't available. We started off with nem ran, the North Vietnamese name for what I know as cha gio – pork filled springrolls – the filling, delightful, the outer "skin" a little soggy, this is where the "sitting around" was a slight problem – still, if these had been freshly made and nice and crisp, they'd have been dead-on. We also had a plate of nem cu?n, cold summer rolls, filled with pork and shrimp – these were fine as is, being kept in the refrigerator for an extra day for a summer roll works out. The two appetizers were served with a trio of dipping sauces – a simple garlicky vinegar, a tomato based hot sauce, and a smoky plum sauce. All quite good. They were also both accompanied by a cabbage salad, though, this one more of a pickled style, and had also been there for a couple of days. Oh, fresh-brewed iced tea – they win points in BsAs just for that!
For our main courses, with the ph? literally off the table, we settled on mi?n xáo, sauteed cellophane noodles with shrimp – nicely spiced, well made – actually given that it was prepared by a waitress using a wok on a butane burner, pretty impressive. Not to disparage waitresses, and I guess they're trained to do this at Bistro Vietnam. The other plate was a ga xao xa ot – well, not exactly, as that's a lemongrass chicken, this was a lemongrass pork – still, quite good. We finished off with a couple of Vietnamese style coffees – not quite made the traditional way with the espresso-ish coffee dripping into the condensed milk, but a nice double shot of espresso atop sweetened condensed milk, and shared a bowl of housemade bitter cocoa ice cream with walnuts – not exactly traditional, but delicious.
Overall, high points for authenticity, service, charm. Disappointing on the missing items from the menu, but worth going back to check out again. Pricing, quite reasonable, for all of this we spent about 65-70 pesos apiece, with tip.
Biggest contrasts between the two places, and this is part of why I don't really want to do a compare and contrast – A Little Saigon focuses on South Vietnamese home-cooking, and Bistro Vietnam focuses on restaurant style North Vietnamese dishes. A very different experience too – sitting at one large communal table is part of the fun of the former, having your own little spot of tranquility that of the latter.