"There is around the name of Garibaldi a halo which nothing can extinguish: a whole life devoted to one object – his country; a name consecrated by deeds of honor, first abroad, and then at home; valor and constancy more than admirable; simplicity of life and manners which recalls the men of antiquity; all the most mournful trials and losses manfully endured; glory and poverty! Every particular relating to such a man is precious."

– Giuseppe Mazzini, Italian politician
Buenos Aires – Sometimes you just don't feel like a long walk. Maybe you only have a short few moments on a lunch break, or stepping out of the exhibition center, but you're here in Buenos Aires, and you know you need to see a sight or two, and there's one, right there in the middle of the street. We're at Plaza Italia, a confluence of three major streets, the hub for many a bus line, and an easy reference point when you're meeting up with acquaintances for whatever you're up to next. To the east, coming to a point between Av. Santa Fé and Av. Las Heras, is the stretch of the Botanical Gardens; to the north, between Las Heras and Av. Sarmiento, the Municipal Zoo; to the west, the La Rural exhibition complex, and to the south, all of Palermo Viejo awaits. And in the center, in a pretty little plaza, Giuseppe Garibaldi watches over it all.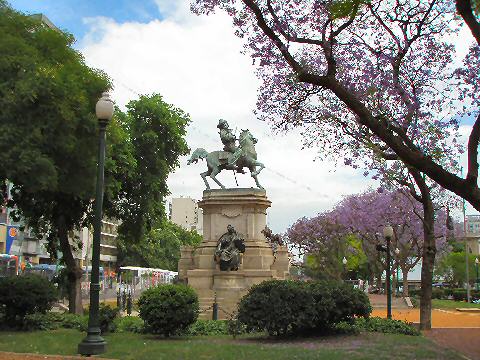 The plaza is laid out in sort of a squashed elliptical shape, though that wasn't always its form. When originally designed in the late 1800s it was a small octagon of green surrounding a decorative fountain, and later (1904), the statue of Garibaldi, a gift from the local Italian community to the city. The three major arteries were much more direct, at that time known as Chavango (now Av. Las Heras), De las Palmeras (now Av. Sarmiento) and Paseo Santa Fé (now Av. Santa Fé). A huge portal had been built in the late 1800s as a sort of entrance to De las Palmeras, and it was flanked to one side by the recently opened gardens and zoo and to the other by the first La Rural exhibitions. The city installed the first electric trolley line to start from here, at the Portones station, which is now the Banco Nacion building along Santa Fé.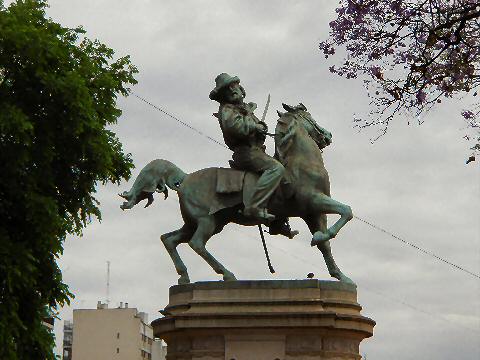 I'm not going to get into the history of Garibaldi himself, other than a brief outline – he was actually born in 1807 in France, in Nice, though within a community of semi-exiled Italians. In 1833 he joined a revolutionary faction against the current Italian government, ended up "permanently" exiled, went Tunisia, Brazil, and eventually found his way to Uruguay, where he married, started a family, worked as a trader and schoolmaster, and somehow, from that position, found himself appointed as the commander of the Uruguayan naval fleet, defending Montevideo against various invaders. He eventually returned to Italy when the fortunes of government changed, but soon found himself exiled yet again for anti-government military activities, at which time he took refuge in the small state of San Marino. From there he made his way to Tangier, and then on to… Staten Island, then later to England, back to Italy, exiled again, off to Austria, then France, and finally spent his last years on a small island off the coast of Sardinia, where he died at age 75.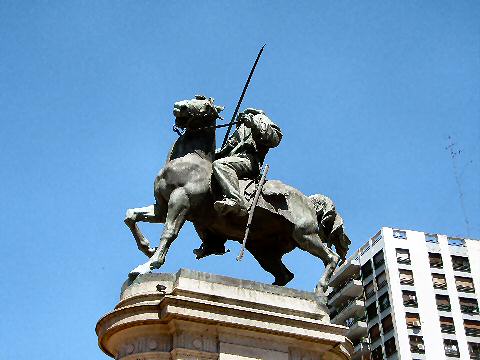 Here's the lowdown, or is it downlow on the statue…. According to the text on one of the four plaques placed around the plaza (in side-by-side Spanish and Italian), it depicts Garibaldi, with sword drawn, atop his anxious horse – anxiety apparently due to being surrounded by various forces out to dispatch his rider.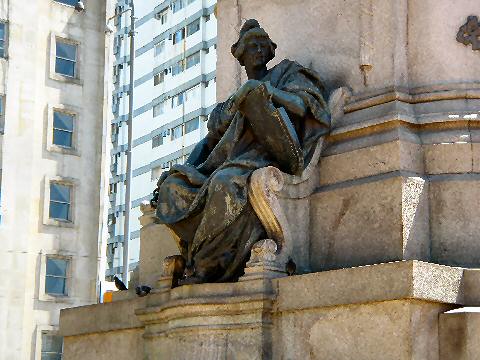 This figure is the seated Liberty, a female figure with the shield of the city of Buenos Aires in her left hand and a broken chain held loosely in her right fist. Over her head is a small banner that translates to "Liberty is sweeter than life".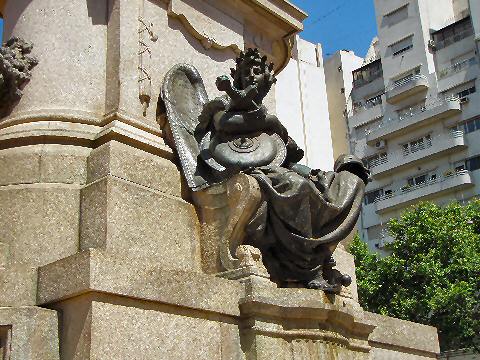 On the opposite side of the statue is a seated female figure of Victory, in a Greek style, crowned by laurels. She has a battle shield tucked under her right arm and a helm for a suit of armor balanced on her left knee; her sword is sheathed – the basic theme being, the battle is over and we won. The banner above her head translates to "Fortune crowns the victor."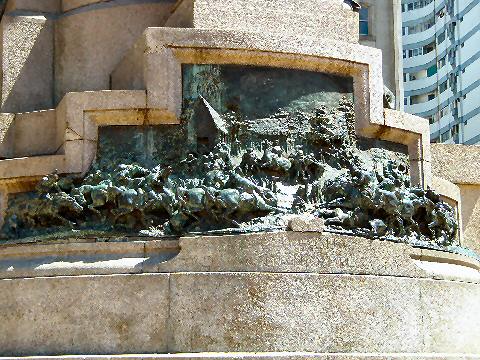 On the front of the statue is a narrow relief depicting the February 8, 1846 battle of San Antonio de Salto, with Garibaldi commanding the local Italian legion in defense of the city of Montevideo.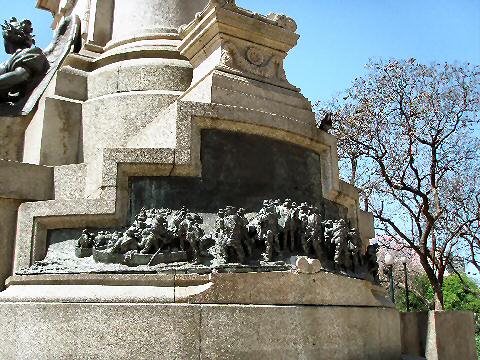 To the rear, in a narrow space between the statue and surrounding trees, a similar relief showing Garibaldi leading legionnaires from Piedmont and Lombardy against the army of the Bourbons, referred to as La Partida de Quarto.
The rest of Plaza Italia is taken up by a nice array of bushes, trees, and benches. There is a small brick, orange glass block and tile shrine to the Virgin of Lujan (the guardian of travelers if I understand it all correctly). And see, hardly any walking.