"There once was this Zen master sitting on a small stone bench, studying his small Japanese rock garden… There are only five rocks in the master's garden. Each was chosen for its individual perfection, as well as its unique relationship to the other stones. One day a visitor comes to the garden. The visitor steps slowly around the tiny space, contemplating the rake-grooved gravel and the stones. Eventually the visitor turns to the Zen master and exclaims, "It is perfect." The Zen master shakes his head solemnly and says, "No, it will be perfect when there are only three stones.""

– Yvon Chouinard, founder of Patagonia Outdoor Clothing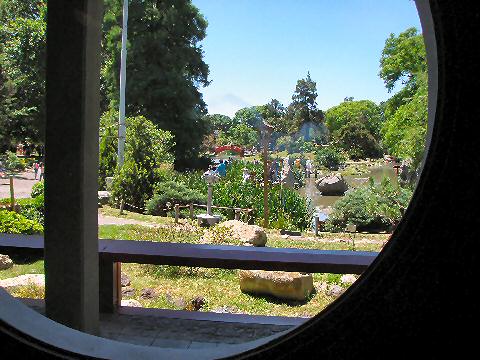 Buenos Aires – Japanese restaurants here are expensive. Come to think of it, Japanese restaurants pretty much anywhere are expensive, other than maybe some of the ramen noodle houses. Is it just a given that if you want Japanese food, you're going to have to crack open your wallet a bit more than normal? Here, it certainly is. On the other hand, we got the plum table – I mean, look at that view from our little corner table where we had to take our shoes off, slide our feet into the well beneath the table and sit on cushions. That's hard to beat. The view, not the whole shoe thing. We were having lunch at the Restaurant Jardín Japonés in the eponymous garden at Avs. Alcorta and Casares (keep in mind you have to pay to enter the gardens, currently five pesos) – our real plan being to check out the last day of the annual orchid show – which turned out to be a bust – it's a tent set up with a display in the middle of the winning orchids from the show, and surrounding the display, 7-8 vendors of orchids from various flower shops around the city busily hawking their wares.
The room, outside of the view of the gardens (spectacular even if you don't get the plum table in the corner), is typically minimalist in design, but very tranquil, casual feeling. On weekends, and we were there on Sunday, there's a line out the door for lunch – though, it moves pretty quickly, a lot of folk apparently are just having a quick coffee or tea after strolling through the gardens rather than a full lunch.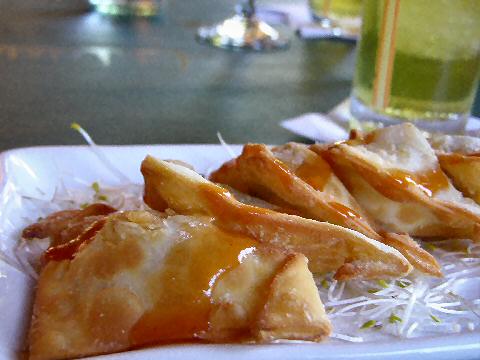 The menu is pretty extensive, covering a wide range of Japanese dishes, including quite an array of sushi and sashimi – which we didn't try – neither of us felt like having it, and, the prices are pretty steep – though, they have a reputation for some of the better sushi in town, and the display at the sushi bar looked good, so I'll be back to check that out one day when I'm feeling a little more splurgy. We decided to start with a couple of tall glasses of refreshing, iced green tea – kudos to them for having it, it's the first Japanese place I've been to here that had it on the menu and/or was willing to make it with no fuss. We also ordered a plate of ebi shumai – shrimp dumplings, not realizing that they were fried rather than steamed, but not a problem, they were quite good, though the drizzled sauce on them was a trifle sweeter than either of us is normally fond of.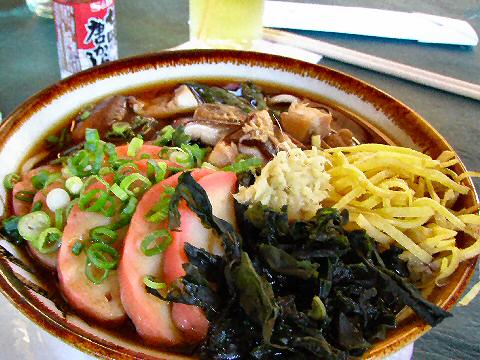 We were in the mood for noodles (it'd be great if someone wanted to open up a Japanese noodle house here – ramen, udon, soba… I'd be a regular if it was good). We ordered the udon, which was more of a soup bowl, and the udon themselves weren't those nice fat noodles, but pretty much just regular flat, narrow egg noodles – still, the soup was good, and came packed with lots of tidbits; and a plate of soba, again the wheat variety – we'd hoped it might be the wonderfully earthy buckwheat ones, but again, delicious, tossed with all sorts of slivered spring vegetables. We even decided to hang a bit and have a couple of coffees – quite good – with a couple of little Japanese cookies – also good, though at five pesos per cookie, beyond steep.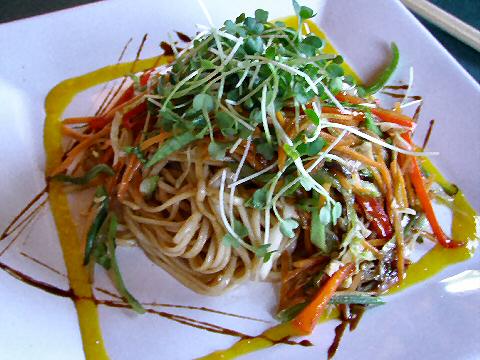 So, we went away happy, which is a good thing, we enjoyed the meal and the ambiance. On the other hand, lunch ran us 70 pesos apiece for a fairly small amount of food, make it 75 apiece with the entrance fee, even if that does get you a wander in the garden – that's excessive for fried dumplings and two plates of noodles.