"We still think of ourselves as Basques", says Mme Pitchoauajue. "Until I went to school at the age of seven, I couldn't speak a word of French."

– Graham Simmons, The Basque Way
Buenos Aires – Although it was suggested, I did not wear a proper French Basque Beret to celebrate "National Day" in the northern Basque country, i.e., the French side of the Pyrenees. We hear a lot about the Spanish Basque side of things, and all the high falutin' restaurants along the coast and up into the mountains there, but we rarely hear about what's happening in the southwest of France. So, how could I pass up the opportunity to play with some classic flavor combinations from the countryside? Even if I wasn't wearing a beret.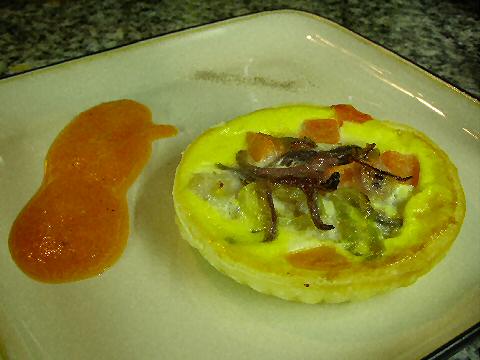 Although it would have been more traditional to use bacalao, or salt cod, in this dish, I was feeling inspired by an array of fresh fish at the local pescadería, including a trio of beautiful fresh, whole cod, just ready to be filleted. My first idea was to fill some fresh piquillo peppers with some sort of cod preparation, but none were to be had this last week. A bit of thinking, and I decided on small tartlets filled with cubes of fresh cod, diced tomato, and thin strips of lemon zest. Added to that, some frying peppers and red onion, sauteed in a little olive oil, and then the whole thing topped with a scoop of beaten egg and milk, then baked until lightly browned. On the side, a puree of red bell pepper, orange juice, a small chili pepper, cumin, and salt.
If you've been reading SaltShaker for awhile, you've seen several iterations of panade, a slow cooked onion and bread soup. There was a very interesting looking Basque recipe for a garlic soup, and somehow, I sort of put them together – following the exact same procedure as for the onion panade, but using about 3 full heads of garlic, the cloves thinly sliced. What a great garlic soup!!!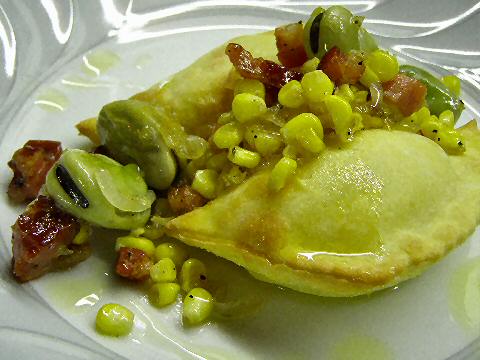 This was a fortuitous accident. It started out with the idea of a fava bean filled ravioli, well, really, a half ravioli, an agnolotti, with a sort of trout cream sauce. But I got to doodling, and decided to put the trout inside the agnolotti – it's a simple mix of homemade cream cheese, smoked and fresh trout, a little salt and pepper. The agnolotti dough was a basic egg yolk pasta. I decided to make a saute of fresh fava beans and corn with shallots, bacon and chives tossed in – lots of olive oil. Now here's the accident. I laid the agnolotti out very carefully on silpats, those lovely non-stick sheets. They stuck. I couldn't remove them without tearing them to shreds, so boiling them up instantly became out of the question. Now, it happens that I like baked pastas of various sorts, and I figured – they're already on the baking sheets, and at least once they're cooked, even if they're still somewhat stuck to the silpats, I can slip them off with a spatula. Turns out they puff up almost instantly, brown, unstick, the filling solidifies a bit, almost like a ricotta type filling. Delicious, really delicious. This one goes in the cookbook!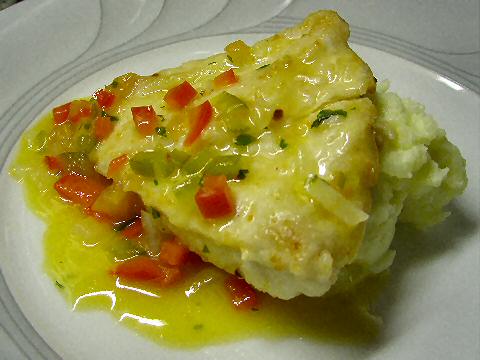 This is more or less a deconstruction of a traditional poulet a la vasca, or Basque-style chicken. Normally it's a slow cooked braise of pieces of chicken with potatoes, peppers, onions, tomatoes, in a white wine and olive oil combination, thickened with a little flour. I separated the components – mashed potatoes instead of whole, finished with lots of cream and butter. Atop those, sort of a chicken milanesa – pounded thin breast of chicken dipped a couple of times in a mix of flour, salt, and cayenne. The sauce, slow cooked onions, green and red peppers, all diced up fine, in olive oil, then tomatoes added towards the end of the cooking, a good couple of splashes of white wine, and then thickened with a paste of butter and cornstarch, cooked just until the sauce was the consistency I wanted.
Finally, a fairly straightforward cheesecake using our homemade cream cheese, but substituting roughly half of the volume with a fresh goat's milk cheese. Atop, a warm kumquat and cinnamon marmalade.
See, I didn't need a beret….