"We all have hometown appetites. Every other person is a bundle of longing for the simplicities of good taste once enjoyed on the farm or in the hometown [he or she] left behind."

– Clementine Paddleford, food writer, journalist
Buenos Aires – One of the pluses of a private dinner at Casa SaltShaker is that it's generally less experimental. We all know that kitchen experiments sometimes work well and sometimes not so much – and our regular public dinners get a little of each. It's part of the process, part of the fun – sure, if something's a particularly complicated dish I'll play with it in advance, but quite often, the folks trying my dishes at these dinners are trying my first one or two stabs at a new dish or new variation. So far I haven't had to go for any last minute emergency take-out…. Generally, for the private dinners I pick from favorites or dishes that worked out particularly well, or the customer picks from dishes that they've read about here that sounded especially good. Still, if things are left to me, I try to put in at least one new twist or new dish entirely, even on those menus.
We've become particularly popular with various folk from the U.S. embassy here in BsAs, and have had many of them at dinners, and several have booked private functions, including this last week, when they held a goodbye party for one of their number who is heading off to a new posting. Four of the dishes I selected from some favorites – an oyster mushroom coca, with a more classic pizza crust, a pink gazpacho, pollack (instead of hake) in roasted green pepper broth topped with fried garlic, and a chocolate lemon kiss tart. But, snuck in there as the main course, I decided on a simple chicken and pasta dish, just to celebrate the produce now arriving in the markets.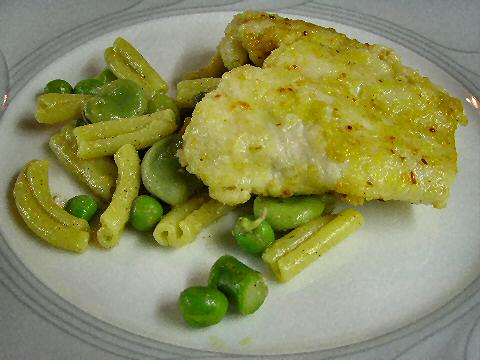 The chicken is boned chicken breasts, pounded flat, and then dusted in a mix of flour, salt, and cayenne pepper – a couple of times so it builds up a nice little coat (wait 10-15 minutes between coats), and then pan fried in butter and oil. Below it, a simple pasta,
casareccia
, a Sicilian "twisted tube" – really more of a scroll, looked at from the end is "S" shaped. This was tossed with blanched fresh fava beans, peas, and asparagus which I then cooked until they were done in brown butter, finishing it up with a dollop of white miso and some freshly ground pepper. Not quite a "classic"
pasta primavera
, but the flavors of the vegetables simply evoked spring.