"There may be some perfectly nice people who use the word 'brunch' but I prefer not to know them."

– Heywood Brown, author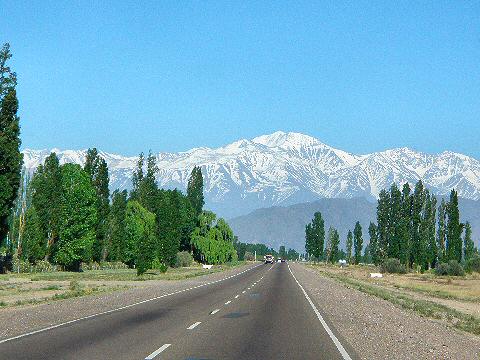 Perdriel, Argentina – Up bright and early after, once again, only a few hours sleep – but managed to get down to the hotel's cafe and make my way through a cup of coffee, some cereal and fruit before the arrival of our transport. Back with David and Rachel for the day (things got switched around at last minute, originally I was supposed to spend the day with the one of the quintet I hadn't yet, Jamal Rayyis, but, didn't happen) – and off to this small town a bit south of the city of Mendoza and to the winery of Viña Cobos. They carted us off to the vineyards to look at the vines. We looked, though more at the nearby mountains; Rachel volunteered that we were ready to taste the wines, and thanks for the look at the grapes. They seemed a little nonplussed, but headed us back to the winery, a large cube sitting in a field, which, we were informed, was an exemplar of "American architecture" designed to go with their focus on U.S. exportation (the winery is a joint venture with Paul Hobbs of California). I asked what made the cube "American architecture", and without missing a beat was told "it's made of concrete, steel, and glass". There you have it, our reputation. In a cube. I forgot to take a picture.
Bramare Marchiori Vineyard Malbec 2006 – 15 months in 70% new oak, one year in bottle – spicy, black raspberry, violets, vanilla, white chocolate, good acidity, soft tannins – quite good.
Bramare Marchiori Vineyard Cabernet Sauvignon 2006 – same treatment, black currant, dry leaves, good acidity, very drying tannins, a bit young, and not clear if it has the depth to develop well – time will tell.
Cobos Malbec 2006 – the icon wine of the winery, 18 months in new oak – black cherry, red plum, pepper, soft tannins, hot finish – pretty decent, but again quite young and needs some time to develop.
One of the more interesting wineries we got to talk with, Decero ("from scratch"), has been in business a mere five months, produces only 5,000 cases of wine, and other than some sales from the cellar door, is focused 100% on export. Their one big claim is, for the moment, specious, but will change in the future, and that is that they "only produce single vineyard wines" – well, they only have one vineyard at this point, the Remolinos Vineyard, which is duly noted on each bottle. However, they plan to develop more, at which time the claim will come to have more meaning. Everything is very selective – they pick through the vineyards a minimum of twice to get the fruit at its proper moment of ripeness, the grapes are then hand-sorted at the winery, twice, to make sure that only the best is used. They currently produce, among those 5,000 cases, five different wines.
Malbec 2007 – this is the second vintage, just bottled, the first having been shipped out 4-5 months ago when the winery opened its doors, officially, for business – 16 months in French oak – elegant, red fruit, violets, good acidity and length, well balanced, dry tannins – a classic, and delicious, Malbec.
Cabernet Sauvignon 2007 – red currant, a touch of bell pepper (something they made a point "wasn't there" because of their harvesting approach, but it is, and it's not a problem, it actually adds to the complexity of the wine), spice, cocoa, good acidity, balance and length. Very good.
Amano 2006 – this is from the first vintage, and was just released, so we were pretty much among the first people outside the winery, and the first journalists, to taste it – 60% Malbec, 35% Cabernet Sauvignon, 5% Petit Verdot – depending on varietal anywhere from 18 to 22 months in new French oak – spice, toast, juicy red fruit, floral, complex, great acidity and length, a little hot, but then it was just released, it needs time. Excellent.
Petit Verdot 2006 – again one of my favorite grapes, and one of the few versions of it that's 100% varietal produced in Argentina – red fruit, smoke, floral, good acidity, well balanced, dry tannins, young. Too young. But I think it's got the stuff to develop quite well.
Cabernet Sauvignon 2006 – they'd made a point of telling us that their first vintage of Cabernet had one several professional awards, so we asked to try it – the winery is basically across the street from Cobos, so they went and got a bottle – very ripe, jammy raspberry fruit, spice, good acidity, a little alcoholic, quite elegant – personally I liked the 2007 better, but I can see it as a personal preference.
You know, as I was looking back at my posts on the last trip to Mendoza, I realized I didn't subject y'all to a bunch of tasting notes – though it seems they're welcome at least amongst my wine geek friends and readers – I did visit Septima at that time, though we tasted entirely different wines than the rep brought with him to this tasting. He was kind of cute, and I don't mean it physically, but he showed up, started off by telling us that this wasn't his regular job but that the guy who was supposed to do it got tied up, that he didn't know much about the wines, but he could tell us that the key point for Septima is that they're a business, and they're out to make money, so their wines may not be the best out there, but they're drinkable, inexpensive, and sell well. The winery is a division of Codorniú, the Spanish sparkling wine company, they make 1.5 million liters a year, 70% of which is exported, most of it to the U.S. It was kind of refreshing to just have someone tell it like it is….
Malbec 2007 – 6 months in 3rd use American oak barrels, all estate grown grapes (because "we can put that on the label and Americans like that") – spicy, bright fruit, red plum, lots of sweet oak, a bit high acidity, soft tannins. Quaffable if nothing special.
Septimo Día 2006 – 100% Cabernet Sauvignon, 70% of which is aged 10 months in French oak, 30% in American oak; 60% are their own grapes, 40% bought from other estates – black currant, light spice, tons of sweet oak, soft tannins, alcoholic – basically a fruit bomb with oak.
Gran Reserva 2005 – 55% Malbec, 34% Cabernet Sauvignon, 11% Tannat – red currant, red plum, bright acidity, jammy fruit, drying tannins, good length, very young – not bad actually, though a bit in the "international red" style.
"Brunch", which is what was slated for the end of the tasting turned out to be a standing affair around the tasting table with a couple of trays of coldcuts and cheeses, some dishes of dried fruits and nuts. And water. Hmmm….
Off to the airport, and back to our regular scheduled programming.