"When nature exceeds culture, we have the rustic. When culture exceeds nature then we the pedant."

Confucius, philosopher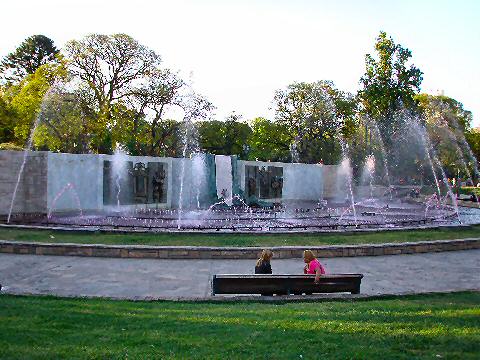 Maipú, Argentina –
Returning to the hotel at a reasonable hour around 4:30 or 5:00 p.m. from our steady tasting and lunching, John and I decided to venture out for a stroll around
Plaza Independencía
, the central plaza of Mendoza. In its center, a lovely fountain, and I'm sure there's a story behind the pink water – it's not lit pink, it's pink. Vividly so. One of these days when I get a chance to spend time in Mendoza on my own, I'll get into some more of the interesting stuff about the city, as it is, I've only had little moments like this to snap a few shots. We stopped off at a corner pub for a beer, yes, I know, it seems odd, but remember, we've spend the whole time sipping, swishing, spitting all this wine, we're not really drinking much of it – a little over lunch, but knowing we had more to do, it was just a little. The conversation with the waitress when we asked for beer, resulted in her listing the usual suspects – Quilmes, Budweiser, Guinness… we looked disappointed and she sighed and noted that they did have some artesanal beers – she apparently didn't think it likely we'd want anything but a liter of one of the riff-raff – we settled on a couple of
Jerome
Roja beers – a line I've not seen around Buenos Aires but which seems to pop up around Mendoza quite a bit – in fact, according to their website, only one pub in BA carries it. Pretty good stuff too – I think it's about time to do some postings on some artesanal beers – we're coming into summer and all that.
From there, it was back to the hotel to check e-mail, grab a quick nap, shower and dress for dinner, we were in the lobby shortly before 8 p.m. to head out to Familia Zuccardi, in eastern Mendoza, a bit of a drive, it was, I think, a bit after 9 when we got there. Here we started off in a brightly lit, classroom style tasting room, with a foursome of wineries each taking a half hour or so to present their wares….
Catena Zapata has been a family owned winery for over a century, focusing on high altitude viticulture. Their wines are marketed under several lines, and they're not only one of the bigger wineries overall, but also one of the better known.
Catena Alta Chardonnay 2006 – 100% Chardonnay from 5000′ altitude vineyards, all barrel fermented in half new and half second use French oak, and then aged for a year in barrel, full malolactic fermentation – green apple, caramel, herbal, minerally, underripe pineapple on the finish, good acidity, suprisingly, the oak, while there, is not overly noticeable given the time it spent in barrel – quite good.
Nicolas Catena Zapata 2005 – a blend of roughly 78% Cabernet Sauvignon and 22% Malbec, the latter barrel fermented, though there's a touch of both Merlot and Petit Verdot in the blend as well, around 2-3% total, 2 years aging in new French oak – intense red fruit, dried leaves, lightly toasted, soft, dry tannins, good balance and length, good acidity – good, but not showing great complexity or depth, then again this wine is still a baby and probably needs another two years before it's really ready to drink.
Malbec Argentino 2005 – 100% Malbec from the Uco Valley, barrel fermented and aged for two years in new French oak – black fruit, herbal, light floral, soft, dry tannins, lots of toasted oak, a bit flat on the acidity – really, the wine was completely closed, even after half an hour or so open – it's not remotely ready to drink.
Belasco de Baquedano is a Spanish wine company with multiple vineyards in Spain, and a relatively new (four years old) winery in Mendoza. They produce about 200,000 liters of wine a year, almost all Malbec with just a little Petit Verdot and Touriga Nacional for blending purposes (2-5% of their vineyards).
Rosa 2008 – 50% whole cluster cold fermented Malbec and 50% free run juice from their red Malbec – a very light, simple rose with good acidity, a bit of red fruit wafting about, some minerals, and way too much alcohol on the therefore thankfully short finish.
Arguentota Malbec 2006 – the name comes from millcayac, the language of the indigenous Huarpe people, and means "soul of Cuyo" (the region) – aged for a year in first and second use French oak barrels – black fruit, black tea, toasted oak, hot spices (pepper, cumin…), soft tannins, once again short on the alcoholic finish.
Swinto 2005 – old vine (100 year+) Malbec, the name means "crow" in the same language – vanilla, milk chocolate, black fruit, spices, toasted oak, and once again, a very alcoholic, hot finish, and again, quite short – I don't know if it's a stylistic choice, or that the wines are just too young – something just didn't seem right with the alcohol levels and length of any of the three wines.
On to Trivento, a twelve year old winery owned by the massive Banfi Vintners marketing group – this winery producing over 30 million liters of wine per year, making it one of the largest in the country – they also lay claim to being the largest exporter of wines, with exports to 112 different countries.
Torrontés Select 2008 – designed for, and solely marketed to, the U.S. – starting off with noticeable residual sugar, not quite white zin level, but quite obvious, high acidity, floral, a bit of apricot fruit, a sort of briny minerality, and high alcohol, especially on the finish – not pleasant.
Amado Sur 2006 – meaning "beloved south", a blend of 75% Malbec, 15% Syrah, and 10% Bonarda – delightful black raspberry and cinnamon flavors, good acidity, soft tannins, well balanced, though slightly hot on the finish, still quite a good wine.
Golden Reserve Malbec 2006 – served from decanter, and it had been open when we arrived, more than an hour before – black raspberry, black tea, bittersweet chocolate and vanilla, soft, dry tannins, slightly high acidity – I think this wine is simply too young to drink, and they were attempting to compensate by decanting it – better they'd just left it to rest for another year or two and then open it up – it ought to be a real stunner at that point.
Coming in at only 30% of the size, Zuccardi is still considered a fairly large winery, producing around 1 million cases of wine a year, 65% is for export, to roughly 40 countries. Zuccardi is, perhaps, best known for its experimentation with oddball grape varietals, blends, etc., and is one of the two wineries in the country noted for its research laboratory facilities (the other being Bianchi, which I noted a few posts ago).
Q Tempranillo 2005 – 100% Tempranillo aged for a year in new American oak, followed by a year in bottle – Tempranillo was actually planted here by the Spanish, who brought it from Rioja, in 1784, 70 years before the French showed up with Malbec – spicy, red fruit, old leather, juicy acidity, dry tannings, good balance and length – really good.
Q Malbec 2006 – 100% Malbec aged for a year in new French oak, followed by a year in bottle – classic black plum, spice, and violet flavors, with toasted oak, vanilla, soft tannins, good acidity, and great length – very nice.
Z 2006 – served from decanter, again opened up well before we tasted it – 2/3 Malbec aged 14 months in French oak, and 1/3 Tempranillo aged the same in American oak, then two years in bottle – which, if you do the math, means that this wine hasn't yet been released, and isn't even finished with the prescribed aging regiment – which shows, even with the decanting – though there was good black fruit and spice, a bit of strawberry, the wine currently was showing little acidity, too much alcohol, and sort of jagged tannins – though I predict the wine will be excellent in a few years, this was, like the Trivento wine, probably a mistake to show at this point.
Alma 4 Bonarda Sparkling 2005 – this was served after the tasting, and more because it came up in conversation, so we sampled it while nibbling on hors d'oeuvres and waiting for dinner to begin – roast coffee and burnt chocolate were sort of hovering in the background, not unpleasantly, just oddly, with blackberry fruit, a bit of residual sugar, overall well balanced – the bubbles were large, more carbonated style than the fine ones of a methode champenoise, though they said it was produced via that traditional method.
Q Chardonnay 2007 – this one also came up in conversation, so we tried it with dinner – quince, spice, good acidity, noticeable residual sugar, and way too much alcohol – it seemd like an imitation of one of those monster Chardonnays that California got a reputation for awhile back – not my style.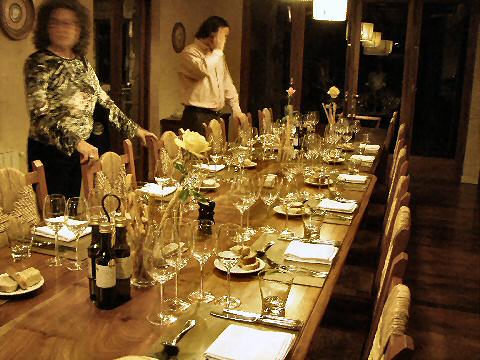 We moved into the dining room – Zuccardi has a beautiful restaurant setup for lunch seven days a week, fifty two weeks a year – they only close on Christmas Day and New Year's Day – and this private room for about twenty that is available for special events. The whole winery is designed around receiving visitors, and it has a rustic simplicity mixed with elegant touches that comes off quite well.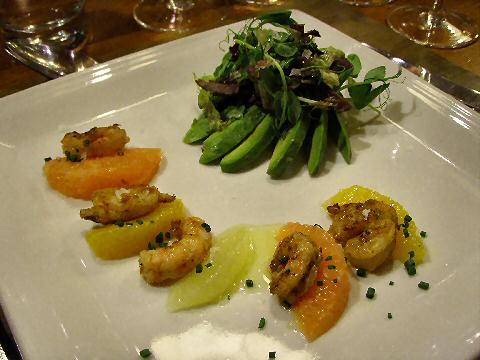 A simple and delicious appetizers of spicy grilled shrimp, each paired with a supreme of citrus – orange, grapefruit, and lemon – look for something inspired by this at Casa S – I'm thinking five different citruses….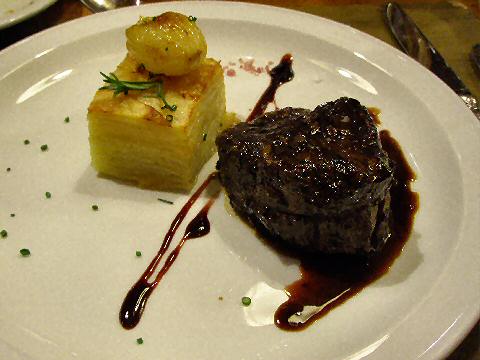 Beef medallions, cooked to order, served with a Malbec reduction, and a layered potato cake.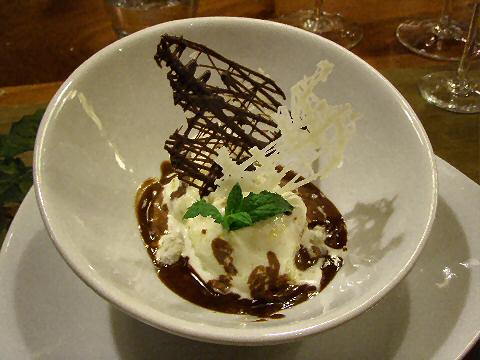 We finished off with vanilla ice cream topped with a chocolate and Malbec sauce.
An hour or so drive back to the hotel, where I think we tumbled into our respective beds around 2 a.m. or so, might have been close to 3…. last morning coming up.