"I go by the theory of reciprocity – if we are accommodating to our customers, they will give us something back in return."

– Michael Egan, CEO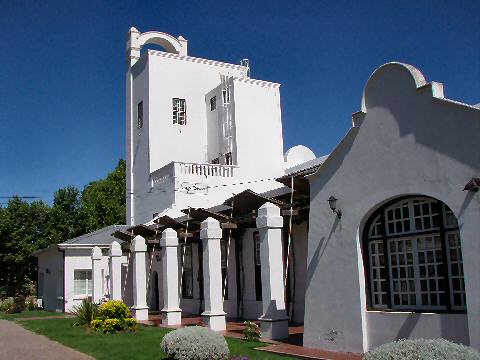 Luján de Cuyo, Argentina – I'm going to try to shorten up these posts a little – I'd like to get back onto food and catch up to present day, and I was tempted to just gloss over the rest of the trip, but I've also heard from quite a few people that they're liking getting a sense of Mendoza and finding out about some of the new wine releases – so on with the show. After our five winery marathon in the morning, we were back in the car and headed to this community in the northeast of Mendoza where we were to lunch at Luigi Bosca, taste their wines, as well as those of two other wineries. By the time we arrived, it was well after 1 p.m., we hadn't yet eaten, had sat through five presentations and tasted 18 wines – all on about five hours sleep, for the second night in a row. We suggested as diplomatically as we could to our host at Bosca that perhaps we could go with lunch first, or taste the wines over lunch – initially he resisted, but the reps from the other two wineries shuffled about a bit and avowed that they were pretty damned hungry too. And so, we had our most civilized tasting of the entire trip – tasting through our next nine wines while we ate our way through a delightful lunch in the covered courtyard at the winery.
Mi Terruño is a five month, yes, month, old winery, as in they've just released their first wines, 80% of which are for export, mostly to the U.S. – palate questions again and all that, and they're clearly going for a big, fruity driven, toasted oak style….
Chardonnay Reserva 2007 – yeasty, toasted oak style chardonnay with baked apple flavors, minerals, balanced by good acidity, depth, length, and just a spritz of carbon dioxide gas. Quite nice.
Malbec Reserva 2007 – red fruit, black tar, smoky, vanilla, toasted oak, good acidity, great length. Definitely in that "international red" style, not notedly Malbec.
Cabernet Sauvignon Reserva 2007 – red fruits, bittersweet chocolate, roasted coffee, good acidity and length, a little hot on the finish.
Mendel is also a relatively new venture, though with a couple of years under its belt, and is a partnership between a local family and flying winemaker Roberto de la Mota. The vineyards that are on the estate were planted in 1928 and, like many at the time, were used for producing bulk wine. They make two wines.
Malbec 2006 – aged in French oak, a mix of 1st, 2nd, and 3rd use – spicy, black plums, pepper, good depth of fruit, a light touch on the oak, a little high on the acidity but I think that's just the wine's youth. Quite good.
Unus 2006 – 70% Malbec and 30% Cabernet Sauvignon, 16 months in French oak – black fruit, a touch of tar, toasted oak, good depth and length. Also high in acidity, and had a strange, almost "gritty" mouthfeel – again, I think the wine is just too young to be drunk.
Luigi Bosca has a longer track record, and is a well-known winery on both the domestic and international scene.
Brut Nature – sparkling wine made with 60% Chardonnay and 40% Pinot Noir via traditional methode champenoise – berry fruit, minerally, crisp acidity, good body, a bit flat on the finish.
Gala 3 2007 – A blend of 50% Viognier, 40% Chardonnay, and 10% Riesling, half of the Chardonnay is put through malolactic fermentation and spends four months in French oak – beautiful floral aromatics, spciy, peach, apple, minerally, very complex, great acidity and length, delightful.
Malbec D.O.C. 2005 – from 35 year old vines, cold fermented, and spending a year in barrel followed by a year in bottle before release – plum pudding, cherries, milk chocolate and vanilla, black pepper, good acidity, long, elegant finish.
Finca Los Robles 2005 – a Malbec and Petit Verdot field blend, two years in French oak followed by a year in bottle – elegant, red fruit, spicy, a light touch on the oak, good acidity and length, still a bit young, but quite good and drinkable now, though I think it will improve with a year or two more in bottle.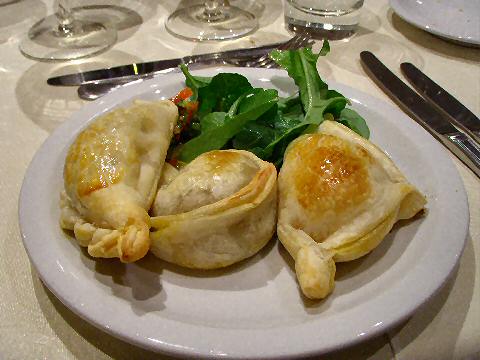 While we sampled the above wines we nibbled… or perhaps ravenously inhaled, a trio of empanadas – vegetable, beef, and goat – the latter being the first time I've seen a goat meat empanada, and absolutely spectacular.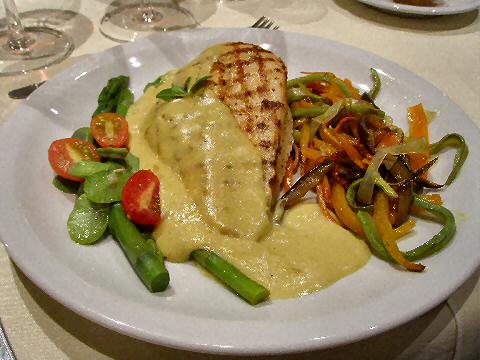 Followed on by a grilled chicken with a honey mustard sauce, fresh spring vegetables – cherry tomatoes, asparagus, fava beans. And then we moved off to the sitting area and chatted amiably over coffee and petit fours. Perfect!