"The Argentine industry was focused exclusively on the internal market and when I arrived to the country it only exported bulk wine. In the 90's, everything changed. Argentina had to modify its wine-making style in order to grow exports, because what they were making for the local market was not what the rest of the world wanted. The great advantage was that there was an important base of implanted Malbec grapes; the varietal emblematic of Argentina."

– Michel Rolland, "flying" winemaker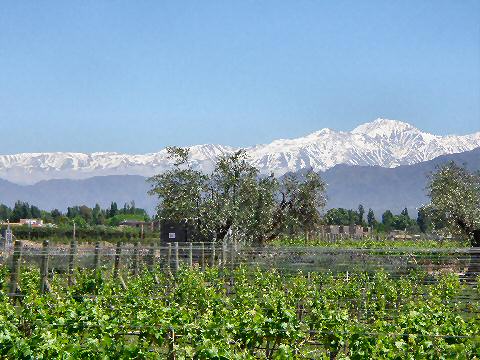 Chacras de Coria, Argentina – Next day dawned bright and early, not just for the locals used to getting up to get the wineries in motion, but for us as well, our quintet was bleary-eyed, having failed to convince hotel waiters to pump the coffee in intravenously as we spent only moments in our cafe chairs before our duo of cars arrived to cart us off in different directions. This day I was paired up with John Harding, a New York based marketing consultant for restaurants and the food and wine business, and we headed out to this pleasant little community that seemed to be at the foot of the peak called La Plata, where we made our first stop shortly after 9 a.m. at Alta Vista. Beyond the dramatic backdrop, Alta Vista has some things worth noting (and besides, I know some readers aren't interested in the tasting notes, so here's some stuff for them, too).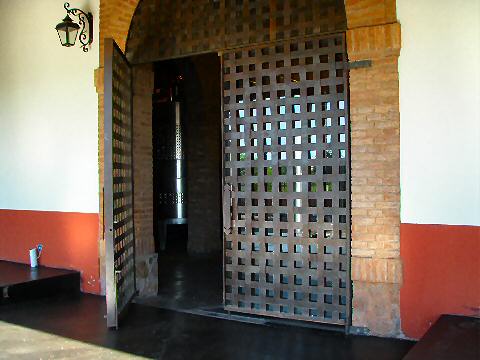 The winery is owned by a French family, the former owners of Piper-Heidsieck champagne, who now own a couple of properties in Bordeaux, one in Tokaji (Hungary), and this lovely spot in Mendoza (plus some vineyards in nearby Clos de los Siete, and up in Salta, where they grow their Torrontés). They took over from a bulk wine producer, Erise Hermanos, that had been operating there since 1899. The cool looking doors above are made from the steel barrel rings that encircled the huge wooden vats that the Erises used to ferment their wines. One of the more interesting things is that the Erise family also had olive trees on site, several hundred of them at one point, now down to a few dozen, but these had been planted before they began growing grapes, and are roughly 150 years old now.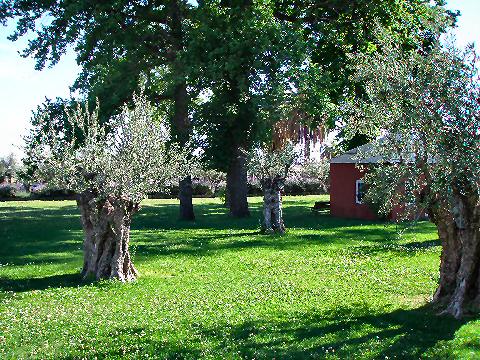 The general manager of the winery, Philippe, who overseas the technical aspects for all of the family's wineries, giving him a whole lot of frequent flyer miles, very smartly eschewed any prolonged tour of the property, showing off a few key points, and then, given that we were on a tight schedule, heading us straight into the showy tasting room, and we got down to the business of tasting….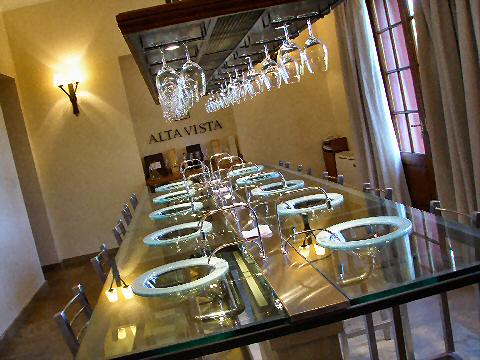 Premium Torrontés 2008 – apricots, white pepper, a light floral component, great acidity, delicious, everything a Torrontés ought to be.
Premium Malbec 2007 – blue plums, bittersweet chocolate, vanilla, mace, good acidity, long finish, very good
Atemporal Blend 2007 – a new introduction of 45% Malbec and 11% Syrah aged in French oak, and 25% Cabernet Sauvignon and 9% Petit Verdot aged in American oak – very young, indeed, too young to be drinking it, literally having been bottled earlier in the week, still, it had some bright fruit, a bit of spice, good acidity and length – it needs time, and currently the alcohol shows out of balance – it'll be interesting to see this one after it sits in bottle for 6 months to a year.
Malbec Gran Reserva 2006 – the one thing we both particularly liked is that, after our previous day's experiences, no mention was made of "trying to fit the American palate", and indeed, the wines are all very individual at Alta Vista, with 55% going to export (and not just the U.S.), and all lines are the same in both domestic and foreign markets – this is a classic Argentine style Malbec with dark black plum flavors, candied violets, cinnamon, great acidity, soft tannins, well balanced, and a long finish – again, everything the grape should be.
Temis 2006 – Alta Vista was the first winery in Argentina to bottle "single vineyard" wines (all 100% Malbec), each of them being treated identically in the winemaking process, in order to show off the differences of the sites – with only about 2,500 cases made of all three together, 400 of which head to the U.S., these are not easy to find – this one from chalky soils in southern Mendoza – soft, elegant, with red plum and black tea flavors, good length, showing a little alcohol on the finish, but it's still young.
Serenade 2006 – coming from the clay soils along the route across the mountains to Chile, this was the favorite for both of us – black plum, violets, light spice, and a note of clay, soft tannins, good acidity and length, solid finish
Alizarine 2006 – from limestone soil with boulders at the depth of only about a meter and a half, this wine shows strong minerality, with a sort of wet stone aroma, black plums and violets, a bit heftier wine, this was also the only one of the three whose tannins were not soft, being actually a bit on the drying side.
Alto 2005 – and last, the winery's icon wine, 75% Malbec, 25% Cabernet Sauvignon, all aged in new French barriques, infanticide, really – way too young, and almost all structure, with just hints of the depth of black fruit, spice, chocolate that it will carry when it develops – I'd guess it needs another two years before anyone other than the winery's lab should pop open a bottle again.
With Philippe having exceed his "limit" of three wines to show us, but then again, we were interested in the single vineyard wines in particular, and the next winery hadn't yet shown up with their samples, it was really because we'd pooped out on the winery tour part that we had a lot of extra time, so he's not to blame…. Next up, Argento, a 7.2 million liter winery that is a division of the Catena Zapata group (which in total makes 30 million liters of wine), created in 2005 as a joint venture with Terence Conran's British corporation with the intent to export 100% of their production (currently not exported to the U.S., but it will be starting in January).
Torrontés 2007 – a completely different style of Torrontés with plenty of residual sugar, honey, apricots, floral, pine needle aromas, for me lacking in acidity with a somewhat cloying finish, and not a type of Torrontés that I'm fond of, though it's popular among those who like wines with some sweetness.
Malbec Clasico 2008 – high acidity, red plums, lots of toasted oak, even more so on the finish, and very dry tannins, to get all technical on you, they put this wine through 100% malolactic fermentation, which, for me, strips out all the character of a grape like Malbec, still, they're selling the stuff in 42 countries, so someone must think they like it.
Artesano 2006 – a blend of 50% Malbec, 25% each Syrah and Cabernet Sauvignon, aged in a mix of French and American barriques – a bit high in alcohol, though that may be its youth, red and blue fruit, pepper, and heavy on the toasted oak, still, it has a certain elegance hovering in the background and may come together in another year or so.
Winery number three for the day was hovering in the background, and as Argento was ushered out, Melipal was ushered in. The name comes from the Mapuche name for the southern cross constellation (the Mapuche are one of the principal "first peoples" tribes from the southern Andes), and was originally the name of the family's farm, now also their winery, with their first bottling in 2003 (using a contracted winemaking facility), and their own winery built just in 2004. They only grow Malbec, and offer up a limited range of wines, which I was already familiar with as a local friend of mine here in BA is their distributor.
Malbec Rose 2008 – a common approach to Malbec roses here in Argentina makes use of a blend of green harvested, i.e., underripe, grapes and "bleed off", or "free run" juice from the red wine process, and this one is a 50:50 mix. Unfortunately, I find it gives the roses too much acidity and not enough depth, in general – this one had light berry and cherry fruit, a bit of spice, some dry tannins, a bit of carbon dioxide prickle, but it was short, and had a slightly alcoholic finish.
Malbec 2006 – 60% of the grapes come from a vineyard that was planted in 1923, the rest from young vines, and the wine spends a short time in American oak – it was pointed out that this wine is, once again, designed for that now infamous American palate – black and blue fruit, very spicy, a ton of toasted oak, good acidity, soft tannins, and an oaky finish – more or less that "international red" style that doesn't say "Malbec" to me, but still makes a perfectly drinkable wine.
Malbec Reserva 2006 – too young to be being shown, and they clearly knew that, as they'd decanted the wine about 20 minutes before they had us taste it – from selected blocks of the 1923 vineyard, all aged for 18 months in a mix of French and American oak – black fruit, spice, violets, dry tannins, good acidity, notable toasted oak – given the time to open up, it was showing quite elegantly, though I imagine that right now, if you poured it straight from the bottle after opening, it'd be a bit rough.
And, on to our fourth winery for this stop of the trip, and getting on to a little past noon by this point (3 presentations, 14 wines, 3 hours and counting), Carlos Pulenta, a 1 million liter producer that exports some 80% of their production, a good percentage to the U.S., and here we were once again engaged in conversation about the palate. Interestingly, Carlos Pulenta has made one of my favorite Argentine whites for the last couple of years, a Semillon and Chardonnay blend in their Tomero line, but because of their market research, they've decided to stop making this, and now plan to sell a big, oaky Chardonnay, and use the Semillon to make a slightly sweet, lighter wine. What a shame. I can't say, given the two wines they brought to show us, that I was impressed with their market research on other fronts, either….
Vistalba "A" 2006 – there's also a "B" and "C", each successively lighter weight, this one being the gran-daddy, a blend of 90% Malbec and 10% Cabernet Sauvignon, all spending 18 months in new French oak and another year in bottle – a bottle that bears mentioning, as it has the most complex label I think I've ever seen on a wine, with paragraphs of information on the front label, no back label, part of it in English, part in Spanish, part in Roman numerals – and something we chatted with them about, the packaging was a complete turnoff for both of us; the wine – black fruit, nutmeg, very sweet oak and tannins, good acidity, high alcohol, long, oaky finish.
Tomero Petit Verdot Reserva 2006 – I'm a fan of the Petit Verdot grape variety, and it's one of those things that I'll seek out to try at various places – this one is too young to be drinking, though I think it has some potential as an unusual style – black fruit, bramble, pepper, brown butter, nutmeg – hey, a recipe… – a bit alcholic, dry tannins, slightly short finish, but I think it's just its youth – I'll be curious to see this one in about a year.
Finally, to our fifth (and last) winery for this stop, Santa Ana, founded in 1891, and marketing 80% of their wine domestically, which initially gave us some relief as we figured the whole palate question would be lessened, but, the three wines they brought to show us are three wines that they make specifically for the U.S. export market, so it was back into the question….
Eco 2008 – a 100% organic, reduced sulfites Malbec, which they're quite proud of, as justifiably so, but strangely, which they fail to mention on the label other than in small print on the back – hey, play that one up for marketing, you know? On the other hand, it wasn't the best wine we had that day – thin blackberry fruit, light spice, enamel stripping acidity, dry tannins… I'd go back to the drawing board on this one.
La Mascota 2006 – 100% Malbec from Maipú, all aged in French oak, blackberry jam, light spice and very high acidity again, perhaps a winemaking style choice? The residual sugar did little to balance it out, the dry tannins and very short finish didn't give it much help either.
Unánime 2005 – 60% Cabernet Sauvignon, 25% Malbec, and 15% Cabernet Franc, a new introduction for them, and a completely different style, that actually worked quite well – dark black currant fruit, a bit of pepper, sweet oak, dry tannins, good acidity, good length, smooth finish – eminently drinkable, something we were grateful for, both in being able to focus on in our conversation with them rather than the two previous wines, but also as the final taste on our palates.
We were running about an hour behind schedule by this point, despite attempting to speed things up with not touring, but such is life when you get involved in marketing and wine conversations. Back into the car, and headed to stop number two for the day….