"Nobody ever went broke underestimating the taste of the American public."

– H.L. Mencken, writer
Mendoza, Argentina – It seemed to be the question on everyone's lips, along with a voiced answer from many. "What do Americans think of Argentine wines?" The U.S. market has become so important to the Argentine wine world that it seems that not only can the spending from those now overtaxed wallets has an impact on decisions here, but many wineries are even investing in studies to figure out what to produce to get Americans to part with their hard-earned dollars. For our group of five, it reached a level of near hilarity as one after another winemaker asked the question, or more often, spouted off the results of their "research" and what conclusions it led them to. Often, more than one, seated at the same table, revealed completely different decisions about what sort of wine to make, how to bottle it, and how to price it – contradicting each other and each claiming to have found the holy grail of the future of Argentine wine. Most of what we heard was sheer nonsense, even setting aside the impossibility of narrowing the "American wine drinking public's palate" down to one set of desires.
After a short respite back at the hotel, we were back on the bus and headed to winery Escorihuela Gascón, founded in 1884 by the eponymous Don Miguel Escorihuela Gascón, and its appropriately named restaurant, 1884, the flagship of famed Argentine chef Francis Mallman. But we were not headed in to dine first, paying one's dues is part of a press trip, so after a brief greeting in the bar of the restaurant with a glass of the winery's extra brut sparkling, we threaded our way through the tables that seem to occupy every square inch of the facility, including the hallways, nearly all packed with ravenous diners, and entered a private party room setup for a wine tasting. First up, the host winery itself, thankfully, someone in Wines of Argentina had, by now, communicated to each of the wineries that were participating, to limit the number of wines they showed us to 2-3 (not that all of them kept to that, but it cut down on the numbers).
Escorihuela Gascón Viognier 2008 – classic white peach notes, with a touch of white pepper, a touch of a carbon dioxide prickle, good balance, good acidity, and quite smooth, probably due to the use of oak stave inserts to soften 50% of the volume, quite good
Escorihuela Gascón "High Altitude" Malbec Rose 2008 – coming from the winery's highest altitude vineyards, which they asserted are the highest altitude in Mendoza, and intentionally harvested three weeks before the grapes are fully ripe, the wine has fresh red plum flavors, nice earthiness, high acidity, and notable alcohol on the finish – not my favorite style
Gascón Malbec 2007 – in the U.S. market simply shown with the "Gascón" in big letters, here marketed under the full name, apparently someone's idea of making the label simpler for the American public – black plum and violet flavors paved over with road tar, lots of sweet oak, very alcholic with a peppery finish, and a touch of bitter chocolate – in addition to the label, we were assured, this is exactly what Americans want to drink. Not this one, I assure you.
Don Miguel Gascón Reserva 2008 – on opening, this wine was a bit thin and restrained, but then it was a barrel sample, so not ready for bottling or release yet – with black raspberry and black tea, high alcohol and acid – but with some aeration time, it opened up nicely with more depth, smoothed out the rough edges, and was a great match later in the evening with our food. Definitely more of a traditional styled Argentine Malbec, and quite a contrast to the previous wine.
On to the wines of Bodega La Rural, known best under its labels of Rutini and San Felipe. The winery was founded in 1895, is currently 40% owned by the Catena family winery, interestingly two wineries that are often placed in competition with each other on retail shelves – smart marketing one supposes….
Rutini Sauvignon Blanc 2008 – I'm generally quite fond of the Rutini white wines, they have real depth and character – this one packed with cantaloupe, asparagus, and fresh cut grass flavors, quite good acidity and complexity, it seemed a trifle short on the finish, but I think that was more in reaction to the big reds we'd just tasted, and later over dinner it showed quite well.
Encuentro 2004 – This and the next wine wer part of a line I wasn't familiar with, apparently, once again, aimed at the "true" tastes of the American public. Encuentro meaning an encounter, a meeting, it is a blend of 53% Malbec and 47% Merlot, 40% of which is aged in French and 60% of which is aged in American oak – how's that for a complicated formula? Black plums and raspberries, good acidity, hard, dry tannins, a touch of underbrush, and a long, oaky finish. 2004 was sort of a monster year for wines here, so not surprising it still seemed young.
Apartado 2004 – Meaning separated, this is sort of reverse experiment in catering to our tastes, with 20% Cabernet Sauvignon, 20% Merlot, and 60% Malbec (all old vine, 65 years, something noted as a marketing ploy), each aged separately in French oak and then combined to yield, once again, a completely different "true" fit to the American palate – at least they're upfront about wanting to fit different segments of the wine drinking public – red plum fruit, bittersweet chocolate, juicy acidity, a touch of clay in the background – good balance and length – admittedly, more my style.
Even the approach to the whole concept of wines is perceived as different – Bodega Norton uses all their own, estate-grown grapes for all their wines exported to the U.S., because it is something they feel is important to American consumers to see on the label. For their domestic production, and much of that shipped to other countries, they buy some percentage of the grapes from other vineyards. Completely different labels and packaging are used specifically for the U.S. market. Now doesn't that make you feel special?
Norton Privada 2006 – Again with the old vines, 60 years old this time, and noted on the label – 40% Malbec, 30% Cabernet Sauvignon, and 30% Merlot, all aged in French oak. Bright raspberry tempered with vanilla, orange peel, and bitter chocolate, soft tannins and good length, nicely balanced – a very drinkable blend.
Norton Perdriel 2005 – Named for the vineyard from which the grapes are sourced, a blend of 60% Malbec, 28% Cabernet Sauvignon, and 12% Merlot, all handpicked, 16 months in French oak, only 2,000 cases are made, of which 200 are sent to the U.S. – so definitely more of a domestic production wine – soft tannins, very ripe black plum flavors, good acidity, quite concentrated and intense, yet surprisingly smooth and easy to drink.
Norton Gernot Langes 2003 – While I understand the desire to be immortalized, this is one place where a little research might have helped, the wine is named after Gernot Langes-Swarovski, the owner of the winery (thankfully they didn't use his whole name on the label). It's a 70% Malbec, 25% Cabernet Sauvignon, 5% Cabernet Franc blend that is the winery's iconic wine, running around $80 retail in the U.S. (and, I believe, marketed almost totally there), with ripe mixed red and black fruits, vanilla, sweet oak, soft tannins, and very alcoholic – sort of that sweet fruit bomb style – I definitely preferred the previous wine.
When Santiago Achaval started to speak, it was like being back home in the midwest – flawless, unaccented, well to me, with my own midwestern twang – turns out he was born and raised in Minnesota to Argentine parents, and didn't return here until he had that accent down pat. On to the final, and smallest of the four wineries for the evening, Achaval-Ferrer, with a very unconventional style to their wines, everything handpicked, with low yields, and a grand total of 15,000 cases produced for all their wines together – versus, for example, Gascón's 8 million liters, or nearly 900,000 cases.
Achaval-Ferrer Malbec 2007 – black currant fruit, flowers, spices, juicy acidity, soft tannins, a hint of black tar, and a light touch of oak, a classic Argentine Malbec profile.
Achaval-Ferrer Quimera 2006 – rather than vinify the grapes separately, as is common with blends, they blend these upfront and ferment them together – 34% Malbec, 32% Merlot, 22% Cabernet Sauvignon, and 10% Cabernet Franc – smoky bacon fat jumped out of the glass, backed up by black fruit and bitter chocolate, well balanced, good acidity, and great length and depth, definitely my favorite wine of the evening.
Finca Mirador 2006 – intended as a "terroir driven" wine, i.e., with as little manipulation as possible and letting the vineyard style show through – it's a field blend of various grapes from a vineyard partially planted in 1928 and partially in 1942 – not my favorite wine I'll admit – I found the acidity and alcohol way too high and jagged seeming, probably just that the wine is still very young, but far too soon to be showing it – the fruit almost imperceptible, the earthiness and some chalk flavors from the terroir showing, but without that fruit, it's just not something I'd want to drink right now – I'd try it again in about two years….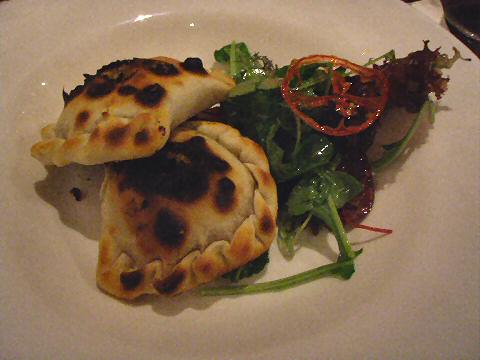 With the wines out of the way, it was time to eat, and we sat down to plates of quite good empanadas – they should be, although we didn't see the menu, rumor out there has it that a plate of two empanadas at 1884 runs about 15 pesos, roughly double what most restaurants charge for them. Still, these were quite good, and among the better mendocino style empanadas I'd tasted… to that point… which we'll get to in further posts. I don't think the option for the green salad with pears was taken up by anyone at the table.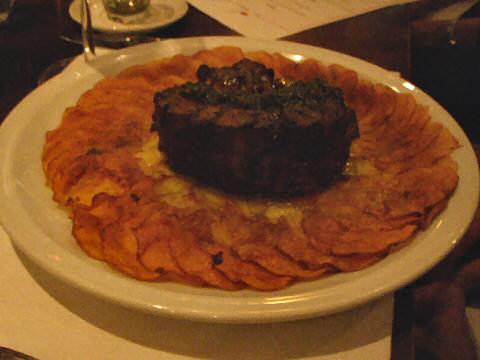 Although I didn't have this, those who ordered the thick cut ribeye, cooked to temperature as it should be, and served up with a ring of roasted "Patagonian potatoes", asserted it was delicious. The interesting thing, my traveling companions had all earlier asserted they were tired of beef, as they'd already been feted with steaks in Buenos Aires and Salta for the four previous days – yet most of them ordered the steak… go figure… guys?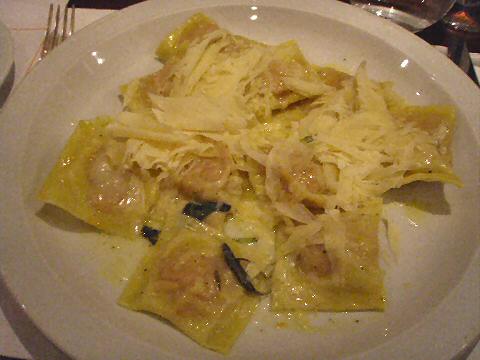 I opted for the squash filled ravioli topped with shavings of local mendocino cheese, and a sage and butter sauce – simple, classic, nothing creative, but really well executed. Most of us passed on the dessert plate – a sampler of five different ones from the pastry kitchen, though by now we were pushing well past the witching hour, nearing onto one in the morning, and we'd been going since before five a.m. Buenos Aires time, so four a.m. here….