"My family purchased vineyards in Napa Valley over 35 years ago, and I have been making wine for almost 25 years, with over 30 harvests under my belt. I was fortunate to make my own wines at Robert Pepi Winery with my father until the winery was sold in 1994. Since 1996 I have been a consulting winemaker mainly in Napa but also in Argentina and Colorado with success and as much fulfillment as I could hope for."

– Robert Pepi, Jr., Winemaker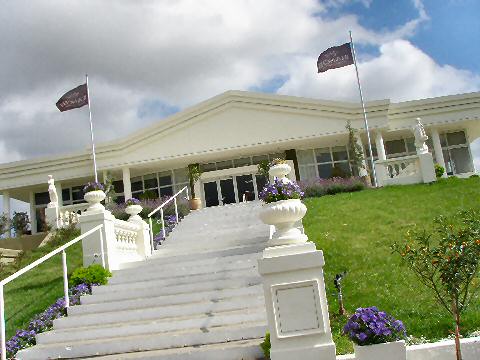 San Rafael, Argentina – So, let's get down to business, in other words, jump right into the whirlwind that was our trio of days in Mendoza. We left off at the San Rafael airport with friendly greetings from the local constabulary – from there we headed in through the small terminal building where we were greeted by a driver who quickly whisked us off to the Valentín Bianchi winery – one of the larger producers around the country, currently offering up 15 million liters (20 million bottles) of wine a year and expanding to 18 next year, 70% of which is consumed domestically. The winery has been in business for 80 years and is still family owned by the fourth generation down from Don Valentín Bianchi, who made his way to Mendoza from Fasano, Italy (Puglia). Other than a very small amount of wine that is shipped in bulk to a distributor in Germany, who packages it as a bag-in-box release, all of the winery's wines are bottled as fine wine.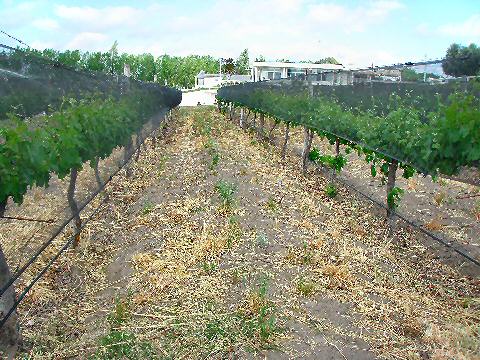 We started off with a short walk in the vineyards with Marcelo, the winery's agronomist, who has been with the winery for 13 years – not uncommon in these parts, the winemaker has been there for 30 years, and many of the people who work there are 2nd and 3rd generation employees – one of the things I particularly liked hearing about was Bianchi's commitment to their employees – they pay for everyone who has any contact with the winemaking process to go to technical and/or winemaking school before they begin working – many of them kids who have grown up on the estate.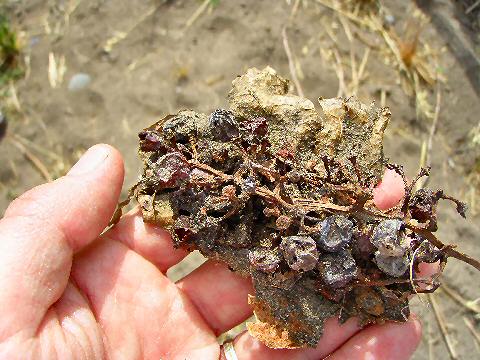 Back to the vineyards – 30% of Bianchi's vineyards are certified organic, another 30% are in the process for certification, and they're experimenting with some biodynamic vineyards as well. In between the rows of vines, they've planted barley, which apparently helps with water retention in the soil – who knew? These are some Semillon grapes that are affected by noble rot, botrytis, which we hear so much about in regard to dessert wines – this gives you a sense of just how ugly the intricate workings of some of this stuff is – these are a bunch that were left lying on the ground, so they're a little more dried out than normal, but it's pretty much what a bunch of botrytized grapes looks like.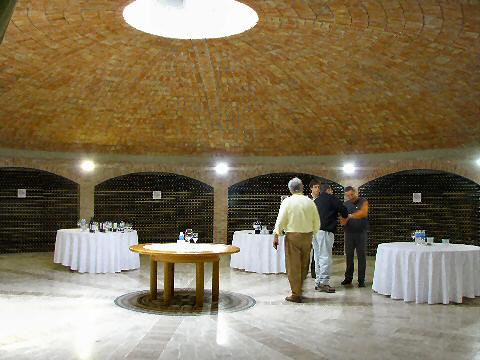 We continued on with Francisco, the winemaker, and a quick visit to the cellars. Francisco works closely with consulting winemaker Robert Pepi, Jr., from Napa. Hmm – facts and figures – 1700 barrels in the winery, 25% of them replaced every year. 15% of the winery's production is barrel aged. The winery receives more than 100,000 visitors a year…. not all of them get to enter the underground tasting cellar (there's a shop and tasting room up in the winery building where most people sample) – here we sat down to taste not only some of Bianchi's wines, but those of two "visiting" wineries as well – El Rosal and Finca Los Alamos.
Elsa Bianchi Chardonnay 2008 – touch of barnyard on the nose, bright, simple fruit, a bit of carbon dioxide prickle, and somewhat hot, or alcoholic finish – not one of my favorites
Familia Bianchi Sauvignon Blanc 2008 – fresh, ripe melon, bell peppers, good acidity yet still quite smooth, a touch of residual sugar most notable on the finish – not bad at all
Elsa Bianchi Malbec 2008 – red plums, dried leaves, a touch of pepperiness, dried cherries on the finish – simple, but eminently drinkable
Familia Bianchi Malbec 2006 – the strangest note of horehound candies (both David and I picked it up, it's one of those Michigander things we grew up with – Wikipedia says it's best described as "berry flavored rootbeer"), black plums, candied violets, tannic finish – odd, but quite good
Familia Bianchi Cabernet Sauvignon 2006 – almost more Cabernet Franc style, packed with green olive and dried weed flavors, black raspberry and a touch of graphite – I like Cab Franc, so while it wasn't a typical Cab Sauv, I liked the wine
Bianchi Particular Malbec 2006 – red plums, mixed spices, soft tannins, very heavy toasted oak notes, especially on the finish – in fact the oak dominated this wine to the point where I didn't enjoy it
Bianchi Particular Merlot 2006 – okay, I'm not even sure where to go with this one – take a ham and cheese sandwich, add chili peppers, and douse it in pure grain alcohol – even with the hint of red currants and the very soft, nearly non-existent tannins, this was not a pleasant wine, by any stretch
Bianchi Particular Cabernet Sauvignon 2006 – it must be something with lunch meats – this was pure pimento loaf, topped with some green olives, a vague hint of red fruit and graphite, and very sweet oak tannins – not as unpleasant as the Merlot, but not going into my list of favorites
Enzo Bianchi 2003 – the winery's icon wine, a blend of Cabernet Sauvignon, Malbec and Merlot – needed time to open up and blow off a little carbon dioxide prickle that showed at first, then, black olives, a mix of red and black fruits, and an interesting blueberry note on the finish, soft tannins, toasted oak, all quite well balanced – and with time it opened up very nicely – quite good
Tanino Argentino is the venture of a trio of friends, not long out of business school (at least as I understood it), who apparently decided that opening a winery would be an interesting business model to explore – and I wish there was a polite way to say it, but let's just say that wine is more than a basic commodity, and needs more skill brought to it than a spreadsheet. They bought the estate of the second oldest winery in San Rafael, reopening in 2004 under the label El Rosal, as an entirely export oriented winery – nearly 100% of their production goes to Brazil and the U.S. They produce 300,000 liters of wine (400,000 bottles), though the winery has the facilities to handle 1 million liters a year.
Malbec Conclusion 2007 – unoaked, blackberry and black plum flavors, very high acidity, a bit thin, and bitter tar on the finish – not at all pleasant
Malbec 2007 – black plums, black cherry cola, good acidity, a bit too heavy on the oak at the end – a rather sweetish, oaky Malbec, possibly fitting some consumer profile… somewhere
Malbec Reserve 2006 – black fruit, cream, soft tannins, overly alcoholic and again, overly heavy on the sweet oak, especially at the finish – they seemed to be of the opinion that this style of wine is what the American consumer is looking for – a common refrain we heard from export oriented wineries over the three days – though each had their own idea of what constituted the right wine profile
Bombal, doing business under the label Finca Los Alamos, was started as an interesting project – the winery began as an opportunity for people to purchase barrels of personalized wine – and it continues with that as its primary business. The purchaser buys a barrel from a roster of choices, and ranging in price from $500 to $1450, and then selects the grapes to be made into wine and placed in the barrel – with the guidance, of course, of the winemaker, and then when the wine is bottled, it receives a somewhat personalized label (it's the winery label with the purchaser's name imprinted as "owner"). Recently the winery began producing a few wines for distribution, though the majority is not available commercially other than via the barrel program.
Algodon Chardonnay Reserve 2008 – the reserve designation for a wine produced this year caught my eye immediately, the owner hemmed and hawed a bit and then admitted it was purely a marketing ploy – the wine, soft, tasting of baked apples and dark caramel, with a very oaky finish – not my style, but the sort of sweet, oaky Chardonnay that many seem to like
Algodon Syrah-Cabernet 2004 – actually containing 20% Merlot as well, though not noted on the label, the wine is packed wtih blackberry fruit and pepper, soft, sweet tannins, toasted oak and coconut on the finish which is also a bit hot – not a favorite, but not bad
Algodon Malbec 2004 – red plum, raisins, spices, tasting very overripe, quite hot finish – my least favorite of the trio

The following three are from the winery's barrel program, three barrels that the owner of Bombal made for himself, or for use as examples of what they produce for prospective buyers.

Los Alamos Merlot-Cabernet 2005 – this wine was just plain wrong, all around – milk chocolate and toast dominated up front, then a very stewed, pruney quality, a ton of notable residual sugar, virtually no acidity, and a very oaky, cloying finish
Los Alamos Cabernet Sauvignon 2005 – black raspberry, sweet tannins, slightly high alcohol, good acidity, over all pretty simple, not showing much in the way of depth or complexity, but pleasant enough to drink
Los Alamos Cabernet Sauvignon 2004 – the best of the bunch, with bittersweet chocolate, red fruit, lots of spice, good acidity, and an interesting note that I can only describe as candied black olives
We finished up with a luncheon spread in the upstairs offices – where we also noted that the weather was turning windy and cloudy – a quick call to our pilot revealed that he, too, was concerned, and his comment, "I can get you back safely, but it's going to be a very rough ride." had us on the phone to our Wines of Argentina coordinator, who dispatched a mini-van for the return trip – actually taking us less time door to door (since we didn't also have to get to and from each airport) – and into Mendoza proper to check in to the Park Hyatt.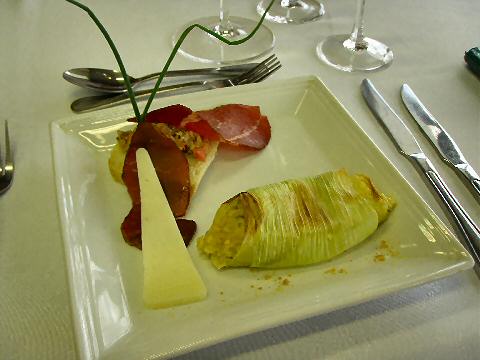 We started off with some hors d'oeuvres, then on to a humita more or less a sweetened tamale without the meat filling, accompanied by some air-cured beef. I'm not a big humita fan as I find them too sweet, but this one wasn't over the top, and I did enjoy it.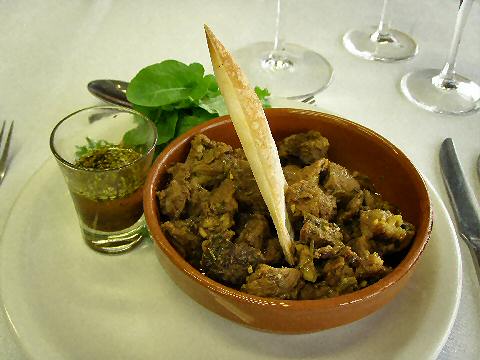 A stew that I hadn't tried before, typical of mendocino cuisine, called carne a la masa – more or less, in normal presentation, a mildly spicy beef pot pie – this version with the crust removed and stuck in as a triangle of dough. Accompanied by a herby, mildly spicy chimichurri, which perked the whole dish up – one to experiment with!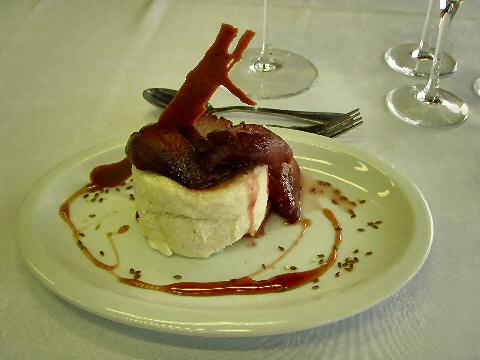 Dessert was simple, a vanilla ice cream topped with a Malbec-poached pear – we were a little stuffed, but nibbled our way through most of our desserts. The mini-van arrived, so we bowed out on coffee and headed back, leaving San Rafael in our rear-view mirror….