"The years from 1924 to 1933 were quite prolific and exciting for Borges. He founded several more literary magazines with varying amounts of success, and he contributed a variety of pieces to many existing magazines, most notably Martin Fierro. Ironically, his contributions to this magazine were to take an unexpected turn when the editors of the magazine decided to "invent" a literary feud. The publicity stunt involved two groups of writers – the aristocratic and intellectual "Florida" group, and the streetwise "Boedo" group, steeped in gaucho lore. Because of his European attachments and his reputation as an intellectual, Borges was assigned to the "Florida" group, a decision which he unsuccessfully appealed. He wanted to write common literature filled with danger and local color – but nevertheless his reputation had merited the "Florida" designation. Disappointed, he spent the next few years attempting to divorce himself from that image, and as a consequence he spent many hours exploring the less reputable areas of the city, talking with the hoodlums, learning the tango, and absorbing the Italian/Portuguese dialect."

– Fervor de Buenos Aires: The Roaring Twenties
Buenos Aires – Literature or not, I can understand Borges' desire to be part of the "Boedo" group than the "Florida" group. You may be able to shop 'til you drop along Florida Street, but there are far more interesting shops (including one of the city's best little shops for hard to find tango sheet music and LPs at Av. Boedo & Av. San Juan) and restaurants both within the barrio of Boedo and along the avenue of the same itself. One of those spots is a charming, narrow café/bar at Boedo 878 called Pan y Arte, 4957-6702, which serves up traditional dishes of Mendoza, one of the few places in the city for those. There's also a touch of an "organic" bent, with numerous vegetarian dishes offered up, and things like an eggless eggplant based mayo served with the bread, whole wheat crusts on the pizzas, etc. While not on the night of our visit, there are apparently tango and latin jazz shows on some nights, and a small, 45 seat theater in the space upstairs.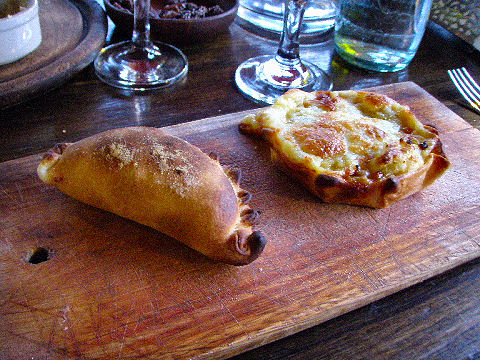 We started off with a selection of empanadas and pastelillos, the former good if not great (and so far, the only Mendozan style empanadas I've found in town), the latter like little mini shepherd's pies, tartlets filled with ground beef, mashed potato and topped with melted cheese – really quite good and the better choice of the two. The wine selection is limited, mostly "usual suspects" from the bigger commercial wineries – a shame, a place like this with regional, artesanal cuisine could easily put a little effort into specializing in hard to find Mendozan wineries.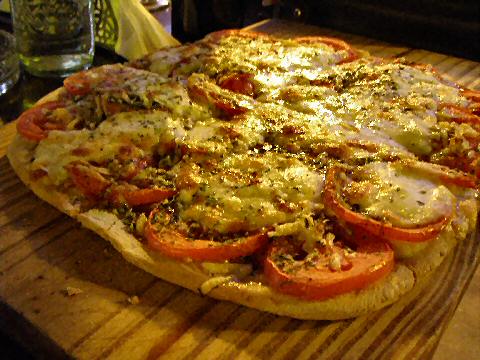 We kind of went all over the map with our main courses. One friend decided on a sandwich de milanesa de berenjena – breaded and fried slices of eggplant layered with lettuce and tomato on good, rustic country bread; a ham based lasagna, a huge portion that my other friend asserted was quite good; and I went for the pizza al campo mendocino – you know I'll pretty much always go for the pizza if it's offered, right? The crust a little denser than most, given that it was clearly at least partially whole wheat, the sauce and other toppings plentiful and flavorful, the unique part, as our waitress explained, was the use of a fresh, tangy, queso de campo, more or less a farmer's cheese, rather than mozzarella. She also asserted that the pizza was an "individual size with only four slices" – okay, but each slice was the size of small dinner plate – I ate two of them, my friends nibbled at half of one, I brought the rest home where Henry avidly consumed it and declared it "deliciosa".