"Finally, when it had been erased from the map of the penninsular after some many centuries, the name 'Langkasuka' again appeared in our history when it was mooted by our founding fathers as a possible name for independent Malaya."

– Sabri Zain, The Lost Kingdom of Langasuka
Buenos Aires – There was no reason in particular to go with a Malaysian theme at Casa S this past weekend. It was a whim – I like Malaysian food, it had been awhile since I'd cooked any, our southeast Asian dinners in general are popular – why not? Malaysia, being a conglomeration of what were once fourteen independent states, has a variety of influences on its cuisine – the majority Malay population, India, China, and various smaller tribal cultures. All of these lead to a cuisine that's similar in many ways to its neighbors but with its own unique character. I have some favorite dishes, though, in the end chose not to prepare them, simply because they're red-meat based and several guests on both nights had asked for non-red options… so be it – a seafood and vegetable dinner it was to be, and thankfully, much of Malaysia's cuisine is based on both of those.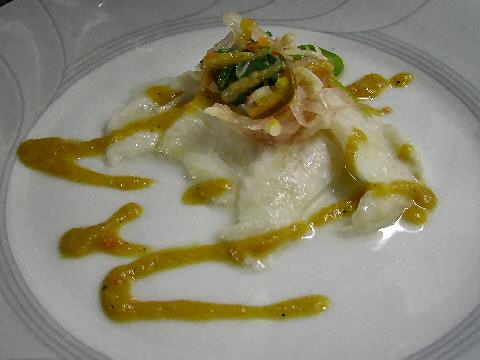 While Henry may insist that
ceviche
is not only a Peruvian creation but unique to Peru, with no one else doing anything similar other than copying his people's heritage, one of the things that most folk in the culinary world know is that "there is nothing new under the sun", so to speak. The idea of curing fish in citrus juice pops up in cuisines all over the globe, each with their own twists, but all curiously familiar. This is my reinterpretation of
umai
, which is, for lack of a better explanation, Malaysian ceviche – just don't tell them I said so. The fish is
lenguado
, or sole, and spends four hours curing in lime juice with a little salt. Atop it is a little salad of sliced chilies and shallots, julienned garlic and lime peel, cilantro leaves, salt, pepper, and lime juice. The sauce is a puree of shallots, garlic, ginger, chilies, shrimp paste, lime juice, salt, pepper, and turmeric.
Next up a soup based on an Indian influenced dish, called rasam. In a large pot saute mustard seeds in oil until they're popping. Add fenugreek seed, shallots, chilies, black onion seed, and a couple of bay leaves and saute for about two minutes. Add peppercorns, fennel, cumin, and coriander seeds, garlic cloves, turmeric and salt, and cook another two minutes. Add water and coarsely chopped tomatoes, and then I used the hand blender on the whole thing to puree it coarsely, then added a handful of tamarind pulp and seeds, and let the whole thing simmer for about an hour until it was nice and flavorful. I strained it into another pot – now, the recipes I have all more or less stop there (and the spices change from recipe to recipe), leaving it a simple clear broth. I wanted some substance to it, and though that some cauliflower and potatoes would do that well – I separated the former into little florets and the latter diced, and then roasted them in the oven with a little olive oil and salt until they were lightly browned. Then, right into the broth.
The least successful dish, in my view, was one based on an eggplant side dish called tiyung belacan. The traditional approach is a paste made of various ingredients including toasted dried shrimp, and then sauteeing the eggplant in wedges in the paste. I couldn't leave well enough alone, you know? The paste itself was fine – a puree of a couple of onions, some garlic cloves, a knob of ginger, a good quantity of dried shrimp that I toasted in a dry skillet, a chili, and a few basil leaves. Stir-fry that for a few minutes until the extra water evaporates and it becomes paste-like. At that point, I made little tart shells, and layered slices of yam (sauteed in oil for five minutes first or they won't cook all the way through in the tart), zucchini, and eggplant, each arranged in a pinwheel of slices (I tried using small dice one night, but didn't like the way it looked). I topped that with a dollop of the sauce and baked in the oven. The flavors were fine, though I wasn't thrilled with the presentation, and I think the sauteeing method blends the flavors better. Probably not one I'll repeat down the line.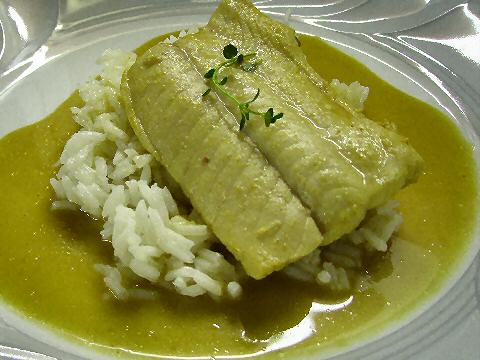 On to the main course, and a tossup between it and the first dish as to my favorite for the evening. Based on a dish called
ikan tenggiri
, I made a paste of equal parts coriander, cumin, and fennel seed, about 5-6 times that quantity each of ginger and horseradish (traditionally chilies, but I wanted a different flavor for this dish), and just a dash of turmeric, with just a little coconut milk to let it get to paste consistency. I cooked that in a skillet until nice and aromatic, then added more coconut milk, some tamarind water (simmer tamarind pulp in a small amount of water for 15 minutes and then strain), brown sugar, lime juice, and salt. Brought it to a simmer, and then added fillets of
atún blanco
, or "white tuna", which is really not a tuna, but hey, it's what they call it here. Served over rice. My kind of dish.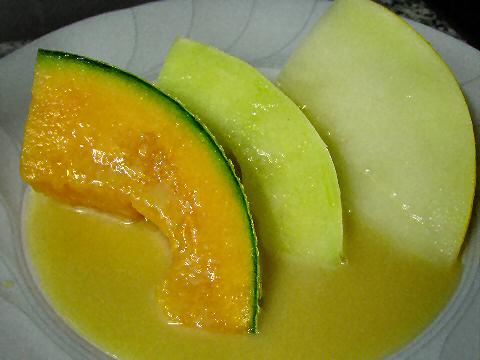 Alice Waters is famous for having served a dessert of a single "perfect" peach on a plate, and getting away with it at Chez Panisse. I wasn't going quite that far, but from the Chinese influenced side of the cuisine there's a classic dish of melon in caramel. I made the caramel by cooking 1 cup of sugar with half a cup of water until it was medium dark caramelized, then I added a cup and a half of coconut cream and two tablespoons of butter, cooking it until it was all dissolved and smooth. I served that over slices of three types of melon – cantaloupe, honeydew, and canary, and it was good…