"…it is the instabilities of cuisines, a phenomenon that makes the very concept of cuisine problematic that interests me the most. In a reality of constant flows, nothing stable that can be labeled a "cuisine" takes form any longer. Fusion is not a cuisine and is not referred to as such by the people who fuse foods and flavors, or by the ones who talk about it. People speak of "fusion cooking," a label that speaks of a practice, not of "fusion cuisine," a label that denotes a stable formation."

– Minjoo Oh, Venerable Home: Fusion Cooking and Nouvelle Cuisine
New York City – "I don't covet banquettes," I had to say to the cheerful and welcoming maitre d' who'd just informed me that banquettes were "the coveted tables". Especially in a room painted off-white, with high-backed round ones, those narrow cushions that make me feel like I'm about to slide onto the floor underneath my table, all in some shade of off-white – seating myself in it I immediately thought of an egg. Yes, that was it, I was sitting inside an egg. All alone, and waiting for my friends. No, give me a window table, that one over there, no, I don't care that it's the far corner of the restaurant, it's the bright and cheery corner, where there's light, and the movement of people on the street, and I can see the waiters bustling about in the room. True, I can't see most of my fellow diners, they're happily ensconsced in their coveted eggs awaiting their mama waitress – besides, if Bar Q, 308-310 Bleecker (do they need to publish both addresses? Wouldn't just the one where the door is do?) in the West Village, 212-206-7817, is as popular as I hear, we'll soon be surrounded by others.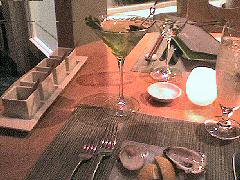 While I await my friends' arrival, as they await the traffic from the Holland Tunnel to clear, I order a Japanese Pickeltini. I hate cutesy names for drinks, and they abound here, but the descriptions are not all gushy and flowery, they're straightforward, and a blend of Hendrick's Gin with Cucumber Ice and Japanese Pickle arrives in short order – it's briny, perhaps a touch too much so, and not as cold as it might be, but then, the Cucumber Ice is upon a skewer in the shape of a cucumber and a bit of swirling it about lowers the temperature quickly while leaving lacey green trails through my drink. It pairs well with a couple of oysters and a clam upon their shells, served with a completely unnecessary lineup of three dipping sauces and a smoked salt. Fresh bivavlves on the half need no such adornment, and these are fresh, pristine, and delicious. I sample the three sauces "we are serving this season" (oh, how precious) separately and they are indeed delicious, perhaps with the array of shrimp cracker type "bread" that arrives later? I realize, as I sip my pickletini, that I've already spent as much as I'd have spent at a good restaurant in Recoleta – on a full three course dinner, with wine. [Closed.]
No matter, I am here, my first meal out in Manhattan for this visit (we won't count the bagel with lox and cream cheese that I grabbed to eat while relaxing at my friend's apartment), and I knew it was going to be expensive. My friends (others, not the one I'm staying with), arrive in short order, and we delve into the menu. As I'd hoped, it looks like a wonder of casual asian fusion – the chef, Anita Lo, and I go back many years… a story that bears telling some day – and I've had many a delightful dinner at her "other" spot, Anissa, which I recommend highly. The dishes all sound intriguing, and we quickly decide to just keep ordering until we're stuffed, letting the food come as it's ready since we'll be sharing it all, and not worrying about courses. The wine list is also an interesting collection – a hodgepodge if you will, of wines from throughout the world. It's not priced for those on a budget, but then neither is the restaurant – most of the wines on the list range from $50 on up to well over $100. We settle on a bottle of Movia Ribolla – a rich, aromatic white from Slovenia that I've tried before, and it doesn't disappoint.
Unagi and scallion fritters arrive as delectable, flavorful balls of fish with a sweet ponzu dipping sauce and quickly disappear – what fried eel ought to aspire to. Deconstructured steamed pork buns show up as meltingly tender pork belly encased in a crunchy shell of pork skin, the buns laid open like a butterfly to sandwich the meat, some not so spicy kimchee and a fresh herbal sauce – good, but a little more kick to that kimchee wouldn't hurt. The tuna, oh the tuna – served "three ways" – chili rubbed tuna belly, delicious, firey, we gobbled it up; tuna "marrow" – we don't get it, teensy blobs of clear jelly floating about in a yuzu sauce – perhaps as a shot or something, but tuna marrow just doesn't make it in the marrow world; and the ribs – yes, tuna have ribs – think about it, they're big fish, with big bones – and these ribs are seasoned and smoked and a pile of them have us rolling our eyes in praise. Too, there is something called Garlic Fried Milk – our waitress described it as garlic infused milk that's been thickened with cornstarch and then fried – which did little to edify the situation, but it still sounded intriguing – it's available on its own, or as an accompaniment of what turns out to be amazingly good and tender spice-rubbed lamb, but for us, the lamb is the accompaniment, and an unneccsary one at that, to something so simple, but so amazingly good.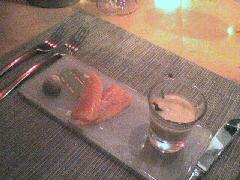 There are missteps… well, perhaps no, not missteps, just lesser dishes, dishes that didn't instill us with the sense of satisfaction that these others did – lobster tail, tender, but unflavored, bland perhaps, and perched atop some sort of rolled up something – well yes, that's about as stand-out as it was. A selection of sashimi atop sushi rice – all fresh, and a nice selection – nothing wrong with it, and perhaps if it had arrived as the first item to share over cocktails, it would have stood out more, instead of as the last item after a series of delicious assaults of spice and swirling flavors. A seafood stew – a very pleasant mix of fish and shellfish in what purported to be an anchovy and kimchee broth – tasting of neither when a combo like that should have stood out as the flavor blast of the evening, no? A nice gift from the management (Anita was off at the other restaurant, so we didn't get to see her) of smoked salmon slices with a smoked salmon roe vischysoisse was… smoky.
The interesting thing is that our trio, each with very different palates, are quick to acclaim the same trio of items as the true standouts – the unagi and scallion fritters, the smoked tuna ribs, the garlic fried milk. I would be blissfully happy with just those… though the tab, coming in at just a shade under $110 apiece with tip, reminds me that we're neither in Buenos Aires (where that would pretty much be my food budget for the week) nor Manhattan, Kansas, but the isle of Manhattan. Time to dust off those long-unused credit cards….
I have been a fan for many years of Anita Lo's Anissa, which I would sum up as elegant, fancy food, with Asian fusion touches. Bar Q is the reverse – Asian fusion, with touches of elegance, and as such, it works brilliantly.
[I left the camera back at my friend's place, though snapped a few shots with the phone, only to realize I don't have the cable for the phone to transfer them to the computer – I'll add them in when I get back home.]