"I highly doubt that the rites themselves involved the literal sacrifice of virgins in a re-enactment or literalisation of the Persephone-Hades descent myth. The reason I say this is because a critical element in the myth itself involves the rebirth of Persephone herself from the lands of the dead. Remember, it was not Persephone who made the land fertile, but rather her mother, Demeter, who only caused the crops to grow on seeing her daughter's arrival back in the land of the living. In this context, the way in which the Earth's fertility would be restored would be for the virgins to die and then be reborn. Given this, I find it much more likely that initiates into the Mysteries underwent a symbolic death and resurrection to reaffirm, if you will, the act of Persephone's own death and rebirth. The initiation rite itself probably involved the use of mind-altering substances to induce a state in which the initiate was perceived to be dead and in which the initiate received visions that would be interpreted in the context of the rites."

– posting on AboveTopSecret.com
Buenos Aires – While we made no effort to induce visions via mind-altering substances, near death experiences, nor did we sacrifice a pig and bull all in the name of celebrating Pannychis, the last night feast of the Elusian Mysteries, I think I made an interesting stab at some unusual Greek cuisine this last weekend. We also got to present a couple of Greek wines with the aid of the folks at Bodegas Krontiras, a Greek owned Argentine winery. Unfortunately due to delivery complications, the wines didn't make it here in time for Saturday's dinner, but we were able to get two of the five wines from the tasting linked above for Sunday.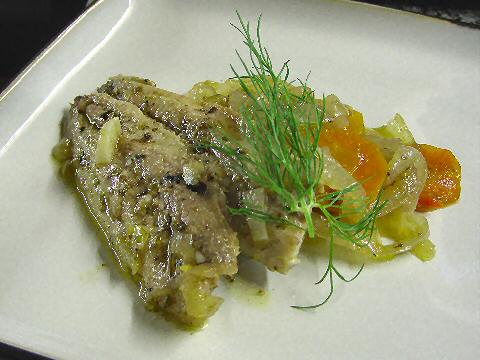 We began the evening with a simple sardine and onion salad. In some ways, I made it similar to an escabeche – I filleted, cleaned, and seasoned the sardines with black pepper, allspice, oregano, and salt, then poached them in medium hot olive oil until just set. Then I turned the heat up, added some more of the same spices, and sauteed a large quantity of onions, some sliced carrots for color, a little garlic, and a couple of chopped hot peppers, until soft and just starting to brown. I ladled the onion mixture over the top of the fillets, let it cool to room temperature and served it.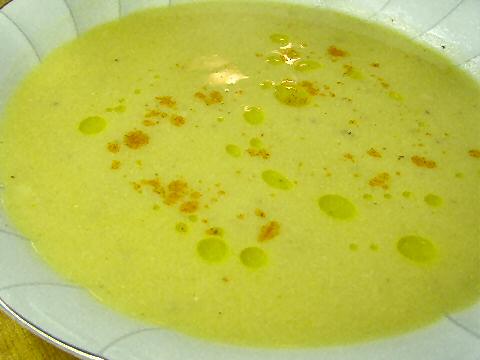 As always, soups are among our more interesting offerings, and I often look for unusual ones. Tahini Soup, as best I can tell, is specific to certain parts of Greece and is made specially as an Easter dish. It sounded simple but delicious, and in the end, it was. I simmered together a good amount of chickpeas, some potato (more for thickening the final soup than anything else and only a few recipes I found suggested it), a good dollop or two of tahini (sesame paste), lots of garlic, the peel of a lemon, some smoked Turkish pepper (sorry it wasn't Greek…), and salt. When the potatoes and chickpeas were soft, I pureed the soup with a hand blender and then added in an equal amount of cooked chickpeas as I'd started with just to give it some texture. A little spicy arbequiña olive oil and some smoked paprika across the top and a perfectly delightful bowl of soup is born. Here, on the second night, we served up the Tselepos Mantinea described in the posting above – a great match with the soup.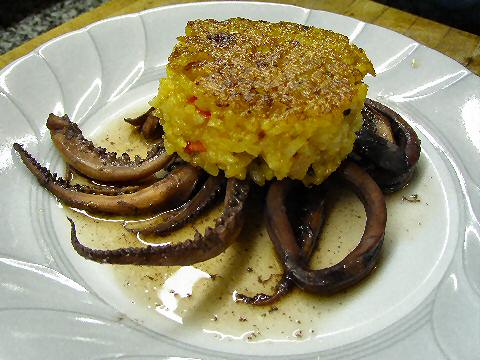 Riffing a bit on a few things – the risotto cake and mussel dish I've made a few times before, various dishes of braised squid or octopus, a saute of spicy aged chorizo sausage and peppers over rice, and combinations of sausage and seafood – and came up with a risotto cake made with a risotto that started off with sauteed aged chorizo, red bell peppers, onions, vinegar preserved mildly hot peppers, some tomato paste, and oregano – cooked, poured in a sheet pan, tamped down, chilled, cut in rounds, and fried up in a mix of olive oil and butter. On the squid side, a mix of tentacles and rings simmered for approximately two hours in red wine, olive oil, and black vinegar with a cinnamon stick, a couple of bay leaves, cloves, and a little salt. The combination worked beautifully. On Sunday, this dish was paired with the Sigalas Santorini, which worked quite well, though I wasn't quite as pleased as with the match above, and I think, perhaps, the first night's guests got a better pairing with Weinert's "Montfleury" Gran Rosé, even if it wasn't the chanced to try a Greek wine.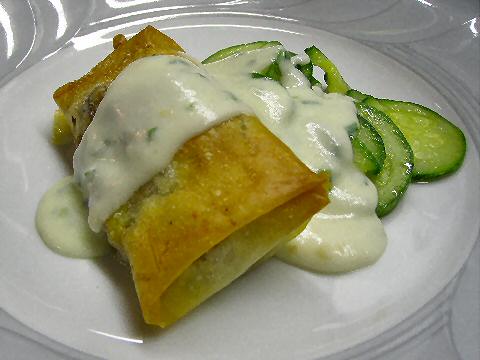 I have fun, on occasion, deconstructing and generally reconstructing classic dishes. It's too easy to simply deconstruct – serving a dish as a lineup of its components, and too many… young… eager… inexperienced… (pick an adjective, it's just an opinion) chefs only go that far, leaving the diner with the task of figuring out how to put it all together so it tastes good – often under the instruction of waiter, and generally just annoying everyone in the process. Better, in my view, to simply put it all back together in a new way. To that end, a lamb and zucchini moussaka, separated and recombined in a different manner that turned out to work brilliantly, if I do say so myself. A lamb shoulder and leg boned, trimmed, and cut into small cubes, sauteed with onions, garlic, salt, cinnamon, nutmeg and black pepper. Left to cool, then rolled up inside buttered sheets of phyllo dough, which I buttered on the outside and then baked in the oven until golden brown. The zucchini, sauteed in butter and olive oil with just a little salt and pepper. The sauce – melt some butter, whisk in some flour and cook for about a minute, then add milk and bring to a boil, turn the heat down and cook, whisking steadily, until thickened. Add in a good handful of chopped chives, some chopped up feta cheese, continue cooking until the feta is melted and incorporated into the sauce (it doesn't melt easily, but if you continue over low heat, it will – don't turn up the heat or the sauce will break and turn grainy), season with salt and white pepper, and serve all three components together. That works.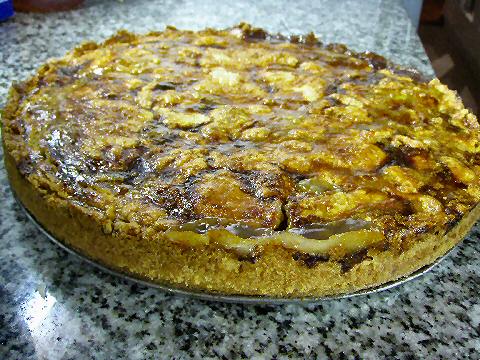 I started off with the idea of two different desserts, both of which sounded interesting. A classic baklava, and a modern thick yogurt and orange tart. It occurred to me that in our recent Swiss dinner, I'd made that delicious Engandiner Nusstorte – walnuts, honey… we're on the track here. It involved cream – surely yogurt would substitute – and a little flavoring… Indeed, I basically stuck to the original recipe, with a couple of minor changes – I added the juice of an orange to the sugar at the beginning of the process and caramelized them together, I used yogurt instead of cream, and, at last minute, added in a tablespoon of orange blossom water, and finally, dusted the top with cinnamon and powdered sugar rather than just sugar. Other than that… I left well enough alone – I like this better than the original tart – the orange and orange blossoms give it a delightful flavor, and the sharpness of the yogurt lightens up the whole thing just a touch.
The nicest thing about this dinner is that I'd be delighted to make and serve any of these recipes again in future dinners – it's not often that I'm happy with the way all five courses turn out!