There are some oligarchs that make me want to bite them just as one crunches into a carrot or a radish."

– Eva Perón
Buenos Aires – While I have been to quite a few events held in the garden or dining room of the Museo Evita, and toured the museum once a few years back (pre-blogging days), I'd never simply sat down to have a "regular" meal at the Museo Evita Restaurante, J.M. Gutierrez 3926, Palermo, 4800-1599. Since the museum was on "the list" for touring while my friends were in town over the last week, it seemed the perfect opportunity – a little lunch, and then Eva.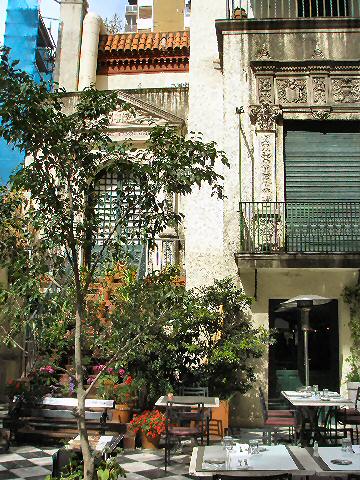 While the dining room is comfortable and well-appointed, the real draw of this place, when weather permits, is the beautiful courtyard garden. Thankfully, this last week was a delight for being out of doors, and we grabbed a table for five in a nice sunny spot. The waitstaff were immediately attentive, and continued to be friendly and helpful throughout lunch. Several of them speak English as well, which is a plus for those whose Spanish is less than fluent.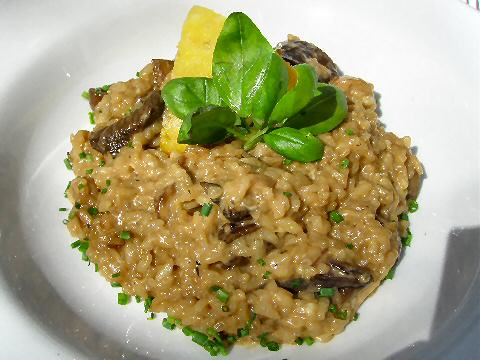 We started off with a couple of plates of rabas, or squid rings. For a change from the ubiquitous fried ones with mayo or lemon that are a staple of local fare, these were lightly seasoned and grilled, still tender, served up with a small side salad and some fresh lemon wedges. Perfect! Risottos and pastas are the mainstay of the menu, though not the only choices, however we were steered that way by our waiter. A mixed mushroom risotto, and another tinged vermillion with beets and topped with cubes of fried goat cheese, were both cooked to a proper al dente and loaded with flavor. The lurid purple lamb ravioli were packed with delicious meat and spices and served in a delicate cream sauce – the purple color, it was explained, came from beets as well, the color changing to a dark violet when cooked in salted water.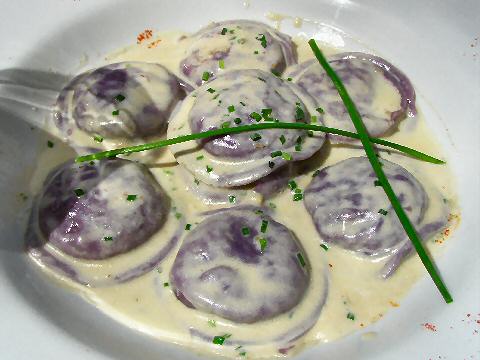 Desserts were likewise delightful – a pair of crepes filled with dulce de leche, beautifully presented with spun sugar decorations, an orange and vanilla custard, a cappucino mousse, and a frozen coffee and chocolate dessert more or less like a semi-freddo.
Lunch was moderately expensive – running us about 50 pesos apiece for a three course meal – and well worth it for the quality of the food and ambiance. All in all a delightful experience!