"Some may try and tell us that this is the end of an era. But what they overlook is that in America, every day is a new beginning, and every sunset is merely the latest milestone on a voyage that never ends. For this is the land that has never become, but is always in the act of becoming. Emerson was right: America is the land of tomorrow.

– Ronald Reagan, 40th President of the U.S.
Buenos Aires – The party was a success. Lots of guests, more than I knew, or imagined were coming. A few who couldn't make it at last minute. Fun gifts. Wine, champagne, pizzas (my "Chicago style", of course), empanadas (spicy bbq, squash & green onion), chips and dip, the ubiquitous crudité (which people actually finished off, who knew?), and ceviche. Quite the combo, no? I leave the rest in the hands of captioned photos – a picture being worth, and all that…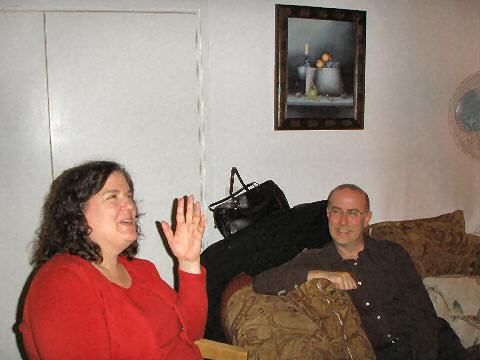 Amy (in from Boston) and Adam (in from San Jose)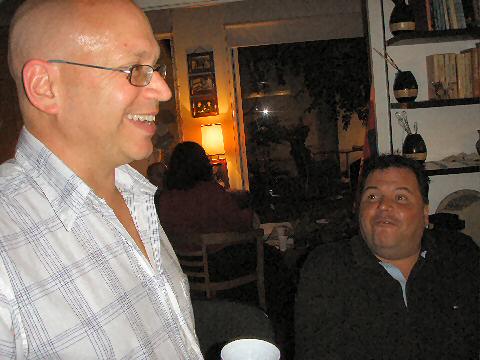 Me chatting away, Kevin (local restaurant owner) looking on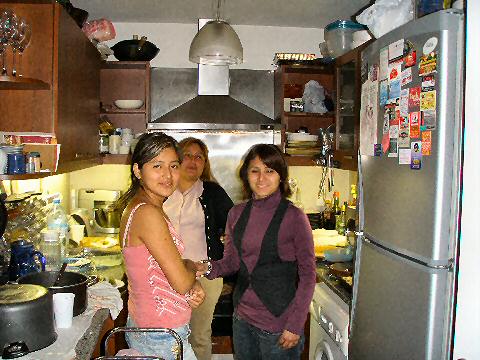 Henry's niece Jheny, sister Silvia, niece Viviana, who wouldn't leave the kitchen to mingle until I threatened to send them back to La Plata for the night…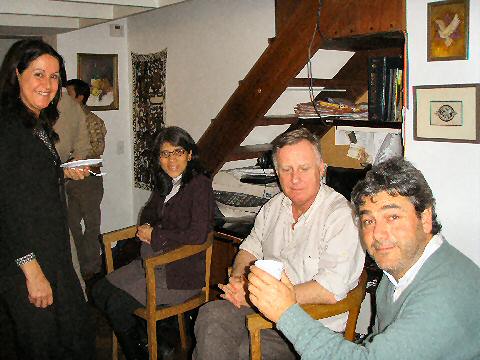 On the outsides, Adriana and Eduardo (in from Uruguay), Elizabeth (now 7 months pregnant), and Juan (both local)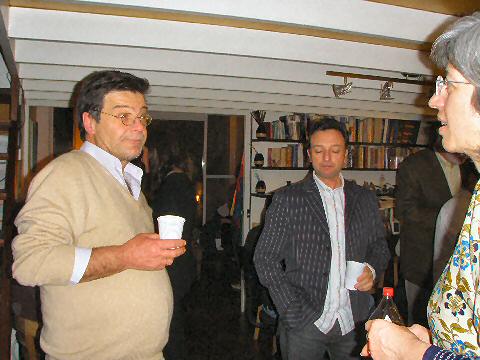 Diego, Nestor, and Martha, all local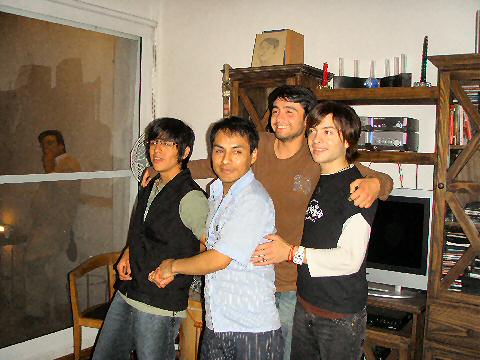 Henry with friends Lucho, Jorge, and Damian, all in from La Plata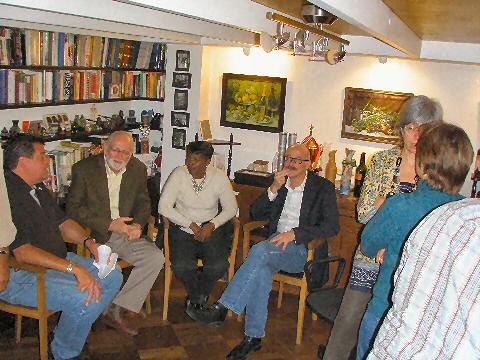 Kevin, Mike, Bettye, Allan, Martha and Barbara – all local friends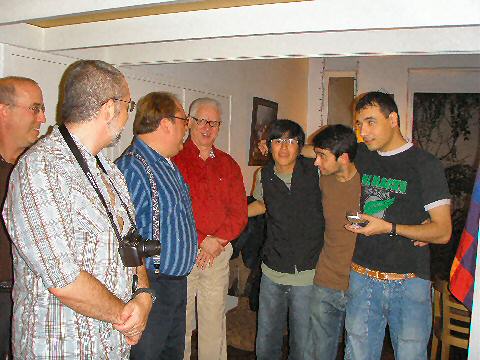 Wow… Adam (San Jose), Brian (Seattle), Bob (Brooklyn), James (Prague), Lucho and Jorge (La Plata), Hernan (local)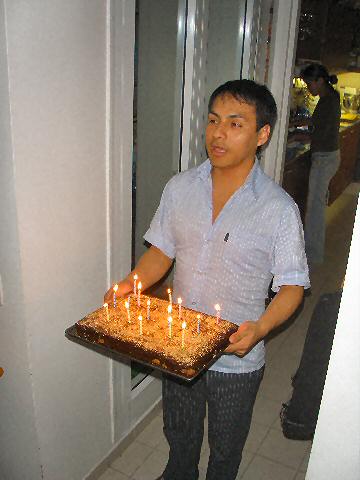 Henry entering, singing, with my birthday cake (spiced chocolate, chocolate ganache frosting, toasted coconut, lots of candles, though thankfully, not 50 of them)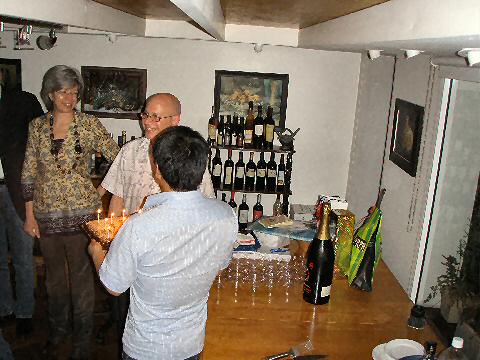 Ready to blow out the candles, whenever they finish singing…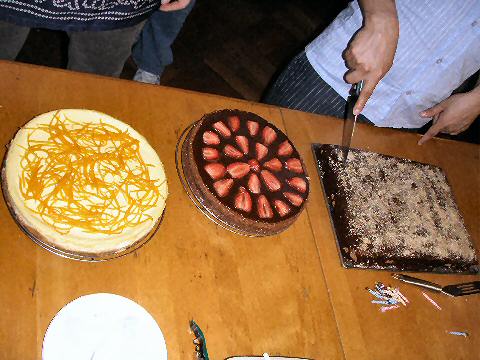 The cake, plus a chocolate strawberry cheesecake and a vanilla orange cheesecake – all reduced to crumbs within five minutes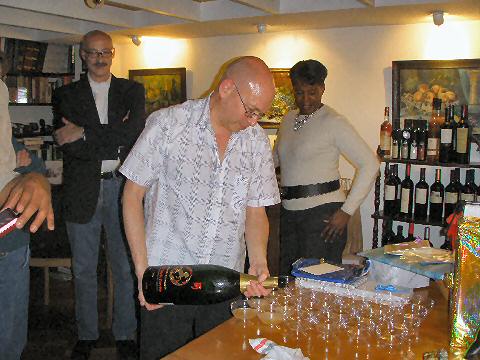 I've been saving this three liter bottle of sparkling just for this occasion! Lots of trouble getting the cork out – took five of us taking turns!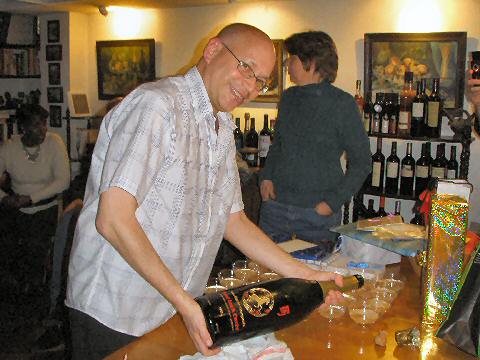 And, in case you were wondering, it's a bottle of 1998 Iron Horse Vineyards "Good Luck Cuvee" – thanks go out to friend and winery owner Joy Sterling, who gave it to me years ago, though didn't know I'd save it for this event.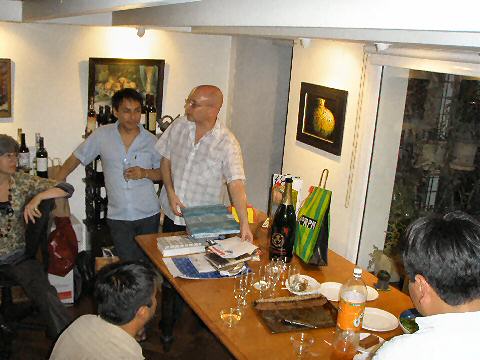 Opening presents…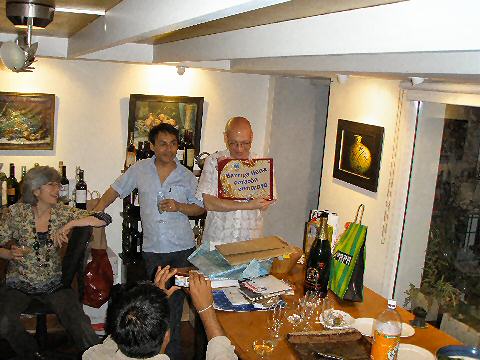 …there were lots of them!
In bed by 1:30, a good night's sleep, and… on with the next 50!