Mrs. Adams: "Malena fell down the cellar stairs!"
Virgil Adams: "Did she break any of our things?"

– from Alice Adams, 1935
Buenos Aires – Though he appeared, and often starred, in more than one hundred films during his career, Fred MacMurray is probably best known as Stephen Douglas, the patriarch of the My Three Sons family on television (and, I believe, his only television work). Of course, the show ran for twelve years on a weekly basis, which put him up there in front of us pretty regularly. Generally he was simply typecast as "the nice guy" in films, despite some of his best acting work being in other roles. This past weekend he joined our Casa SaltShaker honor roll of centenarians. My first impulse was to plan something around five different films, sort of the approach we took with Rosalind Russell, but then I recalled that in one of his early movies, Alice Adams, there was a long, involved dinner scene. It took a little to find a copy, but as soon as I watched the scene I knew it was the perfect approach to dinner. I didn't want to recreate the dinner as it occurred in the film, because, simply, it was a comic disaster – but, there were five courses, vaguely leaning towards the French repertoire, and although not all of the dishes were detailed, there was enough there to work with. The movie, by the way, is a fun romantic comedy, and well worth finding and watching, even if just for the dinner scene.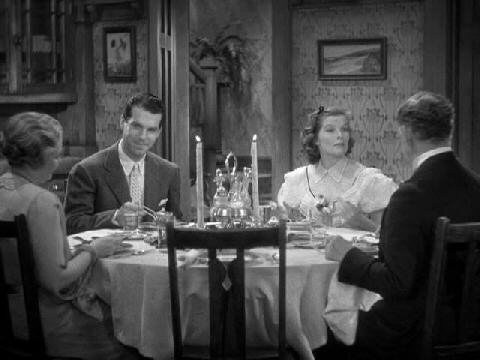 The dinner party opens with hors d'oeuvres in the living room – a tray of "caviar sandwiches" – which appear to be nothing more than rounds of toasted white bread with a spoonful of caviar atop. They were not a pleasant experience for any of the characters.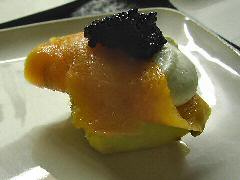 Real caviar is near impossible to obtain here, and out of the question for our dinners when it comes to the price of what is available. There is decent lumpfish caviar, both black and red, imported from Denmark for the most part, and occasionally salmon roe. Thinking about the latter, which I ended up not finding, I thought about the sweet potato and smoked salmon canapes we've started a couple of dinners with. The touch of some salmon roe added would have been perfect – but, lumpfish it was in the end as that was what was available.
All I knew about the soup course was that it was "too heavy for this hot weather". We had the advantage of a cooler time of year, and I decided on a favorite "heavy" soup – a panade – a toasted bread and onion soup that is a classic. Credit goes back to online friend Pim from whom I originally got the recipe, and she got it from Paul Bocuse's cookbook, and I've left well enough alone.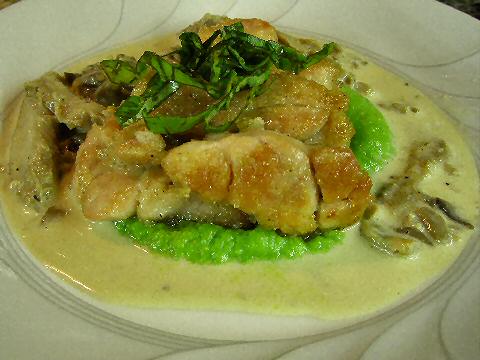 Next up, our movie cook Malena served "the sweetbreads and mushrooms" – a gloppy mess in some sort of cream sauce that none of the diners seemed to be able to stomach, and they were quickly cleared from the table. There are many dishes out there that involve sweetbreads, mushrooms, and cream – I decided on a version of Sweetbread à la Mont Vert, a recipe that sounds like it ought to be in the French canon, but to the best of my knowledge first, and perhaps only, appeared in the 1918 Boston Cooking School Cookbook. I didn't follow the recipe to the letter, though it wasn't a vast departure. I'm not thrilled with the presentation – it needs to be more orderly – but loved the flavor of the dish – this is something I'll work on for the future. At the base, a puree of peas – not canned as called for, though frozen – thawed and pureed with a very small amount of milk, just enough to smooth it out, salt and white pepper to taste. Nothing more. Atop that, sweetbreads that had been rolled in cornstarch and then sauteed until nicely browned (after, of course, soaking, parboiling, and cleaning). Around that, a sauce of creamed mushrooms – mixed white button, portobello, and oyster mushrooms, cooked in butter and then a little cream flavored with a splash of honey, fennel seed, coriander seed, black pepper, and salt. My favorite dish of the evening.
On to the main course which was stated as a filet (presumeably mignon, though it's never said), brussels sprouts (over which a great fuss is made since none of the characters is quite sure what one is), and some sort of puree, presumeably mashed potatoes. Originally I was going to go with a filet of lamb loin, but the quality of the lamb I found this last week was terrible. I found a couple of beautiful pork loins, rubbed them with salt and smoked paprika, and roasted them in the oven until just past medium, still juicy, but not pink. After letting the roasts rest, I sliced them, topped them with a puree of piquillo peppers and miso – have I mentioned I found a source for fresh piquillos? Remember those jars of two fire roasted piquillos for 18 pesos? I can get fresh ones for 20 pesos a kilo (around two dozen) and roast them myself! Aside the pork, a puree of smoked eggplant, and, some sauteed brussels sprouts.
And finally, a dessert which was never identified in the movie, but looked like some sort of very soft pudding. My thoughts turned to butterscotch pudding, and from there to a pudding pie – using the cocoa crust on the bottom and chocolate ganache on top that I've prepared several times recently, I filled the inside with a freshly made butterscotch pudding. I would have liked a stronger butterscotch flavor to balance against the chocolate, but the pie came out nicely.
Happy 100 Fred!