"Traditional Swedish cooking cannot be compared with the sophistication of, say, French or Italian cuisine. Swedish food is usually simple and satisfying, and nowadays also healthy. In the last few decades immigrants from all over the world have enriched our food culture with a host of exciting dishes. Foreign fast food, for example, has become an inseparable part of Swedish youth culture."

– Destination Stockholm
Buenos Aires – I spent a few years a ways back working in the corporate world, for some reason thinking that I would change my career path from that of food and wine. A foolish goal I now know, not to put too corny a twist on it, but satisfaction in your chosen work is far more… satisfying than just being out for the big bucks… at least in the long run. As I bounced around those various tall concrete and glass structures, I had more than one opportunity to eat in an "employee dining room", which is subtly, though not very, different from a cafeteria. Getting off the elevator on the fifth floor of the Swedish Embassy I immediately recognized the space for what it was – the employee dining room. Oh sure, Club Sueco, Tacuari 147, 4342-0888, is open to the public, though unlike some of the embassy or cultural clubs there's no pretension to nationalism with passport checks to make sure you belong there, it's simply open. And they've even done a decent job decorating the stark white walls and metal framed windows – some cute snowflake lampshades meant to evoke some sort of Scandinavian nostalgia, and actually a pretty good selection of art on the opposing end walls. And let's face it, the Swedish Embassy likely does not have a huge number of employees, certainly not enough to support a lunchroom that takes up an entire floor of the building.
The menu is, in both intent and physicality, divided in three. Upon being seated we were informed by our waitress of the "daily plate" – a choice of beef stew and potatoes or roast chicken and rice. Neither sounded all that exciting, and looking around the room, a few folk, clearly there to eat rapidly and return to their desks on other floors or neighboring buildings, were scarfing down these all too ordinary dishes. We opted for the menu, which offers up classic Swedish appetizers and entrees. Looking through the former, a sampler plate of herring, a sampler plate of salmon, and several others, at the bottom was an unpriced item "selection of sandwiches" – us thinking perhaps some sort of smorgasbord offering, we asked – which resulted in the delivery of a different menu, listing off a dozen different sandwiches – but no sampler sort of platter for the table – just a sandwich menu (and all pretty much the exact same items on the regular menu, just stuck between slices of bread).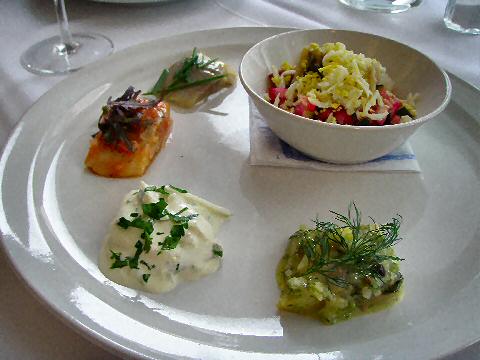 The two of us who had arrived decided to share a sampler plate of herring while we awaited our third. Interesting would be about the best thing I could say about it. Herring five ways. Creamed, pickled, in a salad, with a couple of sauces – nothing stood out about it, and truthfully, the platter of creamed and pickled herring at MediTeráneo tasted far fresher, livelier, and for the same price gave us more than twice the quantity of fish. Our third arrived and decided on a plate of the paté, which turned out to be a couple of nice wedges of a rustic, country style paté that was certainly the better choice of appetizers. I should mention the bread – it's brought out on little plates, with a selection of different breads – raisin-walnut, some sort of corn-rye, and a very cruncy hardtack kind of biscuit – one piece for each person at a time – all well and good if you're serving fresh, warm bread, but annoying for both customer and waitstaff if it's just simply room temp bread being stuck on a plate and shuttled to the table every time someone takes a bite. It's also not served automatically with the dill sour cream that the obvious regulars were receiving, we had to ask… twice.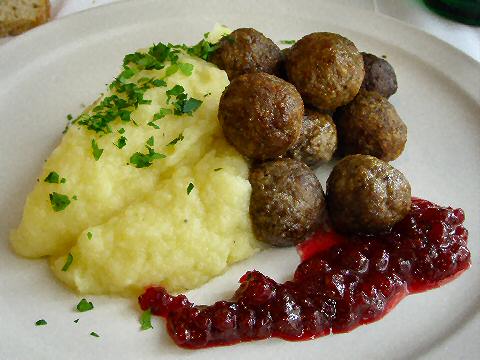 Main courses fared far better. I couldn't not order a plate of Swedish meatballs, or kottbuller, and these were excellent – tight, firm little balls with nice herbed flavors, well made mashed potatoes, and a red currant jam on the side. Yum! One of my companions ordered the biff lindstrom, essentially a hamburger made with ground beef, sweet and sour beets, and capers. Quite interesting I must say, and something I've not tried before (I have this vague recollection that I might have tasted them in mini form off a smorgasbord), but would again. It was served up with delicious roasted potatoes and a little gravy. And our third decided on the gnocchi… not exactly a traditional Swedish dish, though quite different from anything I've seen… anywhere… the gnocchi dough, made with squash rather than potato, was a thin coating around a ball of a blue cheese filling, and they were huge – the size of golf balls. A little intense on the blue cheese for my tastes, the squash dough sort of disappearing in the flavor mix. But my friend seemed to like them quite a bit and ate them all up.
So all told, a nice experience in the lunchroom. And the prices weren't bad – for three of us with a sampler plate and another appetizer, three entrees, three bottles of water, four coffees (another friend joined us for coffee at the end of the meal), and one limonada (an interesting but not overly recommendable house drink of lemonade, orange blossom water, and finely minced mint leaves), the bill ran to 140 pesos, just about $45.