Life isn't enough. One life isn't enough for me. There aren't enough days. Too many things to do, too many ideas. Every sunset upsets me because another day has gone by."

– Nicola Lorusso, Mediterraneo (1991)
Buenos Aires – I mentioned recently that I'm accompanying a friend on her quest to research the various kosher restaurants here in Buenos Aires. I also mentioned the utter "meh-ness" of most of them (both here and elsewhere) that I've experienced. So though I'm gamely forging ahead on this quest with her, I have to admit to approaching the task with a certain level of trepidation – I'd be delighted to find a place that doesn't fall into the "same old same old" category. This wasn't it. We'd noted a cheery looking corner white space advertising itself as a "kosher bistro", MediTerráneo, San Luis 2902 (corner of Ecuador), in Once, 4961-5137, and decided that at the very least, it had promise. It just hadn't made the promise to us…. Closed
A few warning bells rang in my head when we entered the place on Thursday evening, and it was bleakly empty (and stayed that way until almost the moment when we departed, when a couple came in, he with a hearing aid turned up so loud that it was emitting an audible squeal throughout the room, she yelling at him to turn it down – he didn't, at least much). The decor, for an ostensibly Mediterranean bistro, was odd – a stand of bamboo sticks dominating the center of the room, empty metal wine racks scattered about, even hanging from the ceiling, piles of various religious literature taking up space on counters and windowsills, peeling paint, and, as noted, devoid of life signs. Including staff. We hovered a moment in the entryway, and heard a bit of noise from down a side hallway – peering in, sure enough, there were a couple of men standing in the kitchen chatting – it took a moment to get their attention, but one joined us in the dining room, expansively waving his arm at the room to indicate our choice of seating (and a whispered "Do you want bread? If so, I have to go tell the kitchen.). He followed us to the table with menus, handed them to us and got out his order pad and pen, then stood there waiting for us to choose our selections. Each choice was met with a "that's good, but…" followed by an upsell attempt – generally not in the same category (an 8 peso plate of babaganoush was met with a recommendation for a 25 peso sampler plate; a 26 peso plate of goulash and spaetzel with a recommendation for a 48 peso salmon). The other gentleman from the kitchen, perhaps the cook, it was hard to be sure, joined him at tableside, offering nothing other than little bits of encouragement – "yes, yes, that's good" – to each choice, ours or the waiter's.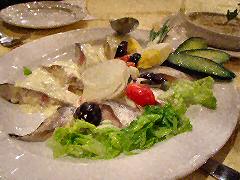 We settled on our plate of "eggplant caviar" (come on, it's babaganoush) and a plate of side by side pickled and "creamed" herring – the second turning out to be the best thing we had during the evening. The fish was fresh, nice sized pieces, and the seasoning was delicious – they even got the pseudo-cream down pretty well (this is a "meat kosher" restaurant, so no dairy anywhere). The babaganoush could have used a significant amount of seasoning – from salt to a touch of smoke to, well, anything. Still, it was clearly fresh, and helped mask some of the flavor of the burned bread rolls. Really, burned – one side of nearly every roll was charred. Perhaps he should have "told the kitchen" to get it out of the oven.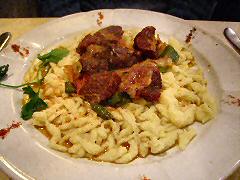 On to our main courses – the spaetzel with goulash caught all four of our eyes – that went on the list, despite the salmon recommendation. It was a hefty plateful too – plenty of spaetzel, less goulash – you can see in the picture, seven little cubes of meat, and they were tough and gristly. The "dumplings" themselves devoid of flavor, seasoning, and the entire dish missing… goulash… yeah, the meat was there, but how about a little sauce? Coating cubes of meat in paprika, cooking them until dried out and setting them atop spaetzel does not a goulash make.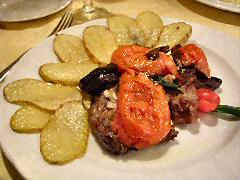 The menu listed a whole slew of entrecôte steaks – okay, half a dozen of them – each basically the same but with a different garnish and sauce. We opted for the Mediterraneo itself – I generally go by the often proven wrong theory that if you're willing to put your name on the dish, it ostensibly represents your best efforts. A dismal little steak with as much fat and gristle as meat, unseasoned once again, served with some roasted tomatoes, a blackened disk of eggplant, a couple of olives and a "fan" of potato slices that were the best thing about the dish, and only because they had enough oil on them to give them some flavor.
It didn't take much effort to decide against dessert. I'd say "not recommended" except, for kosher restaurants here, this one is right on par with the rest of them, and at least makes an effort to offer dishes that aren't just the usual suspects. Maybe we should have sprung for the pricey piece of salmon… somehow I doubt it.