"The absolute neutrality of Switzerland as a political principle is generally dated from the year 1674, when the Federal Diet declared that the Confederation, as a body, would regard itself as a neutral state and intervene on neither side in the war which had just broken out.

Edgar Bonjour, Swiss Neutrality, Its History and Meaning
Buenos Aires – Like the multi-function knife that the country is famous for, the cuisine of Switzerland is noted for it's varied influences. Sandwiched in a mountainous region where it is bordered by Germany, Italy, France, Austria, the local cuisine picks up techniques, elements, and ingredients from all of those, making for a mix of interesting dishes. Now, did we offer up a fondue? No. Not even a raclette, though I gave it serious thought. Instead, I tried to pick a variety of dishes from the different regional styles of Swiss cookery. Interestingly, the dinner, held on the weekend of Switzerland's independence day, attracted three visitors from the country (separately); so I had to apologize for any changes I might make to their grandmothers' recipes in advance.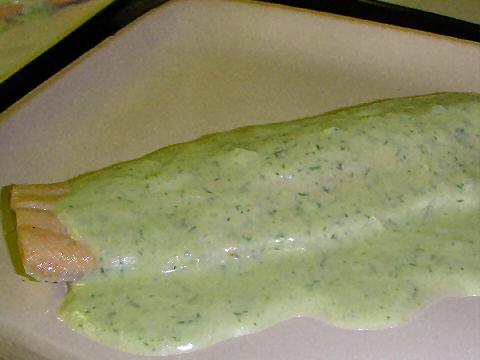 We started off with a truite au bleu, or chilled poached trout. I poached the fillets in a simple court bouillon – water, red wine vinegar, slices of lemon, carrot, celery, and onion, sea salt and black peppercorns. Then I chilled the fillets and topped with a simple fresh dill cream – sauteed shallots in butter until soft, deglazed with Torrontés (rather than Riesling), and then pureed that with cream and lots of fresh dill. Be careful at this point – the second night I ran the blender too long and the cream turned to butter – so we served the trout with a quenelle of dill butter atop.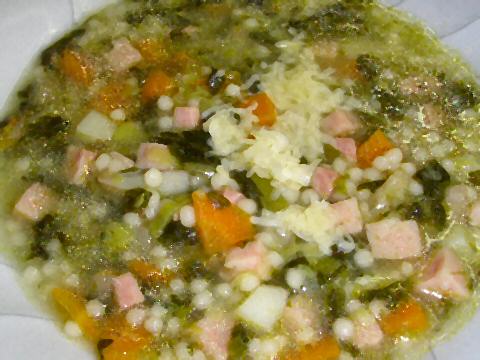 As usual, the soup was pretty much the hit of the evening (maybe we should just open a soup restaurant?). I found only a few references to a Chalet Soup, but what I found sounded delicious. The original recipes called for an herb and onion infused milk into which were later placed vegetables and ham. I decided to go for dairy-free, given that there was alot of cream and cheese in other parts of the meal. From there, it was roughly equal parts of diced ham, leeks, carrots, and onion all sauteed together until just starting to turn golden. I added diced red potatoes, skin on, and chopped spinach, topped it off with water, added freshly ground black pepper, and let it cook until the potatoes were done, then added just a small amount of small round pasta here called municiones, cooked until they just started to swell and let the whole thing sit off the heat for an hour or two to blend the flavors. Reheated for service, seasoned to taste, and a little grated gruyere on top of each serving.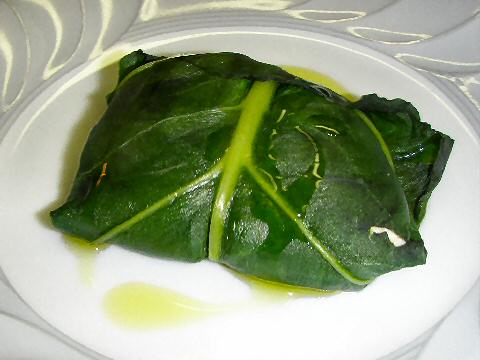 A simple dish, but really, really good… blanched and shocked swiss chard leaves, then wrapped them around a scoop of cream cheese (homemade of course) that I'd pureed with sauteed bacon and garlic. Then for service, baked the packets in the oven to turn the cream cheese molten, and drizzled the plate with green lemon oil.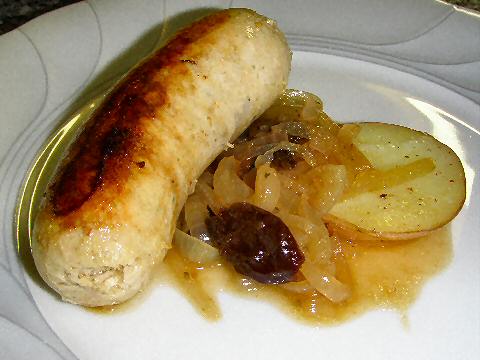 On to the main course, to which one of the Swiss visitors proclaimed "finally, a real Swiss dish" – he's from the German influenced part of Switzerland. Boudin Blanc – a blend of chicken breasts and pork loin, in roughly equal proportions, medium grind, along with a pureed blend of cream that was heated and infused with white onions, orange peel, fresh thyme and parsley, powdered bay leaf, cardamom, salt and white pepper. Then I mixed in a bit of breadcrumbs to that and let them soak up some of the liquid. I mixed the whole mess together and added a couple of beaten eggs. Then I used the hand blender to really blend it together well (a food processor would work too, in batches, depending on how much you're making). I stuffed the casings with the mixture, then poached them until just cooked through in salted water. Finally, for serving, browning them in a hot frying pan and then putting them in the oven to finish cooking through. I served them up with slices of roasted potato and an onion and prune compote – sliced onions cooked in butter and oil until lightly browned, then the prunes, black pepper, a splash of vinegar, and chicken stock added and let the whole thing cook until most of the liquid was evaporated.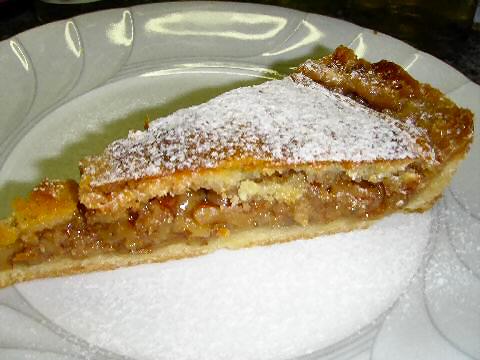 And, finally, I took a shot – not that I don't often take shots, but in this case, I've actually never seen nor tasted this dessert – though certainly some similar ones. No credit for the recipe, I followed an online recipe for Engandiner Nusstorte to the letter and it turned out beautifully. My only touch was a little powdered sugar sifted over the top. Absolutely delicious, and I'm glad to add another dessert to my repertoire! Comments from the three Swiss folk – "this is exactly what engadiner nusstorte should be" and "I don't usually like most engadiner nusstortes, but if they were all made like this I would – this might be the best one I've ever had." Kudos to the recipe author!